With ardent research, we have assembled a list of interior designing which help budding entrepreneurs in this field as a stepping stone to put their business forward. There are some things which should be kept in mind.
For interior designers, the website should be stylish and professional. The website should communicate their principles which would help them garner a good reputation for potential investors and clients.
So let's now start with the list of interior design website examples…
1. Sean Michael Designer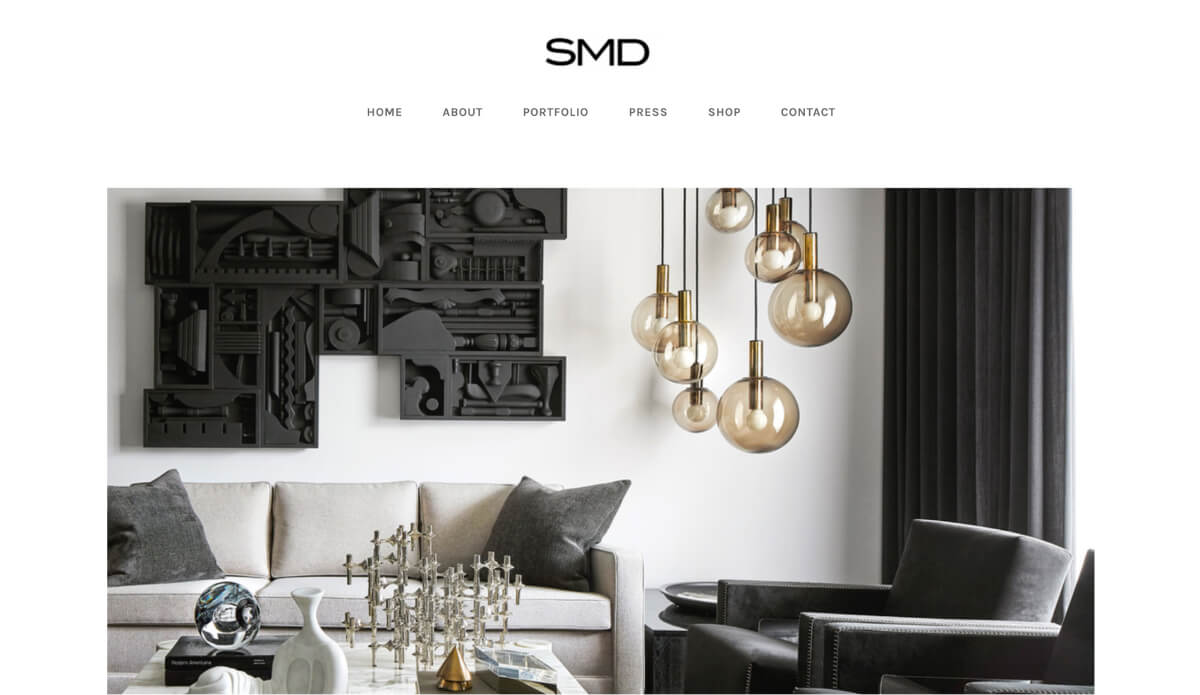 Sean Michael Design was founded by Sean Cowen in 2007. His designs feel they belong to the new age. Sean aims for calm, meaningful spaces through trendy and modern designs. The website gives us an idea of the kind of design exactly Sean aims to achieve.
The website also gives us a variation of the kind of design he offers. Along with accolades he has achieved, this attracts potential investors and clients with clarity into the designs he will provide.
Made With: Weebly
Visit Website ➞
2. Neotecture
Founded by Samay Mehta in 2013, Neotecture is an interior designing company based in Ahmedabad. Neotecture's website design is simple which aligns with their belief in having a simplistic approach. They cater to the exact design preferences which are provided by the investors.
The best part of Neotecture is their remuneration for various projects has been laid out in their website itself. This helps their firm to establish transparency and professionalism which will help attract future potential clients and investors.
Made With: Squarespace
Visit Website ➞
3. Debbie Dahl Interiors
Debbie Dahl has been designing residential and commercial spaces for the last 35 years. She has also won an Emmy in set designing for a show named "Pee-Wee's Playhouse". As mentioned in her website she commits on designing spaces which align to the personality of her client.
Debbie Dahl's website preaches her holistic approach to the point it is needed. There is nothing extra. Her approach in designing not just according to what the client wants but also how the client is.
Made With: GoDaddy Website Builder
Visit Website ➞
4. WCA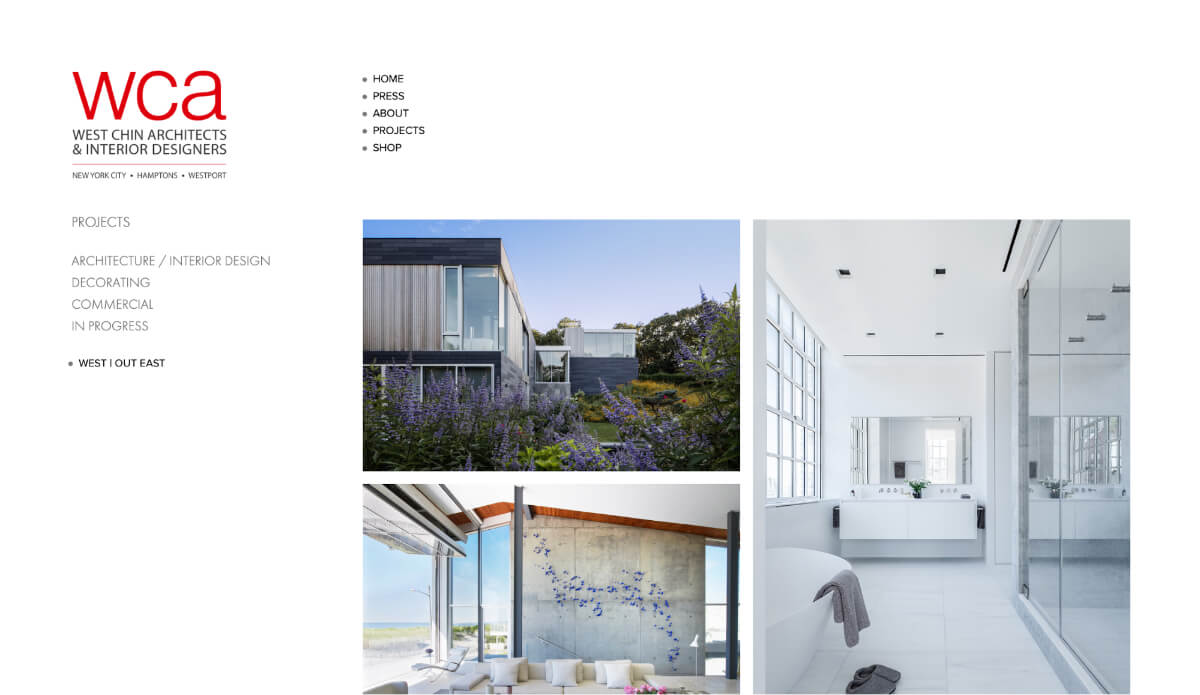 WCA stands for West Chin Architects and Interior Designers. Selected as one of "The City's 100 Best Architects and Decorators" by the New York Magazine, WCA specialises in commercial and residential work. Their website is fairly simple and filled with high-end pictures which speak volumes of their projects. This reflects their philosophy of creating a fluid and spacious environments.
The "Press" section lists the coverage it has been getting for work they have done through the years which is also crucial for attracting clients.
Made With: Squarespace
Visit Website ➞
5. HKS Architects
HKS preaches on providing a design which helps communities to connect. Founded in 2013, HKS has offices in places all around the world. The website is very detailed. This helps the visitor, to go through the plethora of work HKS has been doing.
They also dwell in design research and post videos of their work from time to time. Their website gives the potential client a clear sense of their work ethic with viewpoints from various heads of the organisation.
Made With: Netlify
Visit Website ➞
6. Juan Rotger
Juan Rotger believes in designing spaces in a modern way. Founded in 1998, Juan Rotger believes in dreams coming true. Juan Rotger deals in providing shapes to cater to the current age.
With modern design spaces, Juan Rotger believes in adjusting with the needs of the client. Their featured projects give insight into the modern spaces they create. With a simple design of the website along with the number of projects, they are involved in bits of help in attracting potential clients and investors.
Made With: WordPress
Visit Website ➞
7. Wilson Architects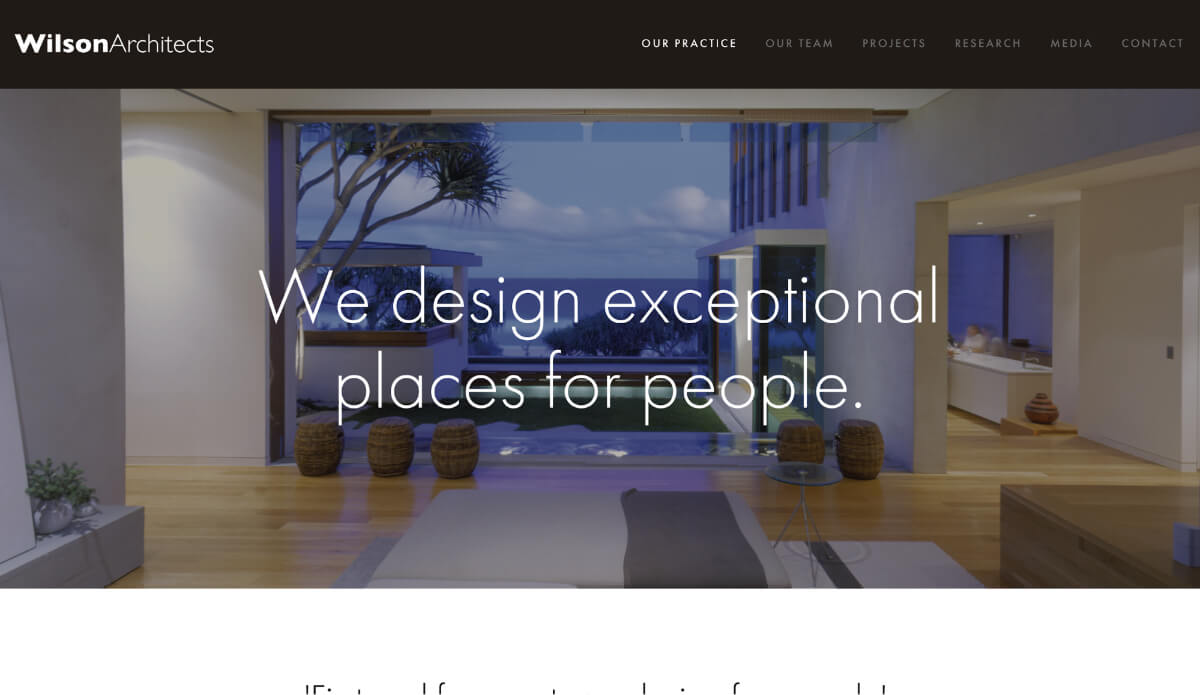 Founded in the 1970s, Hamilton Wilson preaches Landscape Architecture. They design according to the purpose of the building.
The website of Wilson Architects neatly lists all the work they have been doing and the kind of projects they have been designing. Their detailed project list will give potential clients and investors full clarity of work profile which is important. Their "Meet the Team" section comprises all the people associated with the company which showcases their work ethic with the fellow employees.
Made With: Squarespace
Visit Website ➞
8. Interiors By Sabrina
Sabrina Yost founded this company in 2012. She has been working since she was 13 and her mother was a successful interior designer herself. Sabrina Yost specialises in designing residential places with attractive interiors for rental purposes.
The website gives you a feel of Sabrina Yost being the designer next door. Her website makes her approachable to potential clients. Her work gallery shows the colours and the decor items she implements in her designs which creates a niche audience admiring her work.
Made With: GoDaddy Website Builder
Visit Website ➞
9. Destination Eichler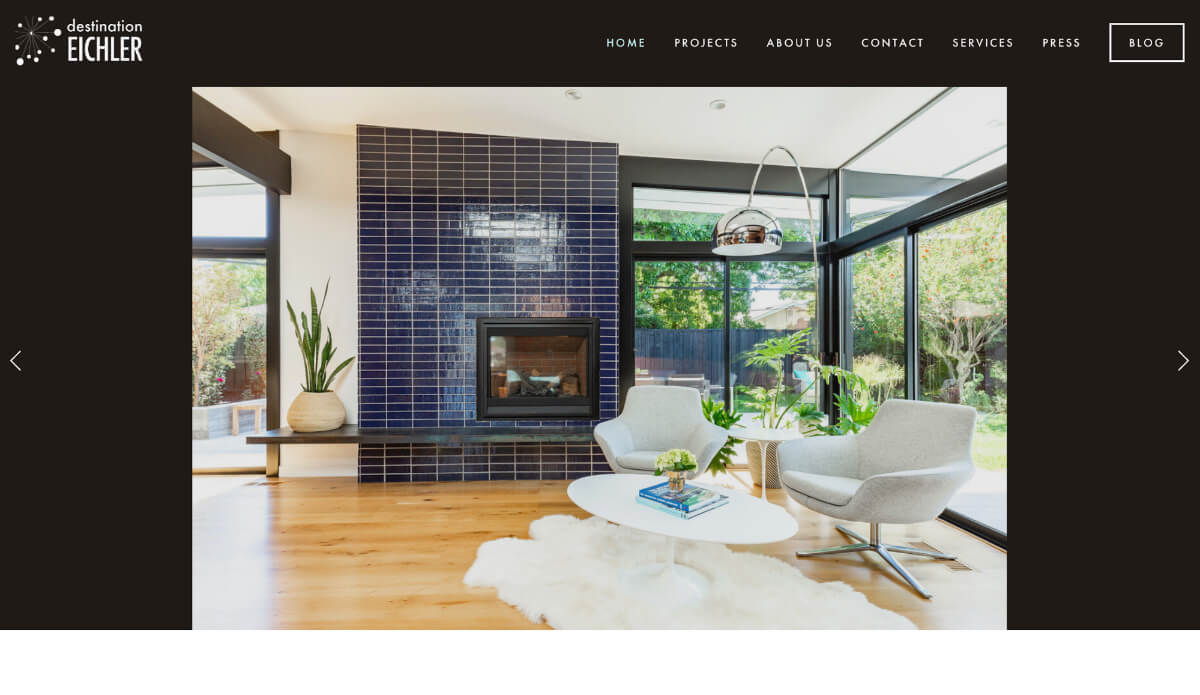 Destination Eichler was founded by Karen Nepacena and John Shum. They were home enthusiasts who had a blog. Organically their blog turned into an interior designing startup. They focus on modern design aesthetic and combine it with mid-century modern architecture.
The website they have created gives us the detail of how they became what they are along with their past projects. This is another way of attracting potential clients giving them an approachable atmosphere to dwell in.
Made With: Squarespace
Visit Website ➞
10. Anna Duval
Born in Russia, Anna Duval is an interior designer based in Paris. With an experience of 10 years, Anna believes in creating spaces which combine her aesthetic and the client's functional needs. Her website reflects her philosophy of usage of elegant colours and taking us back to the pre-modern designing era.
Anna Duval keeps usage of pictures an essential part of her list of home decor items which complement her unique design vision. Her website shows us how choosing a font can also cater to the philosophy you preach.
Made With: WIX
Visit Website ➞
11. Blue Spruce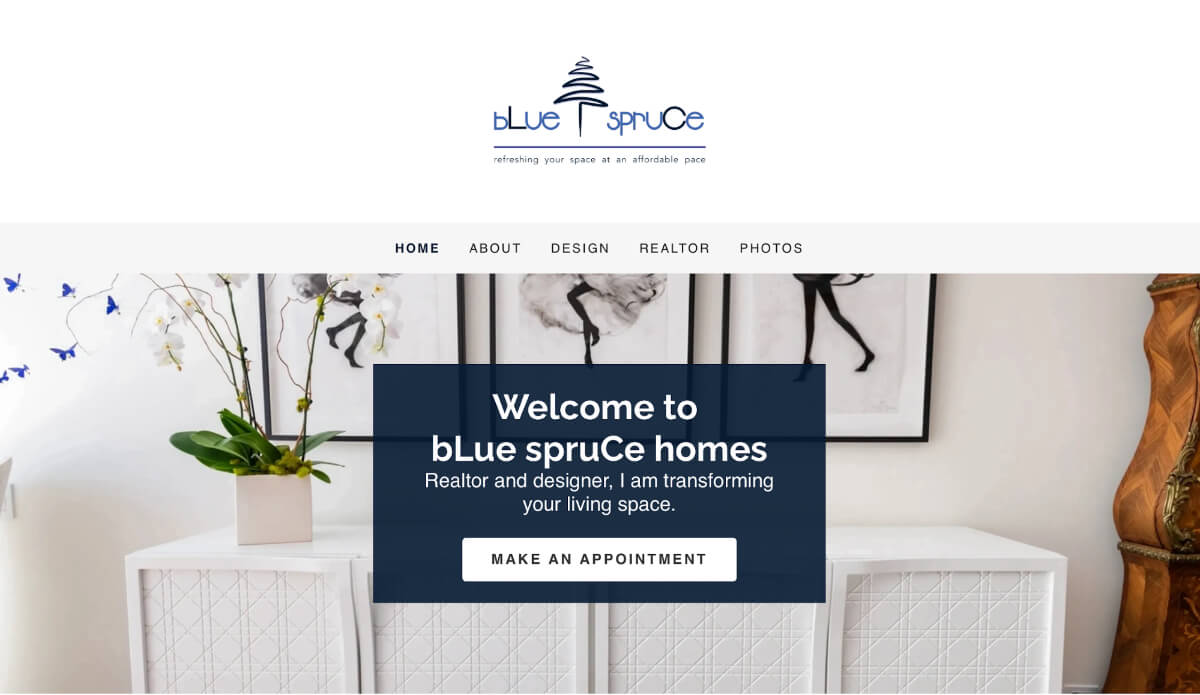 Julie Latsko, the founder of Blue Spruce had a career in modelling and visual aesthetics which paved the way for her in becoming an interior designer. Julie Latsko's usage of bright lines and bold colours reflect her philosophy. Like Anna Duval's website, Blue Spruce also provides the visitors of her site with the specific choices which align with her creativity.
Blue Spruce also provides its remuneration chart for the services they provide. The transparency and professionalism of her website will attract potential clients.
Made With: GoDaddy Website Builder
Visit Website ➞
12. Avery Cox Design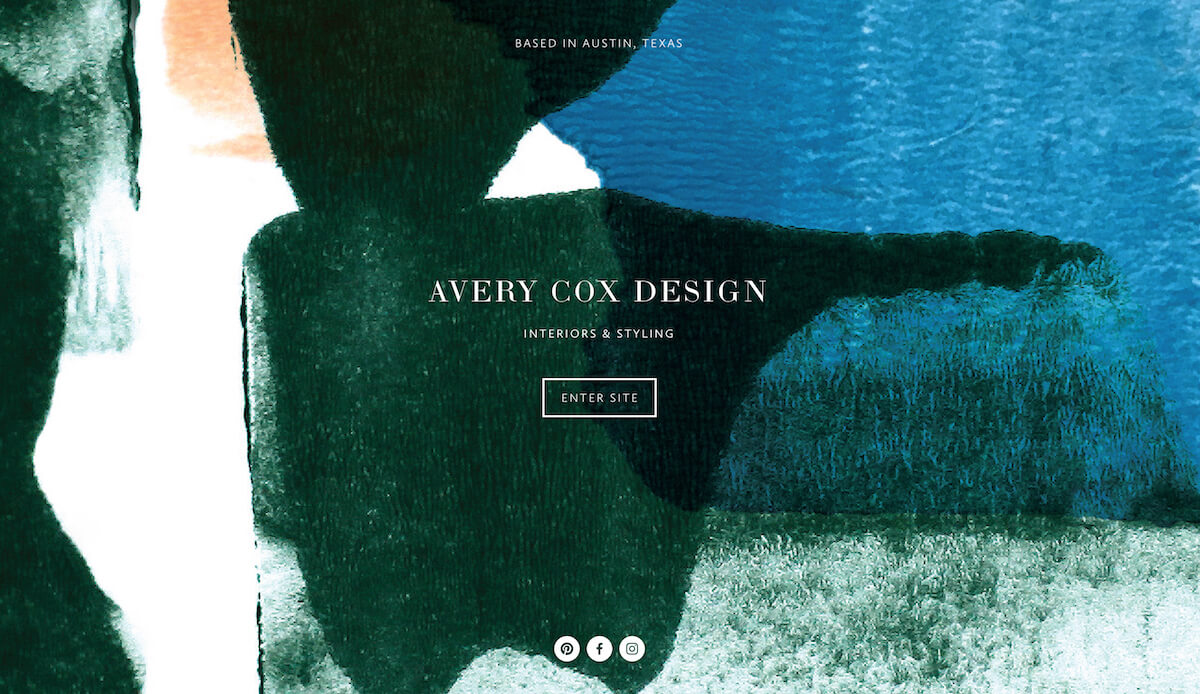 She brings a 15-year experience working from New York under various noteworthy designers. Her website reflects her vision of bringing classic compositions at affordable rates. Her previous projects will give the audience an insight to her signature look of combining classic American craft with New York Glamour.
She also runs a blog which provides creative design solutions aligning to her style. Being mentioned in various press articles over time establishes her credibility which leads to attracting potential clients.
Made With: Squarespace
Visit Website ➞
13. IBB Design
IBB is a design firm which is famous for offering color infused spaces with high-quality furnishings. Based in Texas, Beth Rafferty founded IBB 39 years ago.IBB believes in combining state of the colour schemes with unique designs. Rafferty collaborates with top-notch brands to provide decor items combining with their colour theory.
IBB dwells in both residential and commercial design. IBB's website provides a clear detail of all the collaborations. Their website provides a portfolio which will help potential clients understand the style IBB works in.
Made With: WordPress
Visit Website ➞
14. Love Decor
Love Decor is one of the quirkiest design websites available right now. Love Decor designs items themselves which compliment their unique design scheme. Love decor's website being simple yet creative gives the visitor a lot of options to choose from. Though they have carved a niche in their style, this does not stop them from coming up with updated designs.
They also have a shop where you can just buy the wallpapers, textiles, covers designed by them which contributes to revenue building.
Made With: Squarespace
Visit Website ➞
15. Welly Lai
Welly Lai is a designer who specializes in interior decoration and provides personal and customized plans for her clients. The website is one that speaks about the kind of work the company does.
It has a number of parts and hyperlinks that lead to more details about the services it provides and the work done in the past. It has separate parts for separate industries such as restaurants home etc. that Welly Lai has worked in. This provides a clear idea to the clients visiting the site of the kind of work they do.
Made With: Squarespace
Visit Website ➞
16. Shawn Anderson
Shawn is a well-known interior designer who has years of experience behind them. The website is precise and the first page is beautifully designed with high-resolution photographs of the kind of work the company has done in the past. This is an interesting aspect of the website which provides potential clients with the aesthetics on the first go which is crucial in retaining the attention.
The website also has a press section which has all the information about the collaborations undertaken in the past.
Made With: Squarespace
Visit Website ➞
17. Ethan Allen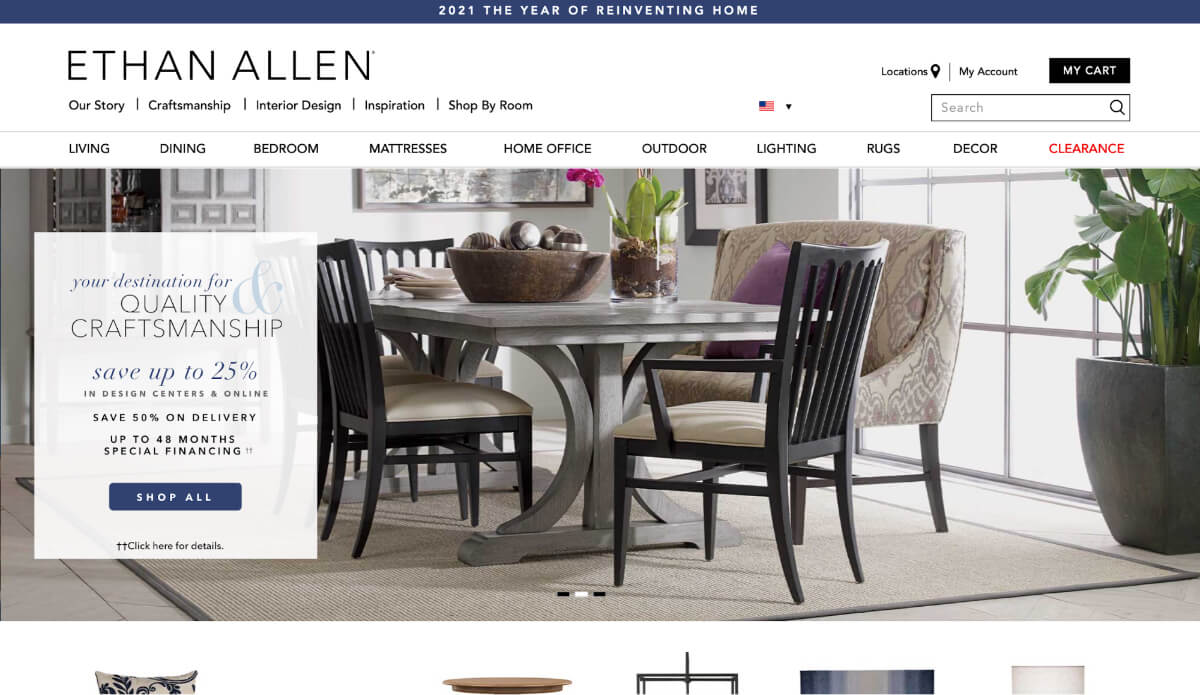 Ethan Allen's website is the perfect example of how to represent the business in totality. Ethan Allen is not only an independent designer, they also sell furniture and household décor items which are put on the website. The design is eye-catching and attractive to the eyes of potential clients.
The photographs provided on the website are also of high quality which makes it even more appealing to the visitors. The story of the firm is provided in one of the subparts linked to the website.
Made With: Siteimprove
Visit Website ➞
18. OZ Design Furniture
This one is a business that focuses on furniture and other items of home décor. The website has a colorful scheme and the design is both simple and unique. There are a lot of segments because this one is a firm that expands through many sectors.
They also have linked web pages that helps potential clients pick up the best suitable piece of furniture for their homes. Apart from that they also have an inspiration segment that makes it all the more connected to clients.
Visit Website ➞
19. Modern Furniture
Beyond Furniture is yet again a company that has furniture as its main area of focus. The first page of the website has all the recent developments and announcements such as Clearance Sale and the like.
It also has photographs which are high resolution and appealing to the eyes of the people who might visit the site. One of the unique things is that they publish and update a blog regularly which provides content about interior decoration and design.
Made With: WordPress
Visit Website ➞
20. Heal's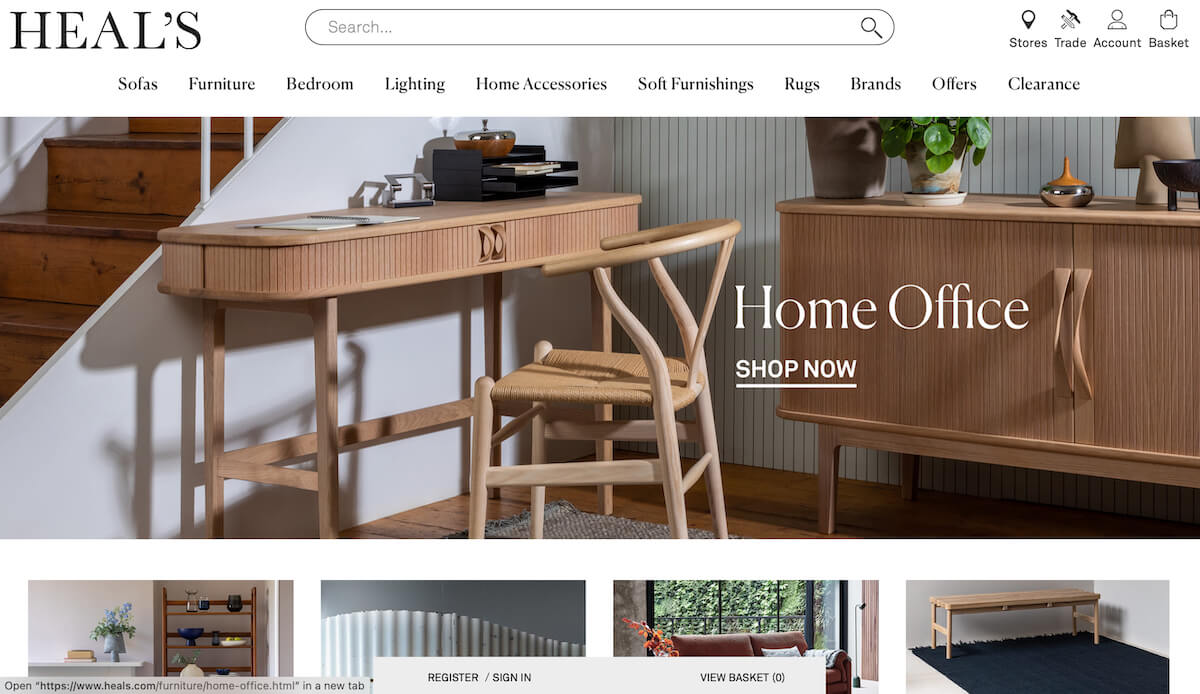 Heal's is a company that provides the clients with the best quality furniture and other decor items. The website is well designed and has various parts which provide necessary tips and information about the kind of furniture that is apt for a particular space.
The design of the website is simple and has clear sections dedicated to the various categories. If you are a firm which focuses on such aspects along with interior decoration tips, you should take inspiration from this one.
Visit Website ➞
Conclusion
The curated list of websites will help every budding entrepreneur in the interior design sector to go online and expand their business. This list consists of various interior designers ranging from big companies to small start-ups which have potential.
With the world coming to a halt in 2020, many businesses have gone online and that has led to a surplus amount of growth in their businesses. Now it's your turn to have a website and reap the benefits.