Many churches rely on their websites as vital communication tools. A website for them is incredibly helpful in assisting different people in finding the church, which can help the church expand. The attendees and members of the church can also use the website to learn about the church's future events and programs.
Despite the vast array of possibilities, many church websites are not very effective. Luckily there are plenty of great church website examples available on the internet!
In this post, we'll take a look at some of my favorites church sites with inspirational designs that will help you design an amazing website and reach more people…
1. Village Church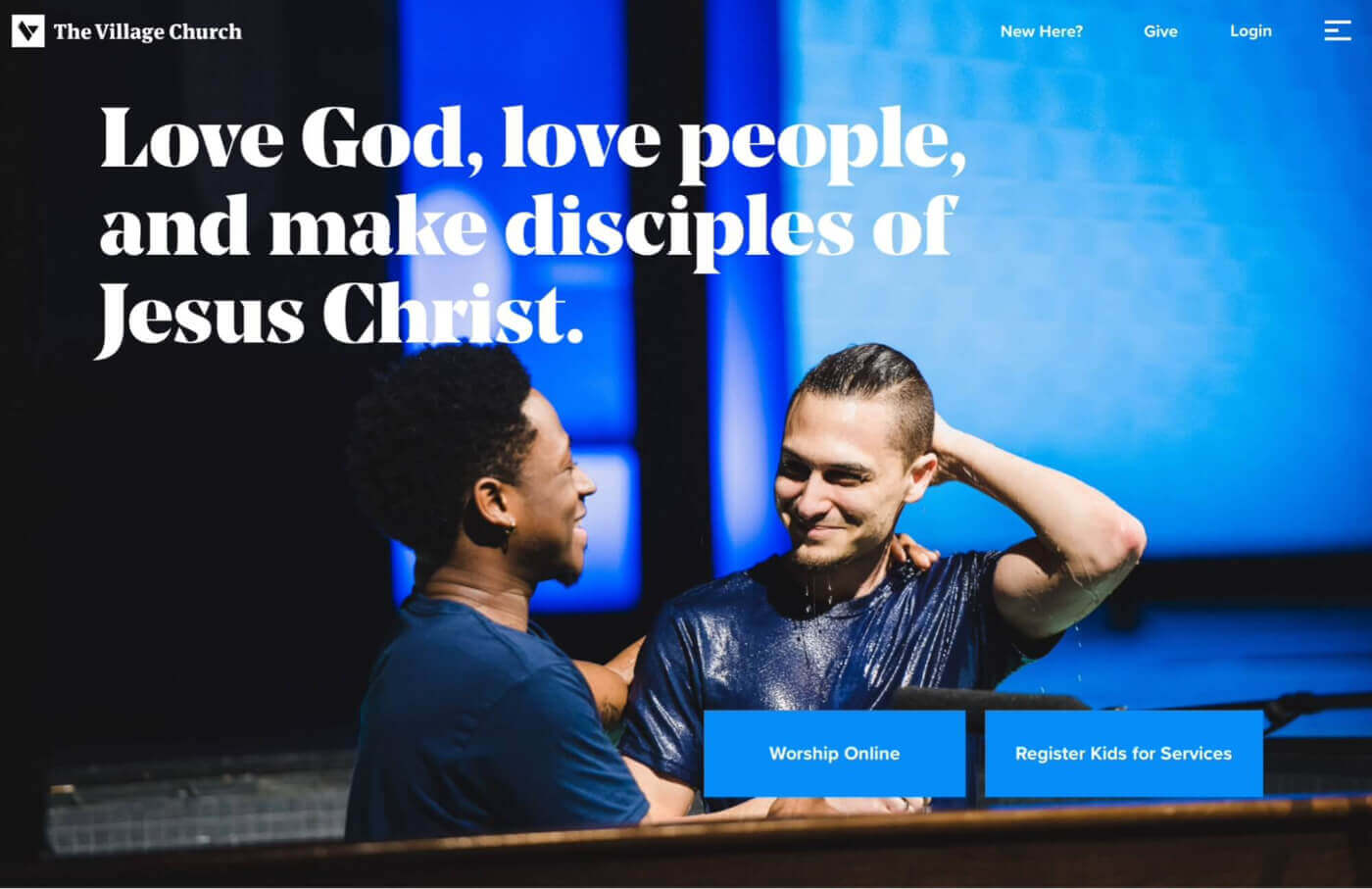 For their virtual presence, the Village Church focuses on real-life photographs and a compatible color scheme. They have a spectacular website with a sleek and elegant interface.
Instead of a navigation bar, the website uses a hamburger menu. This menu is well-organized as it is divided into drop-down divisions and is very user-friendly. It's one of the most fascinating church websites you'll ever see, thanks to the color schemes, excellent use of the site's whitespace, and vibrant pictures.
Visit Website ➞
2. First Church
The First Church has a fantastic website. As you will keep scrolling through the site, you'll see a navigation bar that stays put. They feature a range of calls to action, like Watch Online, Find a Group, Give Online, and so on.
The website's other pages are user-friendly and highly informative. One such example is their 'Plan a Visit' page. It explicitly specifies the service schedule and terms of the First Church. There's even a column dedicated to their children's curriculum.
The creators of this First Church's website took the time to understand what their audience is searching for and they have made it very simple for them to find it. It's one of the best church websites we've discovered because it combines brilliant UX with a neat design and functions.
Visit Website ➞
3. Remnant Church
The homepage of Remnant Church's website has full-screen videos that display the church's daily activities. The well-selected clips build a welcoming, warm atmosphere. The website invites visitors to come to the church and engage in community groups.
The remaining section of the homepage is also basic and neat, with simple instructions about how to engage in Sunday gatherings.
Registered members can also log in to the Remnant web portal. You will also find pastors' happy family pictures on their 'About Us page.
Visit Website ➞
4. Hope Center
The Hope Centre, which is an 80-year-old Australian church, operates from six unique locations. This is a church website that is optimized for mobile devices. The website is split up into several parts that run in parallel.
A video appears at the top, and the rest of the page includes several significant pieces of information such as directions or links to the website's other pages.
On a widescreen, the hamburger menu appears small, but once you click on it, the navigation menu will fill the entire screen.
Hope Center is an excellent example of a church website that is mobile-friendly. Despite its unusual format, the site is highly user-friendly.
Visit Website ➞
5. Rockville Church of Christ
Small church websites are usually unattractive. However, the exception is the Rockville Church. This is a very basic site, but it includes all of the necessary features for a small church.
The church's image appears on the homepage and it is followed by the worship schedule of the coming Sunday. The meeting location and timings are stated clearly.
Other helpful additions to the website are Google Maps integration along with a carousel of future church events.
Visit Website ➞
6. Judson Memorial Church
A typical web design of a church does not display a very bold and bright visual appearance, but the exception here is Judson.
This church website stands out from the crowd thanks to its large fonts, bright navigation icons, and the usage of typography functioning as a visual tool.
The website is visually appealing, user-friendly, and simple to navigate. The designers, in our view, did an excellent job if we talk about the visuals.
Visit Website ➞
7. River Valley Church
This church website is deserving of a spot on any list of the best church websites. River Valley Church site is an excellent model for any church website creator, thanks to the welcoming video clips in the background, appropriate call-to-action options, and excellent usage of the site's white space.
Visit Website ➞
8. Hill City
The best church websites are pleasant and inviting. Having said that, who wouldn't like a church website that starts with a video of a group of lively people having a good time? That is precisely what this church website does. Any visitor to the website will pause for a few moments to watch the video.
The remaining site is basic but well-structured. Hill City is a great example if you would like your church website to feature dynamic video content.
Visit Website ➞
9. Trinity Hills
Some contemporary church websites deviate from the standard design. To make their website stand out among others, Trinity Church displays a good use of paralleled scrolling and colorful imagery.
The fixed navigation bar with its search function is highly user-friendly. Every page features Google map integration in the footer that helps the visitors with directions to easily reach the church from anywhere.
Visit Website ➞
10. Summit Church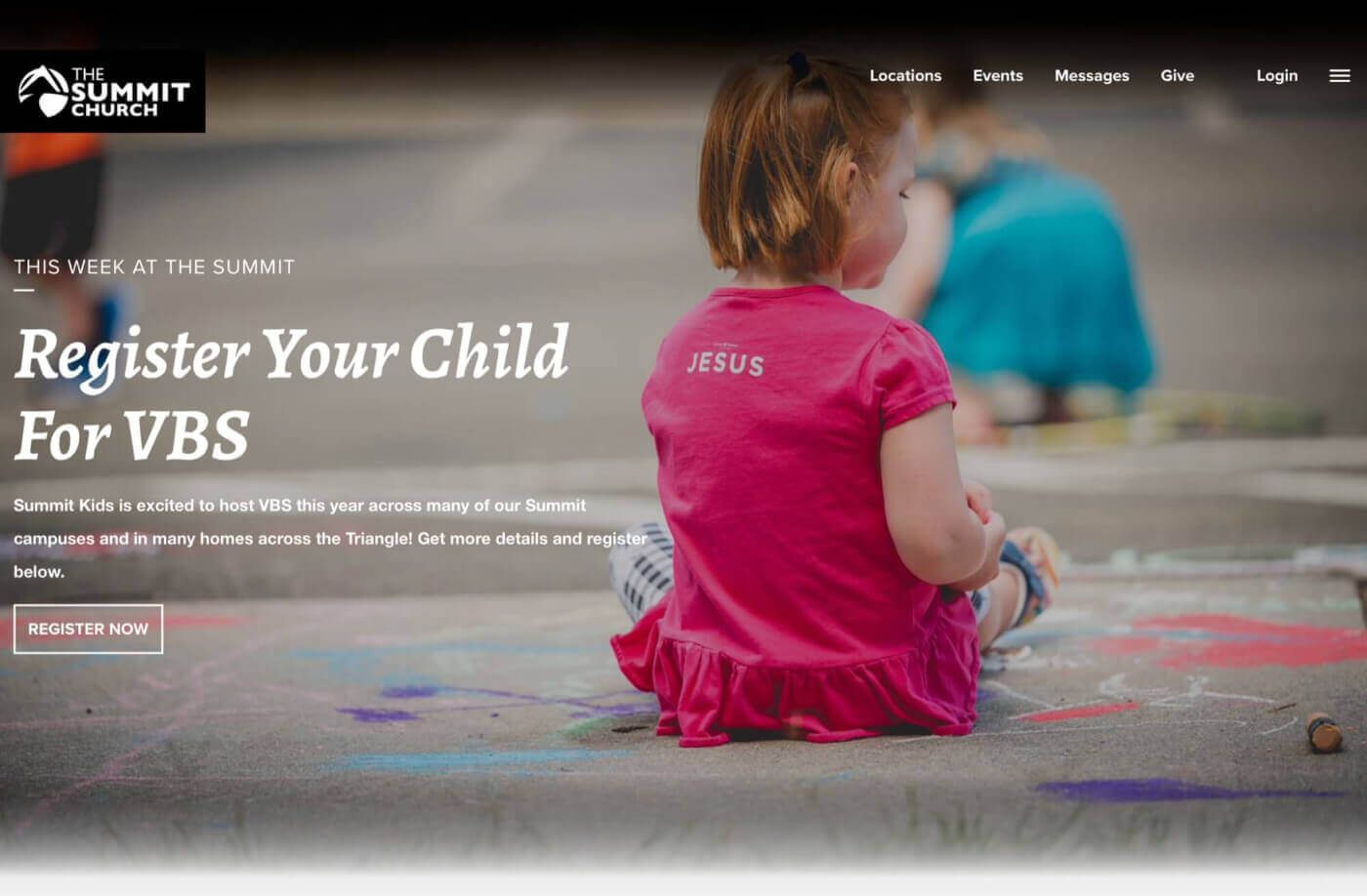 You've already seen that the majority of nice church websites feature video content and are mobile-friendly. Summit Church features the hamburger menu along with its fixed navigation bar to ensure the comfort of smartphone visitors.
The homepage is arranged in a grid format, with each box concentrating on a different call to action. The footer includes their social media links as well as a contact form.
Visit Website ➞
11. Irving Bible Church
The Irving Bible Church features a lovely background video in addition to a well-structured navigation bar. They also include a blog with articles that can be filtered by subject. The site is visually pleasing, with large-sized pictures and simple calls to action.
Visit Website ➞
12. Fuel Church
This is one of the most interesting church websites online. Their tagline is "carry the fire," and the video on the homepage follows this theme. The navigation on the website is outstanding.
Fuel Church doesn't showcase a lot of real-time photos of church activities, but they do provide a lot of ways for visitors to participate.
Visit Website ➞
13. Terra Nova Church
Terra Nova is among those new, innovative church websites that deviate from the standard design. The website is simply beautiful. Terra Nova can easily be called a one-of-a-kind church website thanks to its unique designs and beautiful color schemes that are uniform across all pages.
Visit Website ➞
14. Trinity London
Another site that deviates from the traditional church website design is Trinity London. The site's design is based on bright grids, giving it a clean, contemporary look.
At the bottom of the page, you'll find the church's address and a contact form. Even though the site has a limited number of pages, every page includes an adequate amount of information for its visitors.
Visit Website ➞
15. Radiant Church
On the homepage of Radiant Church, there is a carousel of heroic pictures. Some visitors may complain that it is an out-of-date design trend but the fact is that it works beautifully for this site. The full-width photos look pleasant and can make anyone feel warm and welcome.
In the place of a navigation bar, they feature a hamburger menu. The menu conveniently divides all of the site's pages into different subcategories. Images are used in a generous amount to denote various parts of each article.
The parallax scroll feature is subtly integrated into the site's overall design. A full list of the most recent sermons is available on the website, which is a great addition.
Visit Website ➞
Features of a Good Church Website
There are a few considerations to keep in mind when creating a church website that will help to optimize the website's effectiveness.
Here's a short rundown of some of the most crucial features of church websites.
1. Bringing the Message to the Right People
Many church websites reach two distinct kinds of groups, each with its own set of specifications. The first group is usually made up of regular attendees and members of the church, while the second audience includes people who are digging up to gain some knowledge about the church.
The first audience mostly uses the website to find out about future events and various church ministries.
The second audience which is thinking about going to the church may want to know where it is located (directions or a proper address or both). They would also be looking for other things like service periods, and teachings and practices of the church.
A church website must meet the needs of each of these audiences. People should easily find the information that they are searching for. Only then, a church website is considered a success.
2. Effectively Represents the Church
Every church is distinct in its practices, beliefs, and culture. Visitors who are searching for a church on the internet may always want to know what to expect if they go to a worship service at the church.
They may want to priorly check if the church is conventional and formal, or if it is informal and modern. For those who have never been to the church, websites must effectively communicate the culture and traditions of the particular church.
3. Directions and Information on the Church Services
All the details of the church's services such as the timings, date, and address should be mentioned on the website. It should be simple for the visitors to the website to figure out how, when, and where to visit the church.
If there are several services in the church, the website must provide all the details so that the people who have never taken part in any service don't have any confusion. The information must only be a few clicks away from the site's homepage and incredibly simple to locate.
4. Information About the Ministries
Any website visitor will be interested in learning more about the church's ministries. This information could be useful to the attendees and members of the church who are searching for ways to get included, as well as others who have newly joined the church and want to learn more about all the things that the church offers or if they're looking to join a particular program or church ministry.
The website should at the very least include basic details on the church's different ministries, as well as the contact information of related people like someone in charge of the ministry.
5. Contact Information
Any visitors to the website may be looking for contact details, such as a contact number or maybe an email address. Any church website must provide a contact number for the church office as well as a fillable contact form. It may also be a good idea to mention pastors' and staff members' contact details.
6. Appealing Design
The visual appearance of a church website, like any other type of website, is essential. Although the design is not as important as the content and other details, it is necessary to make a good first impression.
In today's times, a responsive format is needed to effectively display the website to the visitors who are logging in from their mobile phones and tablets.
Conclusion
If any of the church websites mentioned above appealed to you, you must surely save them in your bookmarks. If you can provide your website builder an instance, it will be much easier to illustrate a design vision.
You can either create the site yourself using a DIY platform or use a website builder. However, unless you have any technical web design experience, it will be a lengthy process.
By paying a favorable web design agent, you can effortlessly get a church website at an affordable price. Choose a couple of your favorite church websites and ask the agent if they can create one for you with the features you want.
Frequently Asked Questions (FAQs)
What is the simplest way to create a Church website?
There are several choices for designing a church website, but one of the best picks is WordPress. We suggest WordPress because it is widely used, free of cost, and incredibly effective. There are a variety of WordPress templates prepared specifically for church needs. Some other decent options are Nucleus, Weebly, and Sharefaith.
What are some of the best WordPress themes for church websites?
Divi by Elegant Themes is one of the most popular WordPress themes. The Divi theme is extremely versatile, allowing you to build almost any kind of website without having to know how to code. Divi has numerous unique templates to choose from, including one that is ideal for churches.
What is the purpose of a church website?
One of the primary goals of a church website is to provide information about the church to prospective visitors. A second big motive is to serve as an information center for the church. Consistently revised church websites are a valuable resource for their communities.