With the digitization of almost every sphere of human interaction, it is no wonder that artists are increasingly seeking the help of the internet to get in touch with their audience. It is now essential for an artist to get across to people and present their art to an audience to survive.
In this article, we have assorted some of the best artist website examples on the internet for you to get inspired by.
1. Shantell Martin
Shantell Martin is a visual artist from Britain, well known for her distinct style of drawing. A quick visit to her homepage is sure to captivate your attention as it showcases Martin's own work, animated with the help of custom JavaScript, creating an appealing visual effect.
Martin's online store has been created with the help of Shopify. This is an excellent example of cost-cutting using multiple tools as creating an e-commerce site anew is an extremely costly endeavor.
Visit Website ➞
2. Nathalie Lete
Looking at Nathalie Lete's website will fill you with awe and admiration if you want a unique and exceptionally artistic web design. With her homepage resembling a sketchbook and a background made of her illustrations, Lete's website exhibits her skills not only through her exhibited work but also through the set up of the page and its uniqueness.
The homepage is just as colorful and vibrant as are Lete's works. This serves as an example of an amalgamation of simplicity and creativity.
Made With: WIX
Visit Website ➞
3. Olivia Truong
Unconventional shapes and subtle but crafty animations make Truong's website one of the best sites out there. Her use of a simple layout and solid but soft and attractive colors help in catching the attention of the viewers quickly. Its elegant and professional appearance concentrates the viewers' focus on her story and works.
If you want a minimalist yet colorful appearance for your site, make sure you visit this website for inspiration. It catches the eyes of the visitors and retains them.
Made With: Webflow
Visit Website ➞
4. Michelle Carlos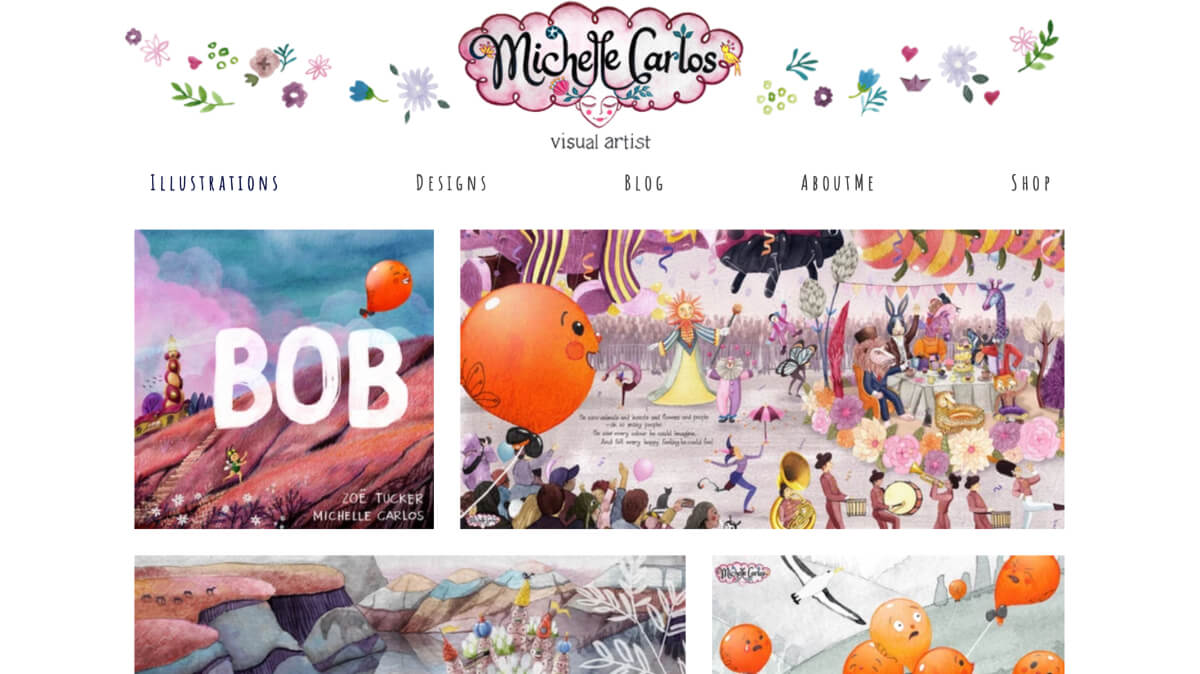 Visual artist Michelle Carlos' website is another exemplary masterpiece of an artist's website. The website, which is full of colorful works of Carlos, also boasts of a very colorful and unique design that would win over any viewer.
Each of her illustrations is showcased in a personalized splash page, also drawn by her. Her intricate logo serves as the customized navigation button, providing access to the rest of the site. Such a unique touch increases its appeal to the visitors of the website.
Made With: WIX
Visit Website ➞
5. Jon Burgerman
An expert in the 'doodle' art style, Jon Burgerman is a popularly known figure whose website reflects the inner creativity of the artist. His website has a very unorthodox appearance filled with his paintings. The use of slideshows and animations creates a very goofy and fun ambiance which is very attractive to people.
On the very top of his page, he has provided a menu and his signature. This creates a sense of trust and comfort among his audiences and customers.
Made With: WIX
Visit Website ➞
6. Amit Sharma
An Indian photographer from Delhi, Amit Sharma's website is an ideal example of a simple, easy to use the site. It presents Sharma's work in scrollable galleries keeping it simple and professional.
Sharma's website does not let the viewer's attention shift from his work for a moment which is difficult to do. The ease with which you can access every single piece of his work is remarkable and is sure to impress the viewers.
Made With: Pixpa
Visit Website ➞
7. Darren Hughes
Darren Hughes' website is a classic example of a minimalistic artist website. The very first page of this website is a testimony to Hughes' skill as an artist and also to his worldview. The composition of his page is very well balanced.
A minimalistic logo and a clean interface gives visitors the scope to appreciate his hyper-realistic art and encourages them to explore more. The very setup of his home page with an enter button creates a sense of journey for the visitors. Further, social media buttons create transparency and increase followers.
Made With: WIX
Visit Website ➞
8. Brimstone Creative
Storytellers with a unique vision can get a picture of how creative this artist group is when you know that their employees have like 'Storyteller' and 'Happiness Hero,' with the office dog being employed as their 'Smile Enthusiast.'
While many artists prefer using social networking sites to gain recognition, creating a professional website can be a much better option. This is because social media platforms use certain layout patterns and algorithms that can restrict your viewers to a certain group of people only. This creativity is reflected equally vibrantly on their website too, which is undoubtedly one of the best, warmest, and most creative websites you would find on the internet.
Made With: PageCloud
Visit Website ➞
9. Shira Bar
Shira Bar is an Israeli photographer. Shira's photography website focuses on her unique style of monochromatic photography. Shira's entire website is designed in a monochromatic theme that stays true to the content of the website.
Shira uses a top menu that helps visitors to navigate. At the bottom of her website, visitors can easily connect with her social media handles. Shira does not use her website as just a portfolio. She also uses it as a blog. By taking this extra effort, her website exceeds the usual expectations of the visitors.
Made With: WIX
Visit Website ➞
10. Midnight Fern
Built with Pixpa, Midnight Fern's Website exhibits unconventional pictures through a pretty conventional design. Midnight Fern displays their photographs through standard, square images in a scrollable gallery with a simple layout and a contrasting color palette.
The simplicity of the design and layout helps the viewer take in the beauty of the artist's aesthetic. Another example of using multiple tools, this website uses Etsy and Society6 to sell their products.
Made With: Pixpa
Visit Website ➞
11. Brooke Cormier
There are websites that are artistic, and there are websites that sell art. Brooke Cormier's website does both with excellent efficiency. Her website is filled with great graphic design and interactive buttons.
Brooke has accumulated her art in the gallery section and arranged it into categories. She has also integrated a shop where people can buy her art. Unlike many artists, she has used a logo instead of a signature. This creates a brand value for her buyers.
From mailing lists to social media handles, Brooke's website provides every information a visitor would like to know. Her website is an excellent example for those people who want to sell art online.
Made With: WIX
Visit Website ➞
12.Tamar Halpern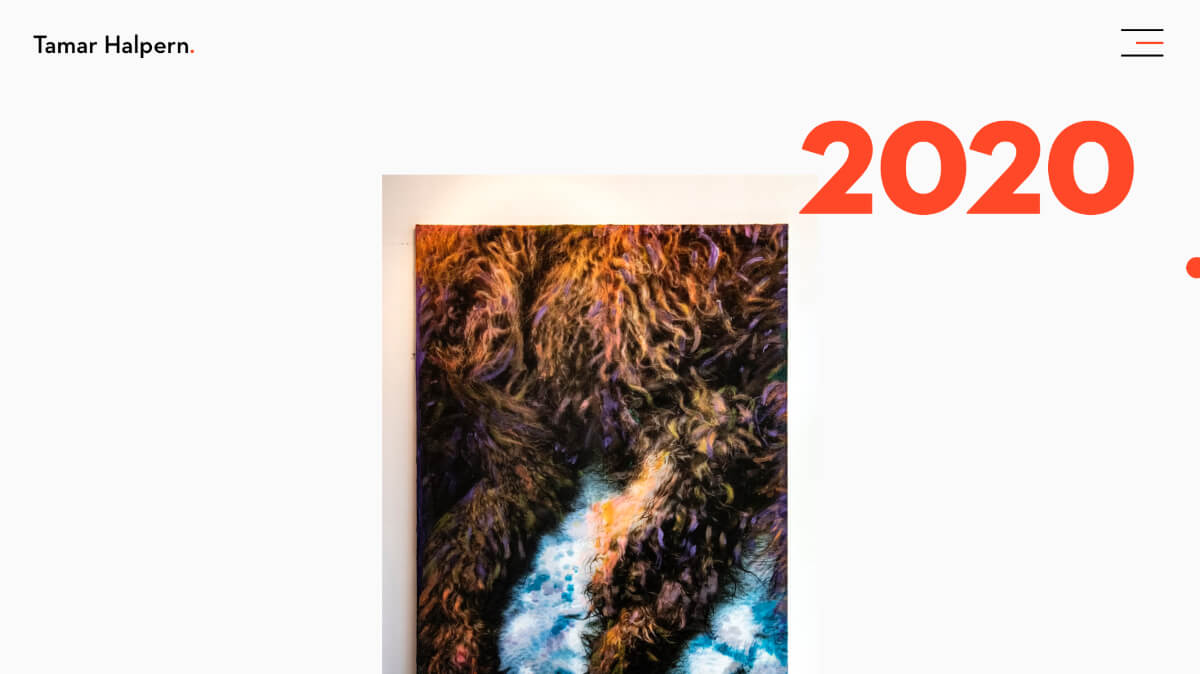 Created in custom code, Tamar Halpern's site is a classic example of an unconventional website. Starting from the red dot mouse cursor to the red loading screen and the gallery layout, everything about this website is extremely unique.
The scrollable gallery follows a layout that allows the viewer to look at only one image at a time, completely captivating their attention. Halpern's homepage has her work assorted year-wise, an assortment that is both logical and organized.
Visit Website ➞
13. Benjamin Hardman
A photographer who captures pictures of the climate and topography of the frozen North, especially Iceland, Benjamin Hardman's website is an ideal combination of professionalism and artistry.
The homepage of this website directly presents the pictures clicked by Benjamin. Drawing majorly on blue, white, and black colors, this website has been designed to be completely in tune with Benjamin's photography. The overall layout, including the choice of font, creates a formal and professional atmosphere.
Made With: Squarespace
Visit Website ➞
14. June Digan
June Digan's website has been built upon the aesthetics of the artist. The home page presents you with a whimsical illustration by the artist and a professionally written bio introduces you to her.
While Digan's illustrations are playful and experimental, her website is an organized and well-planned space for exhibiting those. The use of clear lines, text boxes, and a well-planned arrangement of her work make us marvel at her professionalism.
Such an art portfolio gives you the scope of exhibiting your art to your audience in a skilled manner.
Made With: WIX
Visit Website ➞
15. Banksy
Everybody knows about the revolutionary artist Banksy. Although he likes to keep his identity a secret, he depends on his website to publish his art and connect worldwide. The website is a pretty simple one and mostly focuses on his art.
Customized fonts on his website menu give his website authenticity. A slideshow of his best works on the home page works like a charmer. Whether you're an illustrator, animation artist, photographer, or painter this is the kind of website you should get.
Visit Website ➞
16. Wim Delvoye
Wim Delvoye has undoubtedly outdone himself while designing his portfolio website. It changes and challenges the very concept of website building.
Designed like the buildings from Sim City, his contents are spread throughout the city. This concept is iconic and engaging. Apart from the home page, the rest of his website is very simple in design and does a good job of showcasing his talent.
Visit Website ➞
17. Kate Vass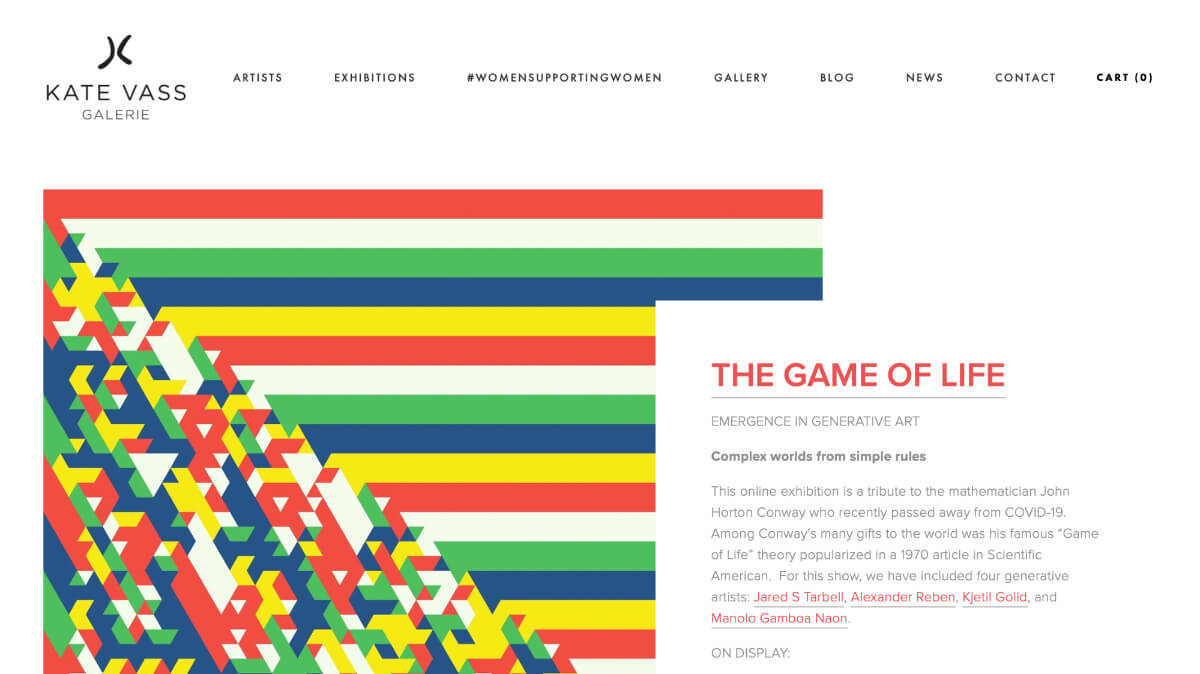 Kate Vass is one of the artist websites that help multiple artists to showcase their talent under one platform. The website is very bright colored and well designed. It works both as an art portfolio and a tech blog.
The home page provides a lot of information about the work they do and also provides visitors with their social media handles. This engages the audience right from the start. They want to see a website where your art is exhibited.
Made With: Squarespace
Visit Website ➞
18. Paolo Ventura
Paolo Ventura's website draws our attention because of its simplicity. A quick visit to this website would open up before you a high-resolution large image of a recent collage by Ventura. The simplicity with which the website presents the artist's work is refreshing.
The ample white space that forms the background of the website, professional arrangement, minimalistic font, and humble decor provide the viewers with the feel of sitting in a museum. Therefore, it is essential to plan out and design your website in a manner that is neither too glam nor utterly devoid of aesthetic value.
Made With: WIX
Visit Website ➞
19. Maegan Guerette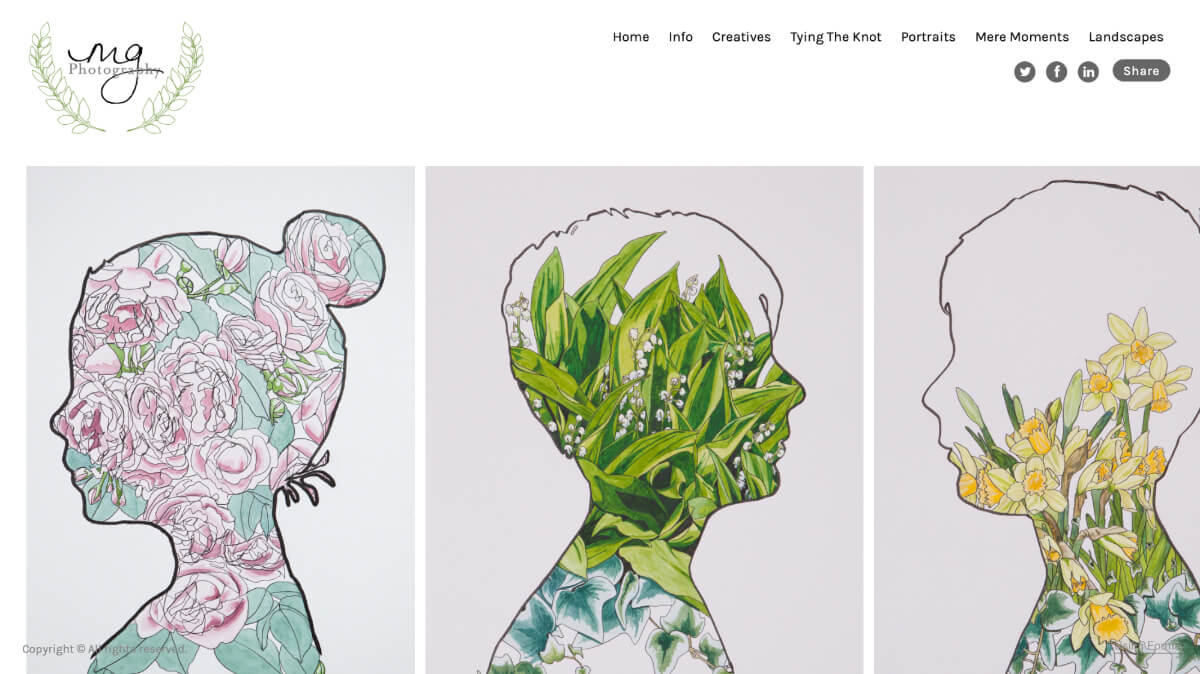 Maegan Guerette is a professional photographer and also a color painter. Although her website heavily focuses on her paintings, she uses it to advertise her photography services for weddings, birthdays, and other occasions.
She has provided a clean interface on the home page. The tidiness of the menu on her website makes it easy for users to connect. Instead of a tile view of all the images, she has selected a scroll view that restricts the visitors' perception.
Made With: Format
Visit Website ➞
20. Jonathan Matas
Jonathan Matas is a painter from Seattle. His website is the perfect blend of simplicity and creativity. Visitors can find it easy to locate the paintings he has made on his journey as an artist and buy them too.
Apart from paintings, the websites also have links to other projects he undertook which include murals, graffiti, film assignments, and much more. This helps potential buyers and clients to get an overview of how diverse the painter is and this comprehensive approach has made the website even more attractive.
Made With: Squarespace
Visit Website ➞
Conclusion
One thing to remember while planning out how to design your artist website is that your audience does not want to see an artistic website.
We hope the examples we assorted have helped you gain perspective regarding the design, layout, and pattern you would like to use for your website.
So why waste any more time? Prepare an artistic website of your own and kickstart that business you've been long dreaming of.