If you're looking to start a podcast but don't have any idea how to create a podcast website, then you've come to the right place.
I have been building websites for over 5 years now and in this in-depth guide, I will take you through everything you need to know to start your podcast website and kick-start its growth.
Let's start!
WordPress or Website Builders?
Before we look at the steps of building your podcast website, let's quickly look at two different site-building platforms that will act as your website's foundation.
When it comes to building websites, there are two main options: WordPress, and website builders.
1. WordPress
WordPress is an open-source content management system that allows you to build a website from scratch by using thousands of plugins and themes.
This means you can customize every aspect of your site, from the look and feel to how it functions. However, because it's such a powerful tool, it also requires more time and effort than using a website builder.
2. Website Builders
Website builders are great if you're just starting out and want something simple, but they won't give you much flexibility or control over your site's design and functions.
Site Builders like Squarespace or WIX allow users to create websites quickly by choosing from predesigned templates.
They're a good option for beginners who want something they can just get going with right away, but they don't offer as much customization as WordPress.
Plus, while these site builders are great for starting out, they aren't very scalable — which can limit your website's growth.
Overall WordPress is a great choice for building a website. There are a multitude of reasons why people choose WordPress, ranging from its ease of use, flexibility, unlimited layout options to its SEO benefits.
And with a variety of hosting services to choose from, it's easy to get started. As such, WordPress takes the crown when it comes to building websites.
While the initial setup with WordPress can take a little bit more time, it will be worth it for you in the long run.
So now let's see how you can build a podcast website on WordPress. After that, we'll also see how you can build a podcast website with site builders.
WordPress Build to Create a Podcast Website
Here's exactly how you can start your podcasting journey with WordPress.
1. Get a Domain
If you already have a domain with another provider, great! You can skip this step. If not, head over to Namecheap and sign up for an account.
They're my favorite because they're affordable and easy to use.
Once you're logged in, head over to Domain Name Search to look for your perfect domain name.
A domain name is the website address you type into your browser to access your site. It's what people see when they visit your site and it can be anything you want. When you buy a domain name, it's yours forever, so choose wisely!
2. Get Web Hosting
After you have your domain, you'll have to get web hosting.
Web hosting is necessary because it provides the space on the internet where your podcast files will be stored.
For this guide, I'm going to show you how to use Namecheap to make your WordPress website live.
First, visit Namecheap WordPress hosting plans, select a plan (our recommendation is the EasyWP Turbo plan), and click on 'Try for Free' under the Hosting plan to finalize the purchase.
Then confirm the payment and you will get access to your hosting account instantly.
3. Install WordPress
Once you have purchased an EasyWP Namecheap managed WP hosting, go to the Apps menu and click on the EasyWP option. On the next page, select WordPress. After that, enter your website name and click on Continue.
Then in the next step, you will have to connect a domain. If you have purchased the domain from Namecheap, you can quickly connect the same.
But if you have a domain with any other provider, you can select the last option "Domain on other provider".
Finally, review all the details and click on Continue to start WordPress installation.
4. Setup a Template
Now, you'll have to set up a template to create your podcast website.
To do this, you can install a page builder plugin like Elementor.
Simply go to Plugins in your WordPress dashboard, and search for Elementor. Then click on Install and Activate.
Note: While the basic Elementor plugin is free, they also offer a paid version that will get you access to a ton of features like premium templates, more editing tools, and full site editing capabilities.
What this means is that with Elementor Pro you can make your Podcast website look very professional and functional.
So once you're ready, you can upgrade to the Elementor Pro for just $49 and set up your website.
Now click on Pages > Add New > Edit with Elementor. Then an editor will open up where you can click on Import Templates to use a pre-built template on your website.
5. Create Navigation
After you have imported your chosen template, go to your WordPress dashboard > Appearance > Menus. There you can create your menu for the website.
For example: you can add links to home, about, podcast episodes, and contact page in the menu.
6. Install Plugin for Podcasts
You can also install a plugin like Seriously Simple Podcasting to manage your podcast files.
This plugin will help you manage your podcasts, create playlists, embed them anywhere on your site, upload podcasts in video format, and monitor how the podcasts are performing with in-built analytics.
7. Launch Website
Once you have set up all the pages, menus, and content that make up your podcast website — you can launch your site on the Internet.
This is where you'll publish your podcast episodes, post-show notes, and transcripts, and write blog posts about your podcast.
Website Builder Build
If you have decided to build your podcast website with website builders, then follow these steps.
1. Sign up for Website Builder
The first thing you need to do is sign up for a website builder (such as Squarespace, WIX, Weebly or Versoly).
For this guide, we'll use WIX to show you the process.
First, visit wix.com and click on "Get Started" to sign up for a free WIX account.
2. Select a Template
Now, click here to select a podcast template that you like. Then click on "View" to see the template live, and then click on "Edit" to start editing the template.
The editor will then open up for you to edit the content. Let's see how you can do that in the next step.
3. Edit Content
To edit the content, you can click on any text or paragraph and simply start writing your own content.
The same is with the images, hover over any image, then click on "Manage Media" and upload your images.
Once you have edited all the content, you can click on "Save" on the top bar to save all your changes.
4. Launch Website
Finally, click on "Publish" to launch your website on the Internet.
WIX will automatically assign you a dummy domain that you can use for free for your website for as long as you like.
But it's recommended to upgrade the WIX plan that allows you to connect a custom domain.
To do that, you can simply click on "Upgrade Now", and select a plan according to your needs (our recommendation is their Unlimited plan).
After that, once you have completed the payment, you can go to "Settings" and connect your custom domain name.
And that's it! Your podcast website is live now. 🙂
Why is a Podcast Website Important?
A podcast website gives you full control over your brand, allowing you to create a professional online presence and grow your audience more efficiently.
If you want to start selling products or services through your podcast, then having your own website will be very helpful. You can also use it to promote other people's products and services, which could be another way to monetize your podcast.
Here are a few reasons why a podcast website is important:
Give your show an identity
Provide an easy way for listeners to find your podcast
Share links to your latest episodes
Promote yourself as an expert in your field
Collect email addresses from fans so you can keep in touch!
All in all, a podcast website is the best way to give your show identity and connect with listeners. It's also a great platform for promoting yourself as an expert in your field, which can lead to new opportunities.
Podcast Website Best Practices
A podcast website is a place for listeners to go and find out more about your show. It's also a place for you to share content, engage with listeners and grow your audience.
I've put together some tips on how to make the most of your podcast website.
1. Keep it Simple
Your podcast website should be easy to navigate to keep the people coming back for more. If there are too many links or options, it will confuse people and they'll get lost in your site.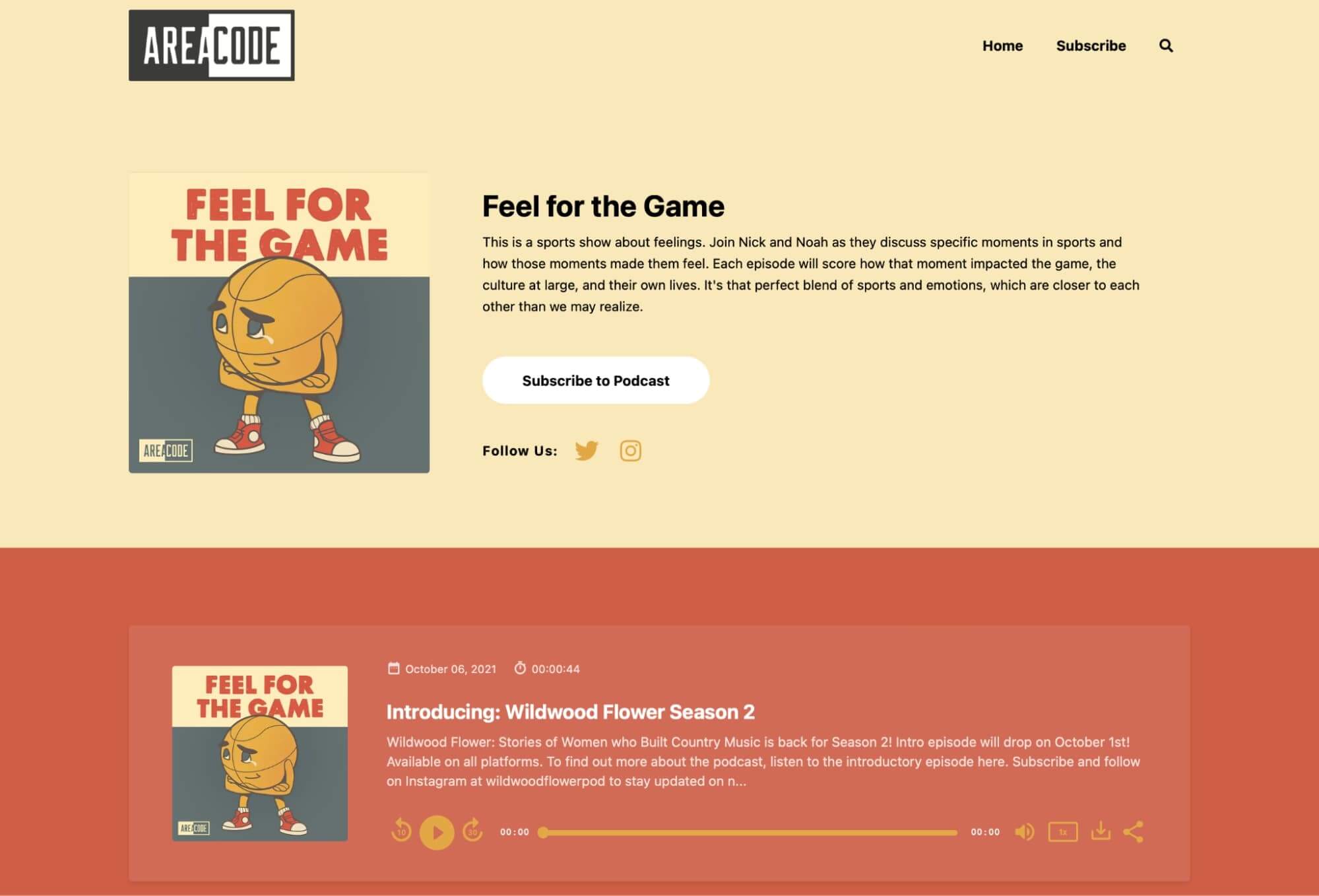 Keep it simple and focus on what you want listeners to do when they visit your site — whether that's subscribe to your email list, download an episode or just learn more about you.
2. Make it Mobile Friendly
People listen to podcasts while they're on the go so make sure your website works well on mobile devices too (and tablets).
It should load quickly, be easy to navigate with touch screen controls and have large buttons so people can easily click through without having to zoom in too much or use two hands!
3. Optimized Descriptions
Write compelling descriptions for each episode page on your website (in addition to the one included on the iTunes Podcast Directory).
This will help people find your episodes when searching for content in iTunes and other podcast directories, as well as Google search results for relevant keywords.
4. Unique Graphics
Make sure all of your episodes have unique artwork that reflects the topic of each episode and provides visual interest when someone scrolls through their podcast directory app looking for something new to listen to.
5. Social Media
Share your episodes on social media using engaging images and descriptions to promote each episode to your followers, and encourage them to share with their friends.
How to Grow your Newly Built Podcast Website?
So you've built your very own podcast website. Congratulations!
Now, the big question is, how do you grow your new website? This can be done through different methods, but here are some of the best ones:
Use social media
Create an email list
Write guest posts for other sites
Partner with other podcasts
Add podcast transcripts
Be active in forums
Create social media profiles
Ask for shares
Keep an eye on trends
Use social media to expand your reach
The most important thing you need to consider when trying to grow your podcast is just that: a podcast. Without one, there's no need for a website, and a website that gets no visitors will also make very little money.
Focus on creating the best podcast possible, then move on to the next step: promotion.
Final Words!
There are many benefits to creating a website for your podcast, the biggest of which is that you can establish yourself as an authority.
Your podcast website is a testament to your skills, and is invaluable in helping attract potential listeners to your brand. It gives them a chance to listen to examples of your work and allows you to include information about relevant topics, such as your guest list for each podcast episode.
A website can also help you become more well-known in your niche, allowing you to reach new people over time and giving you something to add with every entry on your resume.
In this guide, we've covered everything you need to know in order to get your podcast off the ground, and create a professional-looking system you can be proud to showcase.
Let's quickly recap how to get your podcast website up and running:
Start with either WordPress (this is recommended) or Website Builders.
Get a domain and web hosting / website builder.
Set up a template, edit your content, upload images, create a menu, and publish your podcasts.
Finally, launch your website for your audience to see.
Be sure to tell us your results or any questions in the comment section below or at the bottom of this post.
FAQs
Should I create a website for my podcast?
Yes! If you don't have a website, it's easier for people to overlook your podcast. If you have a website, though, it can be easier for people to find and subscribe to your show.
Can you host a podcast on your own website?
Yes, you can host a podcast using a service like SoundCloud or Anchor, which will allow you to host the audio files on their servers and make them available online. You can also use something like WordPress to embed the audio player on your site and link it to your own RSS feed.
How do you make a good podcast website?
When you make a good podcast website, you need to: make it easy to navigate through the site, have high-quality pictures of the people on the show, have clear audio quality so that people can hear everything clearly and easily, and have links to other places where people can find out more about your podcast (like links to social media accounts).
What should be on your podcast website?
Your podcast website should have details like: information about the hosts and guests, links to social media accounts for the hosts, guests, and other members of their team, a "Subscribe" button so listeners can add the podcast to their podcast app of choice, short description of what the show is about and why people should listen, and a calendar of upcoming episodes (if applicable).