I'm a web designer and developer myself, and I have been building websites for over five years now. In all these years, I have tried almost every website builder out there, and I can safely say that Weebly is the best free website builder you can use.
Though nothing is entirely free, Weebly does quite an excellent job of keeping the free plans accessible for those who are only looking for free options. There are limitations (for which there are paid plans), but you can get your site up and running in no time with Weebly.
But for your ease, I have included over ten free page builders in this article so that you can choose the best one according to your needs. Now for the comprehensive review, let's move to the next section…
Note: Keep in mind that, even with free website builders, you still need a domain name as you'll only get a dummy domain with the free plans which are not good for SEO and branding.
1. Weebly
If ease of use is your priority while selecting your perfect free website builder, go with Weebly. With a major focus on product quality rather than marketing, Weebly is one of the best website builders out there powering millions of websites.
The free plan of Weebly comes with a free SSL certificate, up to 500 MB of storage, and a domain with Weebly branding — so you can create your subdomain like yoursite.weebly.com.
You will also get access to basic SEO, which is necessary if you want to take advantage of the free organic traffic, and you can scale quickly with Weebly paid plans.
To set up your free website with Weebly, all you have to do is create an account, select your desired template, and set up your free subdomain.
Weebly drag and drop editor is extremely powerful and user-friendly. Other than the HD video, audio, and search box — you can use all the elements to build your site.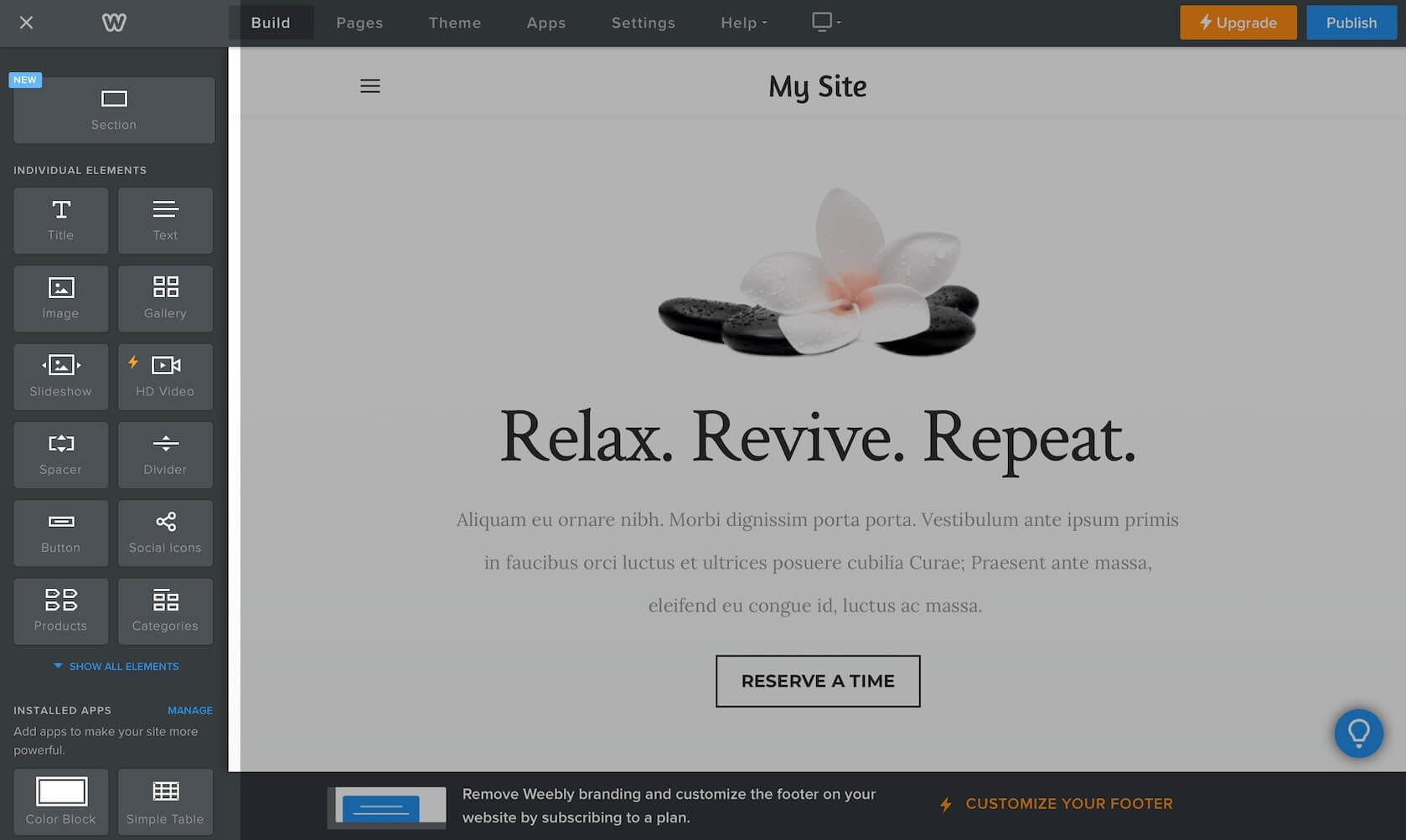 All the templates are fully responsive, which is necessary as websites now receive over 50% of traffic from mobile devices.
The only downside with Weebly's free plan is the message, "Powered by Weebly" on every page of the website.
Weebly is a lot more impressive with features like unlimited storage, custom domain, site stats, and more if you choose to sign up for it's Pro plan.
2. WIX
WIX comes with an easy to use drag & drop builder, and hundreds of free templates.
I liked the onboarding process of Wix, as it is very streamlined and designed to help users who don't have any idea about how to set up a nice website.
The free plan consists of 500 MB storage, 500 MB bandwidth, customer support, and a subdomain: username.wixsite.com/yoursite. There's no page limit in the free plan, and you can fully customize your site for the SEO.
I recommend you Wix, if you're looking only for a free website builder, and you don't have any future plans for upgrading to a premium plan. Though the bandwidth is limited, it's enough for a few hundred users per month.
You will get a big banner on top on your free Wix site, which is intrusive, but the banner on mobile is relatively small and non-sticky so far less visible.
Recently, WIX has launched a new Editor X to give site owners extended flexibility in designing custom websites. With Editor X, you can use breakpoint precision and flexible CSS layouts to design anything you want.
So whether you're looking for a free builder only or looking to upgrade in the future — you cannot go wrong with Wix.
3. Ucraft
This is the only website builder out there with which you can connect a custom domain name even on the free plan. And with a custom domain — you get a free SSL certificate too.
Ucraft free plan is impressive with unlimited bandwidth and pages, SEO tools, Google Analytics support, and 24/7 support.
The pre-made templates are also professionally designed and are available for most of the verticals. The drag & drop editor is easy to use but includes only the basic elements in the free plan and lacks social media, eCommerce, and other advanced elements.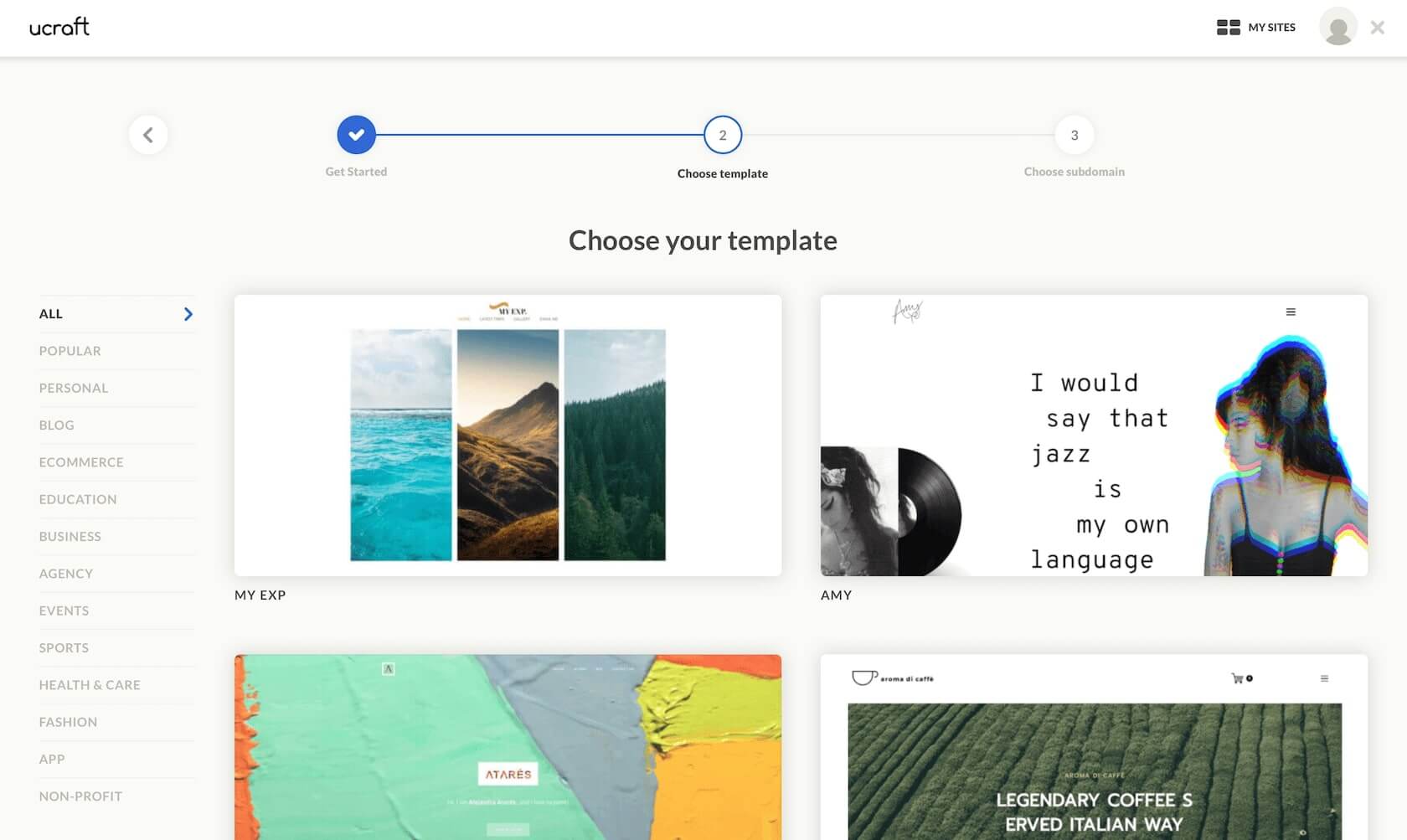 Now for the downside of Ucraft, there's only one thing — the full-width ad that scrolls alongside visitors, so if you're fine with that and you need a custom domain — Ucraft is a great website builder.
4. Webflow
If you're looking for something advanced, try Webflow.
Targeted towards designers and developers, Webflow gives full flexibility of designing a website without coding.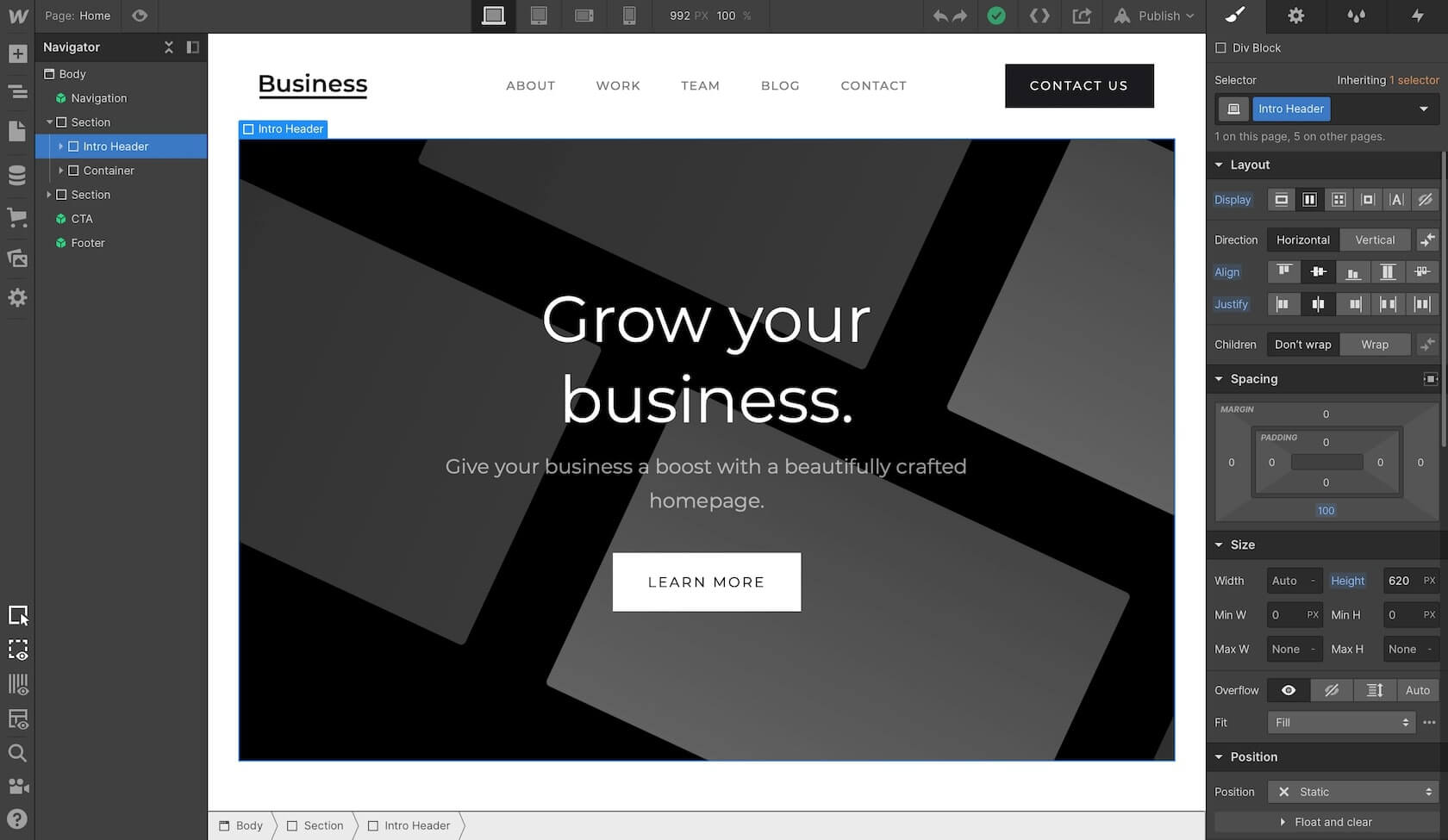 Webflow doesn't offer a lot of pre-made templates, so when you sign up, you can either select a blank site or a starter template.
To start with Webflow, you will have to sign for their free Account plan and then select the Staging plan. The staging plan is free for up to two projects. But there's a limit of 500 visits for the free users, so if you need more than that, try the next website builder, which is Google Sites.
5. IM Creator
With over 17 million sites built, IM Creator is one of the best website builders for those looking to have a website with lots of visuals.
It is free for all with unlimited hosting and bandwidth — so you can have hundreds and thousands of visitors without any limitations. The editing on IM Creator is simple, fast, intuitive — and you can easily create responsive sites for every device type.
The platform also offers SEO tools out-of-the-box to increase the site's traffic and conversions, and you can even use Google Analytics and Google/Facebook pixels for advanced tracking.
Other than that, the IM Creator builder is pretty robust, so you can use it for your landing page as well as a new site with hundreds of pages.
6. Carrd
Carrd is a simple, free, and fully responsive website builder for one-page websites.
You can use Carrd to build your personal portfolio, a landing page, a business site, and more!
Carrd offers a subdomain: your site.carrd.co with free SSL certificate, analytics support, and forms widget to add MailChimp, ConvertKit, etc. to convert your site visitors into your customers.
The thing that differentiates Carrd from other website builders is that there's a tiny ad on the free site, and the paid plans are super cheap — at just $9 per year. You cannot get anything cheaper than that now, can you?
7. Strikingly
Used for one-page websites, Strikingly is a solid website builder to create simple, stylish, and functional websites.
With Strikingly's free plan, you get unlimited free sites so you can publish as many sites you want from only one account.
The storage allocated to every site is 500 MB, and unlike other website builders, Strikingly offers over 5 GB of monthly bandwidth, which is enough to handle thousands of visitors every month.
You can even sell one product per website, and if you have any issues, you can contact the 24/7 live chat support.
The domain you get is in the format: yoursite.mystrikingly.com, which is decent compared to the domain of Wix in the free plan.
The biggest downside with Strikingly is that there's no support of the SSL certificate in the free plan, which results in a "Not Secure" message in the browser window.
So my recommendation is to upgrade to any of their paid plans once you are happy with your site on Strikingly — to get access to the free SSL certificate and make your site secure.
8. WordPress.com
Before I tell you why this may be the perfect website builder for you, note that WordPres.com is not WordPress.org.
WordPress.org is a completely free and open-source platform, while WordPress.com is a website builder with which you can build your websites without having to manage the hosting and other things.
Like Weebly, Wix, and other builders mentioned in this list, you can create your website using professionally designed themes with WordPress.
To start, you will have to select a WordPress theme that can be changed later. The theme forms the basic structure of every WordPress site, which you can customize further with drag & drop editor and plugins.
With the free plan, you will get a WordPress.com subdomain, web hosting, and free themes. Other essential features like analytics, basic SEO, and social media sharing, are also included within the platform. The storage included is 3 GB, so you will have no problem even if you upload hundreds of images on your website.
The downside with WordPress.com is that they insert ads into the website anywhere, and there's no option to control the visibility of ads on the front-end of the site.
You may not find this builder the right choice if you're looking to build your business site or other types of sites, but WordPress.com is perfect for those looking to start their blogs as the platform is specially designed for blogging only.
9. Jimdo
Jimdo website builder is perfect for small businesses that are looking to set up their site without any coding. With Jimdo, things are quite simple, which is useful if you don't like too many options to start with.
The free plan of Jimdo offers 500 MB storage, 2 GB bandwidth, a maximum of 5 pages, and a subdomain: yoursite.jimdosite.com. The good thing is that they have included free SSL certificates in the free plan, unlike other website builders.
Jimdo website editor is easy to use with all the basic elements such as headings, images, photo gallery, video, and social media share buttons. You can even add elements like Google maps without having to upgrade to a paid plan.
They now include ready-made blocks in the editor so you can select the block you want, select the color theme, and the block will be added to your site.
The best thing about Jimdo is that they don't put massive ads on the free sites, and you will only get a Jimdo message at the bottom, which is non-sticky, so most visitors may not even see that ad.
All in all, I recommend Jimdo if you need a quick solution to build your website for free with all the necessary features.
10. Google Sites
This is the only website builder that is completely free — with no ads on the front end of the site and no paid plans.
You can even connect your custom domain with Google sites.
But as everything is free, you will not get as many features compared to other website builders. There are no pre-made templates, and most of the elements are limited to Google products such as Google Docs, Google Forms, Google Calendars, etc.
If you're looking for a free solution with no ads and custom domain — then definitely try Google Sites.