Nicepage is an advanced drag and drop website builder available for Windows and macOS as a WordPress plugin and a Joomla Extension.
It is a no-code tool focused on website designers. You can use it to design themes and templates for content management systems (CMS) like WordPress and Joomla.
I used this website builder to build a few websites when I started my freelance journey. So in this post, I will share my experience of using Nicepage builder, its features, pricing, and whether you should use it or not.
Let's get started…
Nicepage Website Builder Overview
Nicepage is an advanced drag-and-drop website builder designed for web designers and developers. With its flexible templates, freehand positioning, responsive design, and handy widgets, you can build high-quality templates and websites.
Nicepage builder is developed by the team at Artisteer, where they have experience of over a decade. Artisteer was launched in 2007, and Nicepage in 2018. While Artisteer is focused on automatically creating templates for WordPress and Joomla CMS with its AI backend, Nicepage is a pure drag and drop builder with a ton of advanced features.
Nicepage is an excellent website-building tool where you don't have to write a single line of code. And with its latest features of Freehand positioning, you can build any modern web design you can think of. It also has an extensive range of pre-built templates to choose from.
With Nicepage, you can design and develop WordPress themes, HTML/HTML5 templates, CSS templates, WooCommerce themes, Joomla templates, and single-page templates. It also supports landing pages, website mockups, and static sites.
Let's now see all the features of this builder…
Nicepage Website Builder Features
Here's a quick rundown of all the Nicepage useful features.
1. Freehand Positioning
Intuitive freehand positioning is the key feature of Nicepage. With this, you can create overlapping elements and free sizing in your design.
You can use the natural drag and drop and freehand positioning of Nicepage to freely place design elements on the pages and create unique designs — all without writing any code.

All the output is mobile-friendly, so you can create a design for desktop screen size, and that will be adjusted accordingly to other screen sizes as well.
Note that while the freehand building is best for creating unique designs, it has its risks also. Because when an element is not tied to the primary page structure, it can cause accessibility and readability issues, so test properly when you use freehand designs.
2. Pre-built Blocks & Templates
With Nicepage, you get to create websites with the largest library of templates that are all latest and ready-to-use. All the templates are designed based on the latest trends and follow the web design best practices.
Nicepage offers access to over 8000 templates that are fully responsive and customizable.
The templates are split up into different categories: technology, art & design, business & law, food & restaurant, fashion & beauty, interior, education, wedding, nature, real estate portfolio, travel, and industrial.

I really like the Nicepage templates as all the designs use relevant content, images, and neat and clean designs. These templates are not just a feature addition like some other website builders do, but you can really use Nicepage templates for your personal or client websites.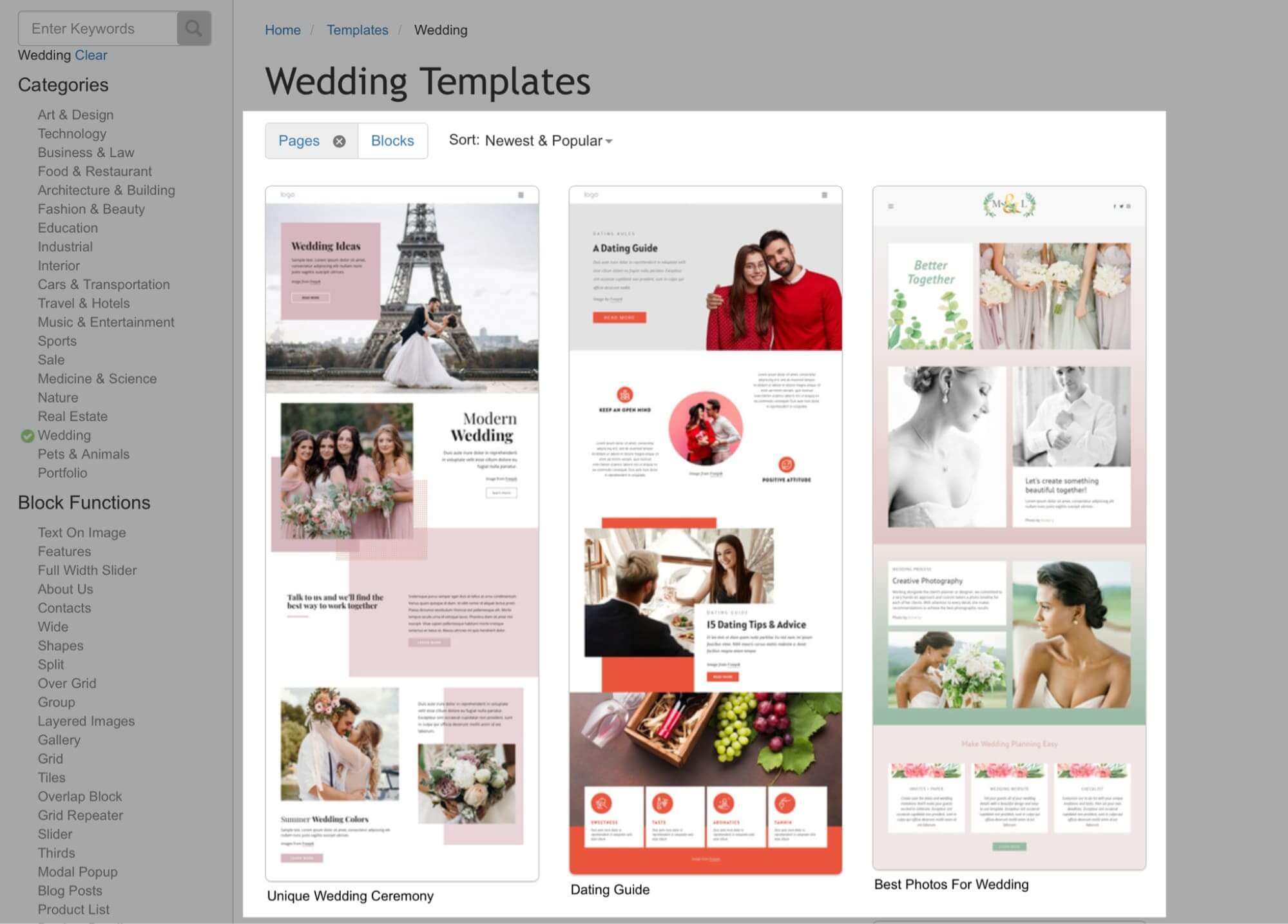 Individual full-page templates are divided into blocks as well — which is a practical and time-saving feature as you can simply import the section you need rather than importing a full page.
3. Customization Capability
After you have decided on a template for your project, you can start customizing it with your content and details.
Nicepage drag and drop builder includes many content blocks that you can simply import to build your page. Some of the content blocks in the builder are:
Text on Image
Headline
Text
Text & Button
About
Features
Gallery
Image Grid
Board
Wide
Form
Contacts
Video
Social
Team
Pricing
Brands
Testimonials
Overlap Block
Other basic customization settings available are typography, fonts, and colors.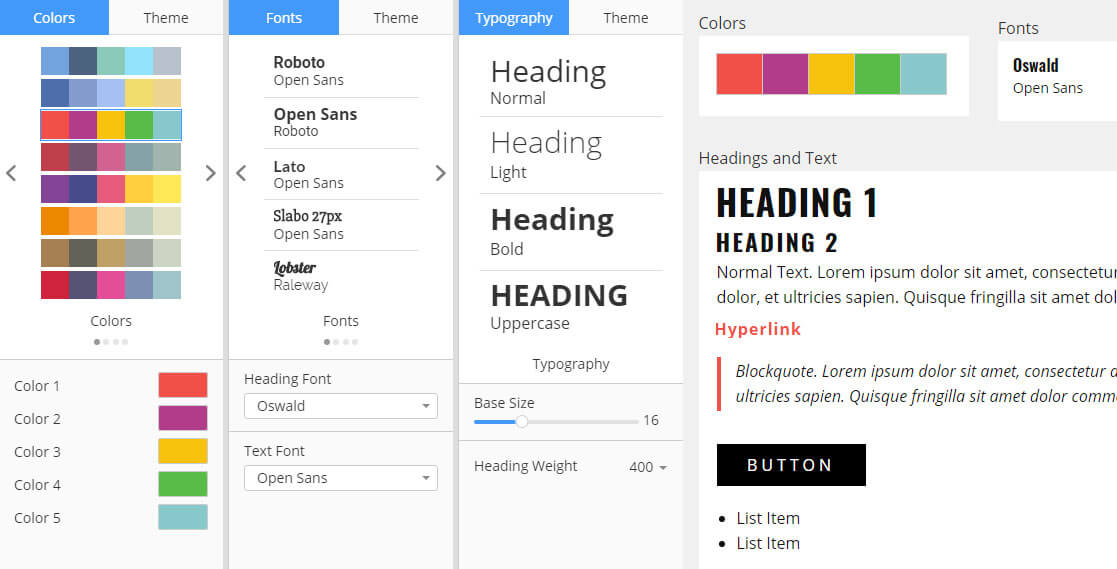 While initially, Nicepage editor can look complicated, once you spend a few minutes, you'll see how easy it is to build web pages from scratch within its editor.
4. Website Animations
Nicepage provides a variety of outstanding motion and animation effects like Swing, Jello, Slide, Fade. You can set these effects to trigger when the page loads, slides, or scrolls.
To cells, sections, and containers, you can add video backgrounds to make them look visually appealing.
5. Mobile-Friendly Design
Nicepage builder offers complete responsive editing with its easy drag and drop editor. You can adjust all your page designs like colors, fonts, header, footer, and other design elements according to different screen sizes (desktop, mobile, and tablet).
The supported viewports for mobile-friendly designs are desktop (default), laptop view, tablet view, phone landscape view, and phone portrait view. You can also hide content elements based on the screen size.
6. Export Options
Once you are done with the designs, you can export the files from the Nicepage desktop or online applications to WordPress, Joomla, HTML, image, or project export.
Note that project export is not yet supported for the Nicepage WordPress and Joomla plugins.
Nicepage Setup and Documentation
To start with Nicepage builder, you can first download the tool available as Windows app, Mac OS app, WordPress plugin, Joomla extension, and Online editor with hosting.
Supported languages are English, Dutch, French, German, Italian, Polish, Russian, and Spanish.
After you have downloaded and installed the app, you can open it and sign up via Google or Facebook.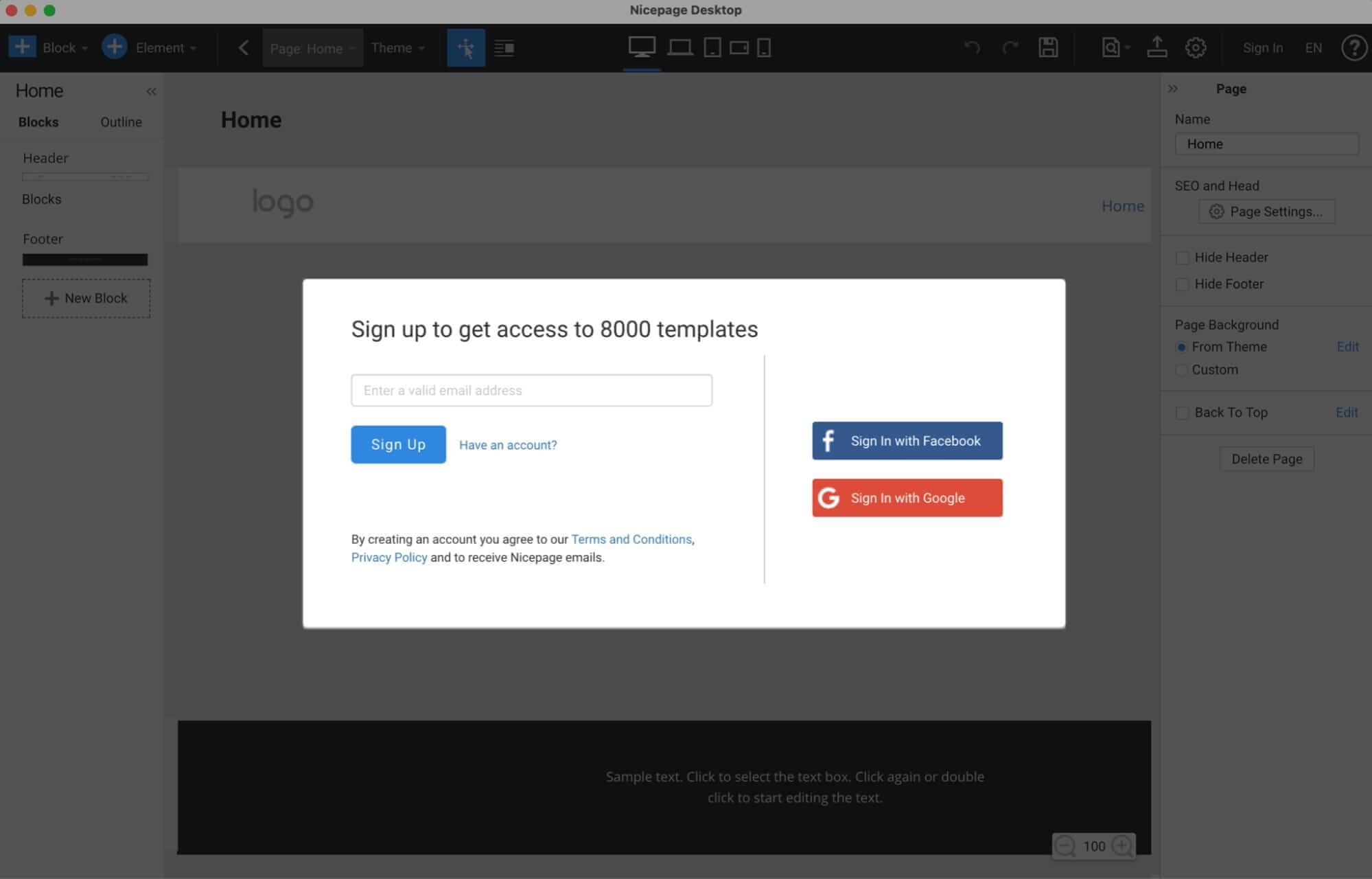 After that, you'll see a quick walkthrough that will guide you through all the basic steps of using Nicepage builder.
While there's no way to exit the walk-through, I like it as it's a simple process and will only take about a minute.
After you have finished it, you can start building your web pages. The editor looks decent, with only essential elements visible at first.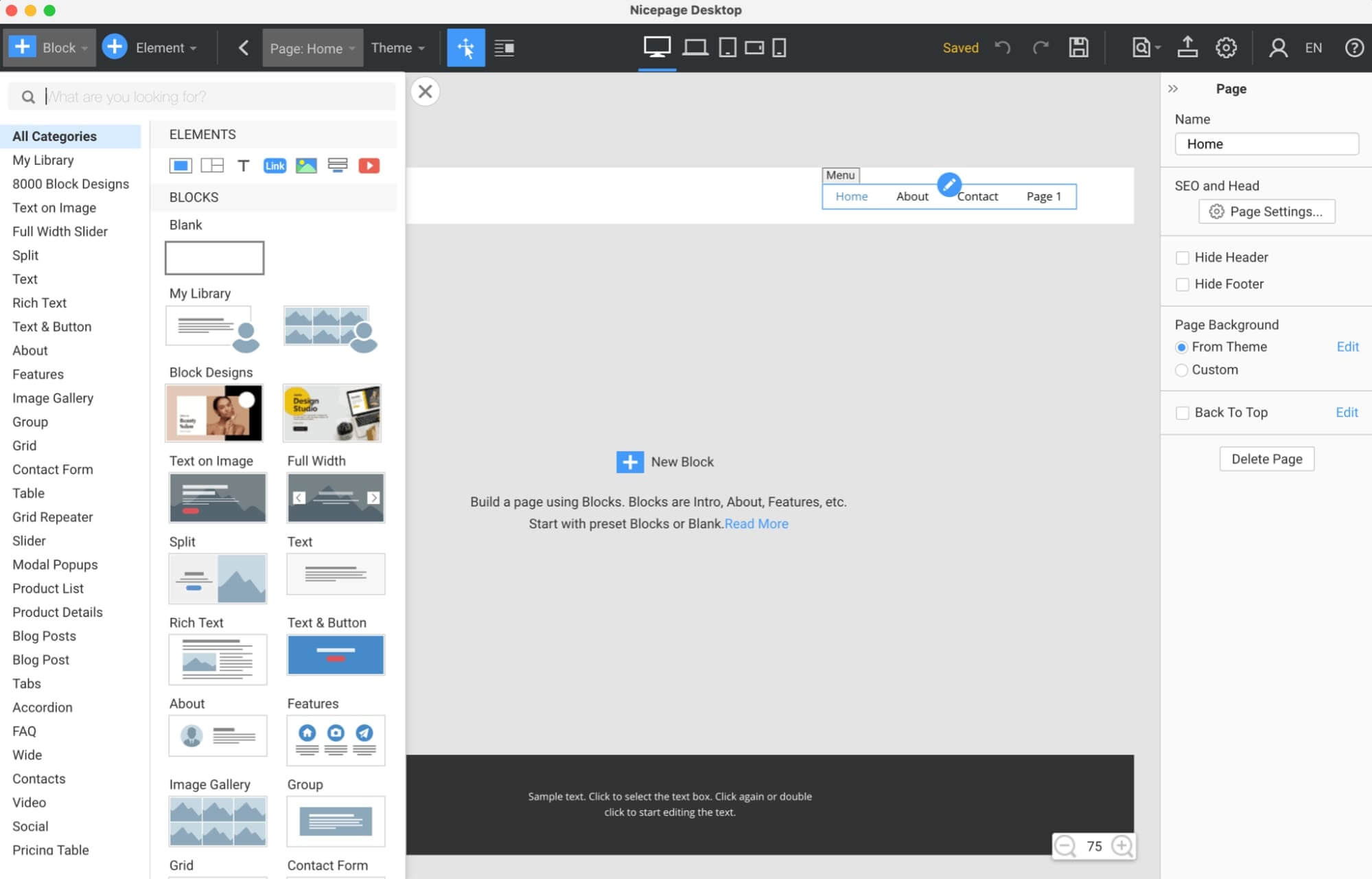 The best thing about Nicepage editor is that all the block templates are integrated within the drag and drop content elements, so you can simply add a template instead of starting with a scratch element every time.
Nicepage becomes more complex when you're about to publish your website. To export the Joomla, WordPress, or HTML file and then install the same on your chosen platform, you'll need some technical knowledge.
It's certainly not as easy as it is while using other website builders like Squarespace or Wix, where you simply press publish, and you're finished — but then Nicepage is a full fledged theme and page builder, while Squarespace and WIX are website builders with limited functionality and closed ecosystems.
But to fix this flaw, Nicepage also offers a "Web App with Hosting + Designer App Pack." This pack includes hosting as well, where you can host multiple sites with unlimited pages, connect your domain, install free SSL, connect CDN, and use all the other Nicepage features.
Nicepage Documentation & Video Tutorials
Nicepage has well-defined documentation with hundreds of text-based and video tutorials.
The docs are categorized into Desktop & Online, WordPress, Joomla, How To, Features, FAQ, Troubleshooting, and Release Notes. Basically, you'll find everything you need while building a website in Nicepage builder.
Nicepage Support
The customer service offered by Nicepage leaves a lot to be desired. When it comes to contacting Nicepage for assistance, there are currently just a few options.
The primary means to contact the support team is to post a query in the forums. Anyone with an account on Nicepage can answer an "open question" that you publish. You can also post a "closed question" if you'd only prefer an official Nicepage customer support team member to reply.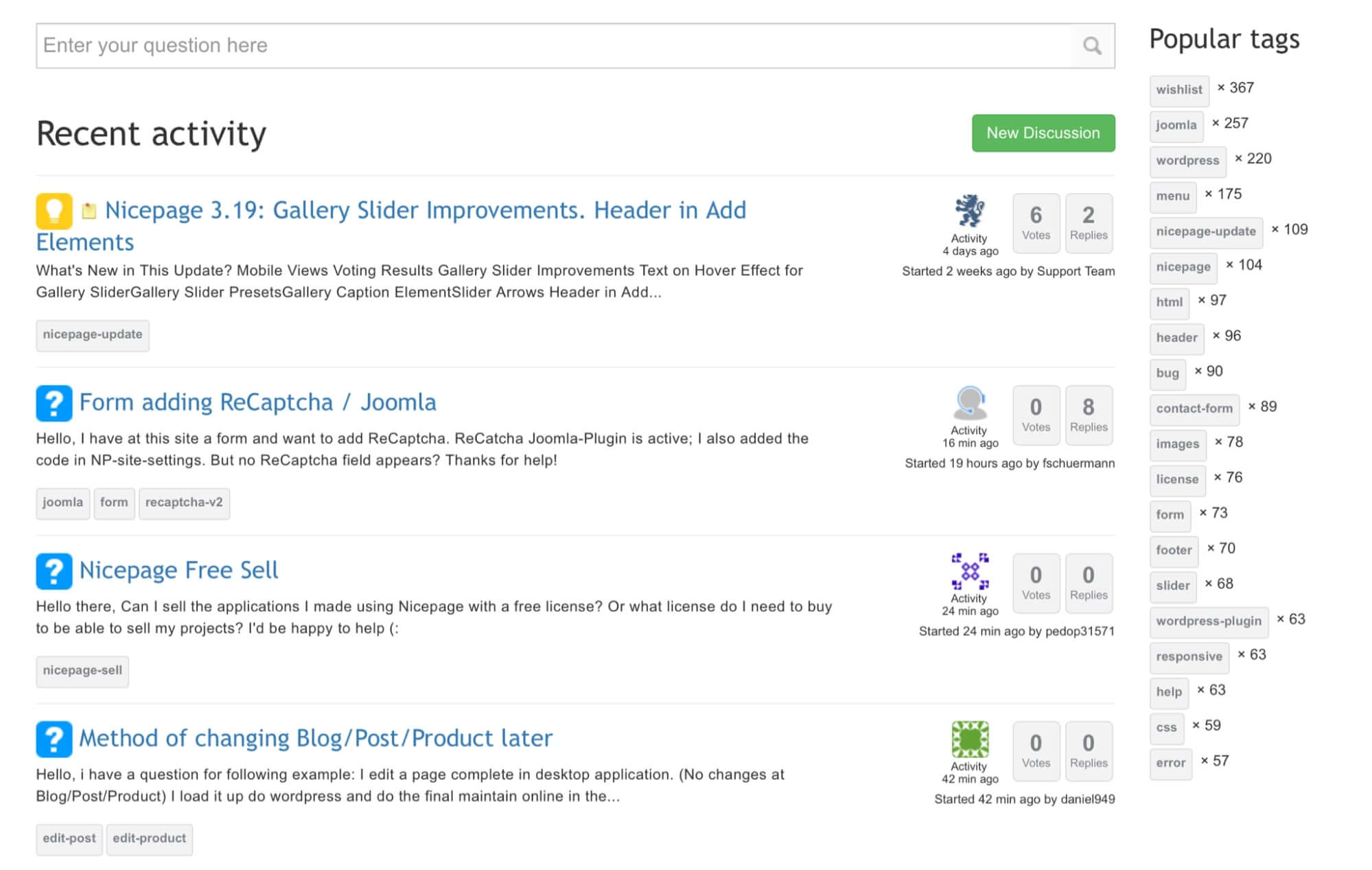 The advantages and disadvantages of receiving answers via a customer service forum are always there. Anyone with prior experience will respond to your query about the product. The benefit is that you get a variety of responses from different users. You may also look at previous questions that are similar to yours. However, it is impossible to learn which answers provided by forum users are correct or provide the best solution to the problem at hand.
There is no live chat option or even a contact number for customer support. The premium Pro Plans come with premium help, but there's no indication that this means you'll have any better ways to reach Nicepage through this paid subscription plan.
Pros of Nicepage Builder
You can use this website builder to design your website even if you only know the basic HTML code with no formal coding experience.
Nicepage offers 6,000+ professionally designed and fully responsive templates that you can use to build your site quickly.
Nicepage primarily works around templates, so you can simply drag and drop content widgets to customize the templates. HTML, WordPress, and Joomla Templates are all supported by Nicepage builder.
Nicepage offers multiple toolsets to build a website like payment options, shopping carts, live chat options, sign-up forms, and more!
Multiple customization options are included in Nicepage to help you make your site stand out. You have complete control over the theme, color scheme, and styles of content elements.
Cons
Nicepage isn't like other online website builders and doesn't operate the same way they do. If you buy the Designer App Pack, you'll first need to download a desktop app to start work on the design of your website. This implies that you won't be able to function on your website from other devices, which is a downside.
To bring your website online, you'll be required to export your file as Joomla, HTML, or WordPress, rather than simply hitting the Publish button.
Nicepage Builder Pricing
Nicepage has two separate plans to choose from.
1. Designer App Pack
This plan offers four different options: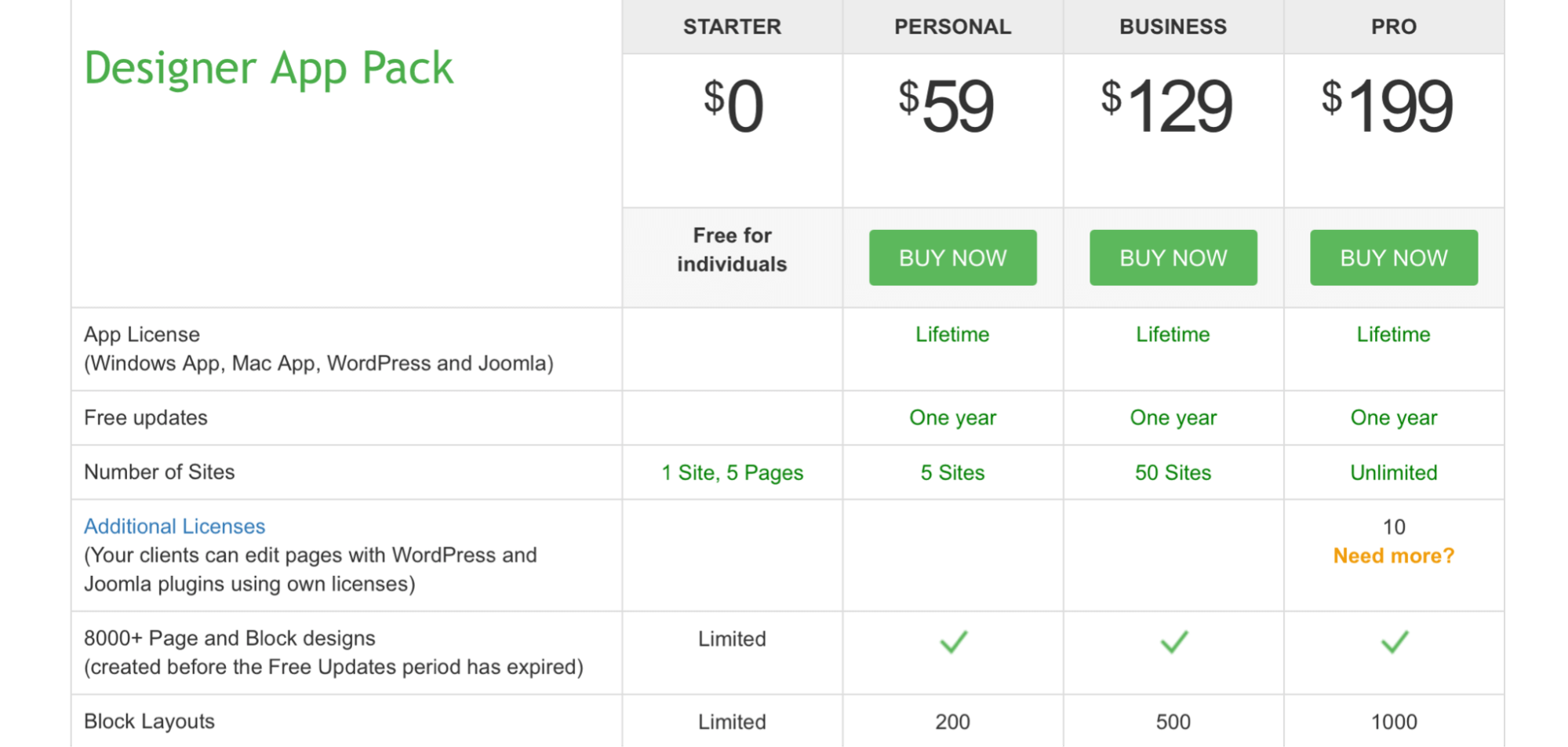 Starter — free for 1 site with 5 pages
Personal — 59 for 5 sites
Business — $129 for 50 sites
Pro — $199 for unlimited sites
All the premium plans offer lifetime licenses and free updates for one year.
2. Web App with Hosting + Designer App Pack
This is the hosting plan of Nicepage which also offers four options: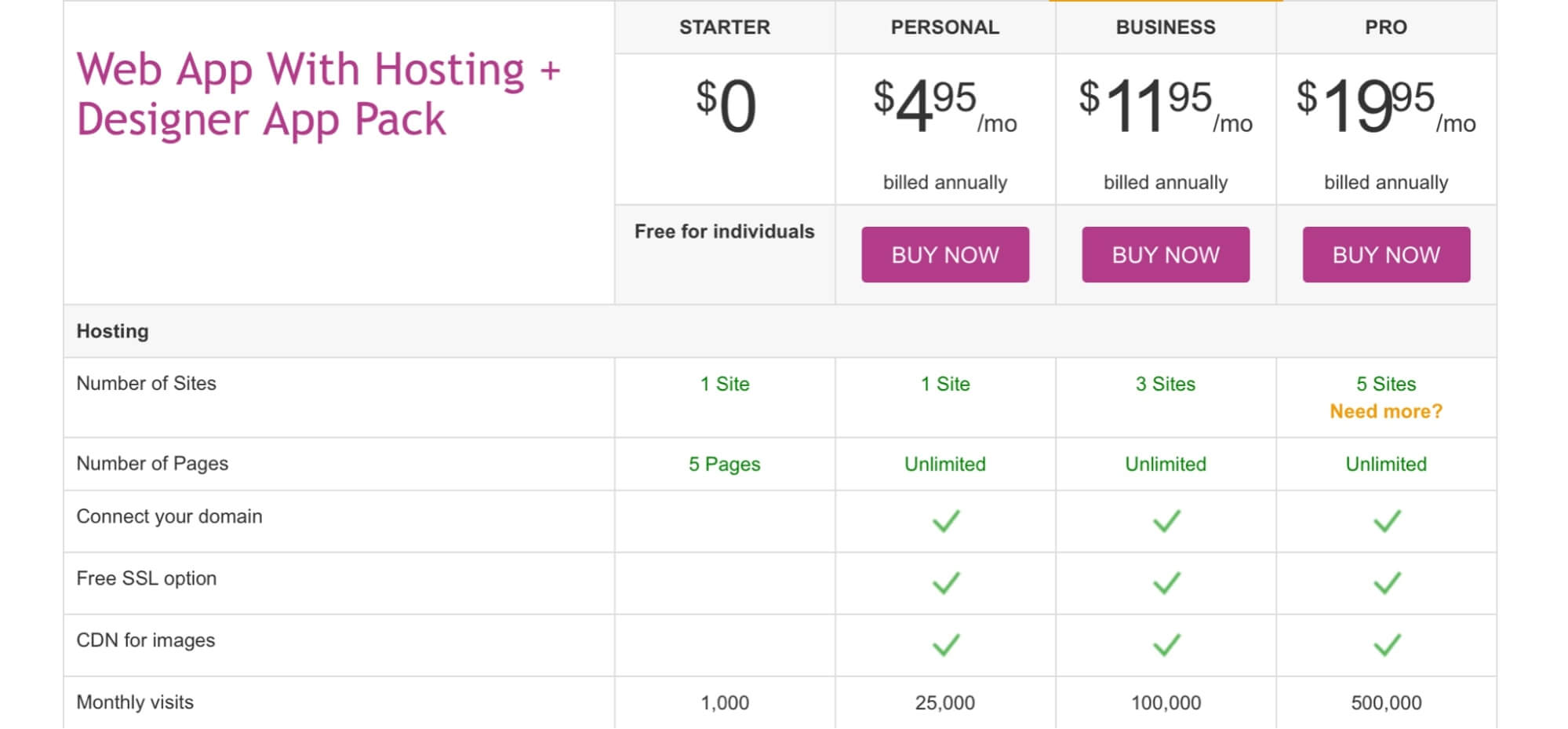 Starter — free for individuals with 1 site
Personal — $4.95/month for 1 site
Business — $11.95/month for 3 sites
Pro — $19.95/month for 5 sites
All the premium plans include unlimited pages, custom domain, free SSL, CD, forms, Google Analytics, and priority support (in the Pro plan).
Note that these plans are all paid annually.
Refunds and Cancellations
Logging into the Nicepage forum and stating that you want to revoke your license is the only way through which you can cancel the Nicepage subscription.
It's important to note that all of the software's subscription fees and refunds are managed by a third-party firm, PayPro Global Inc. Hence, any refund problems are addressed. Refunds may be submitted within 30 days of subscription, according to a doc available on the official website of PayPro.
While writing this review, I also stumbled on a forum thread where a few users had claimed that Nicepage support ghosted them when they asked for a refund. So if you're looking to purchase a premium version of Nicepage, my recommendation is first to try its free version and check all its premium features — and only purchase this if you're sure.
You can also try its alternatives if you need priority support and proper refund guidelines.
Nicepage Builder Alternatives
These are a few alternatives you can try.
1. Elementor Page Builder
If you're looking to build a WordPress website, then Elementor will be the best solution for you.
Elementor is a drag and drop WordPress page builder used by over 8M users. It offers a live drag and drop editor, 90+ content widgets, and global styles for colors and typographies. You can build every type of website with Elementor — like business, eCommerce, events, landing pages, health, or creative website.
There's both a free and paid version of Elementor. The free version includes all the basic features, while you can get the paid version for just $49 per year.
2. Webflow
Webflow is a cloud-based website builder that is a hybrid of builders like WIX and traditional content management systems (CMS) like WordPress. With Webflow, you can build amazing websites if you have front-end coding skills — HTML, CSS, and Javascript.
The tool uses a no-code editor, which provides a ton of flexibility with the design aspects. There's a slight learning curve with Webflow, but once you get familiar with it, most likely, you'll love using it.
To start with Webflow, you can sign up for its free plan and then upgrade when you have to take your website live. The paid plans start at $12/month only.
3. Versoly Website Builder
Versoly is a SaaS-focused website builder where all the technical things like design, coding, backend, hosting are handled by the tool only. So you can focus on the work while outsourcing the technical side of website development to Versoly.
You can start with Versoly for free or upgrade to a paid plan for as low as $19 per month.
Final Words
While Nicepage builder started off as a very simple drag and drop site builder tool with limited features, it has since become a much more robust website builder tool with amazing features and a strong community.
This website building tool is best for you if you're looking for a tool to build themes and websites on multiple CMS while having full control over the design process.
Overall, Nicepage is a great website builder software that will provide you with the premium content, versatility, and exclusivity you need to design a fantastic website.
Frequently Asked Questions (FAQs)
What makes Nicepage complex for an average person?
This website builder is more complex than other site builders because it focuses on designers and developers rather than beginners.
Can I add more templates to different pages?
Unfortunately, Nicepage templates are limited to a single page. Extra pages can be added to the website; however, you won't be able to add any templates for them.
Do I need to have an internet connection to use Nicepage?
No, internet connection isn't a requisite with Nicepage. You can run it offline via Mac OS and Windows.