Blocs is a fast, intuitive, and powerful native Mac app that lets you create responsive websites and WordPress themes without writing code.
First shipped in November 2014, Blocs is now a very capable tool that you can use to create fully coded websites and custom WordPress themes.
I recently purchased this tool to build WordPress themes and I really liked the builder interface and features.
So in this review, we'll look at Blocs and discuss why I think this tool is great for making websites. I'll also take you through all the features of Blocs, pricing, and pros/cons so that you can make an informed decision before signing up.
Let's get started…
👉 Blocs Website Builder Overview
Blocs Website Builder is an all-in-one website design tool with a drag & drop interface that lets you create professional-looking websites, landing pages, and WordPress themes in minutes.
Blocs is also a native Mac app, which means you can work offline — on the train or in the air, for example — and still create websites. It works on the concept of stacking pre-built sections to create fully coded, responsive websites.
Blocs also offer a Plus version that expands the Blocs with four amazing features: WordPress theme builder, image editor, built-in SEO helper, and class library manager.
This is incredibly helpful for those looking to build custom WordPress themes without coding everything manually. With Blocs, you can create standalone WordPress themes that are lightweight and have no dependencies on any builder plugins.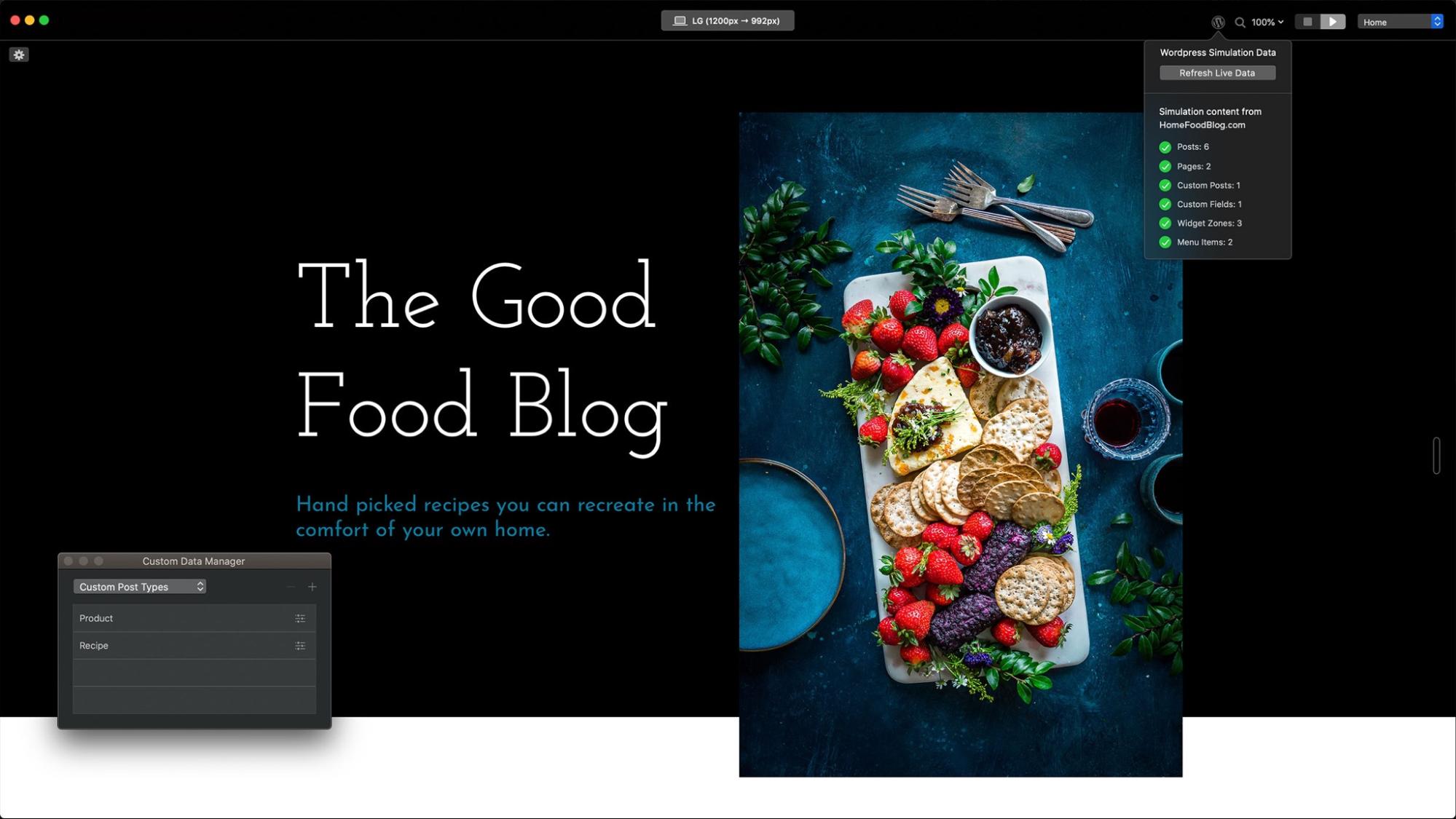 I recently purchased the Blocs Plus version and I am happy with the tool. While it took me some time to understand how Blocs works, once you get the basics, Blocs is a relatively easy-to-use website builder. As I mostly deal with WordPress only, I am using Blocs to build a custom WordPress theme.
So overall, in its current state, Blocs is a very stable website builder and an amazing tool to build websites and WP themes. The complete Blocs site is built with the Blocs Builder itself, which shows that the tool can produce, clean, fast, and beautiful websites.
Is Blocs hard to learn?
I don't think so. If you have even a little bit of experience working with website/page builders and website development then you will find Blocs super easy to use. But remember that no matter which website builder you choose, there's always going to be a learning curve before you can start building effortlessly.
Let's now see what all you get with this Mac website builder…
🎨 Design & Interface
Blocs use a streamlined design workflow where you have a blank canvas in the middle, layer tree and page navigator in the left sidebar, and inspector in the right sidebar.
The layer tree displays the entire structure of the currently selected page. Here you can view the attributes of each layer, and organize them by renaming or reordering. The page navigator shows a quick searchable overview of all the pages of the project.
The middle design canvas is where everything happens! The design canvas allows you to create the pages in real-time, by adding, moving, or editing the contents. The canvas also supports a Dark Site Mode that inverts the colors of the + buttons, making them more visible on dark backgrounds.
Finally, the inspector in the right sidebar contains all the styling controls for the currently selected element. Here you can apply the visual stylings with custom classes, custom data attributes, typography, animations, asset manager, swatch manager, and menu manager.
The Blocs Store and Blocs Academy are also integrated within the builder interface which you can access with just one click.
Overall the builder design workflow is very intuitive and easy to use.
Tip: Blocs also supports In App Preview that you can access in the main toolbar located at the top of the application window. With the in-app preview, you can view your site within Blocs to check and test design aspects.
🛠️ Ease of Use
Blocs use a combination of Blocs and Brics where Brics is the individual design elements such as buttons, image, and text. And Blocs are a collection of these Brics.
Blocs are stored in a Bloc Bar that you can access by clicking the + button that appears in the center of the design canvas. You can also simply press the + and – keys on your keyboard while a Bloc element is selected to access the Bloc bar.
Once you have a Bloc on your page, you can add individual Bric elements by clicking the + buttons that are displayed at the top and bottom of the current selected Bric.
Some of the available Brics are headings, paragraph, icon heading, blockquote, image, video, carousel, masonry gallery, icon, icon framed, code widget, audio player, button, dropdown, text link, cookie consent, follow links, form, and more!
This is all pretty standard stuff. If you have used any page builder or website builder then you will find this very easy.
Tip: You can also add the frequently used Blocs and Brics as favorites to access them quickly in the popover menu,
🧰 Template Library
Blocs do not offer a pre-built templates library but you can access paid templates that are developed by Blocs. Currently, there's a collection of over 50 beautiful templates priced at $179 one-time payment for all the templates.
All the paid templates are fully responsive, conversion-focused, SEO optimized, and come with a collection of customized classes.
📞 Documentation & Support
Blocs offer a Knowledge center with several support articles and videos, and for further support, you can reach the Blocs team by email or by asking a question in their community forum.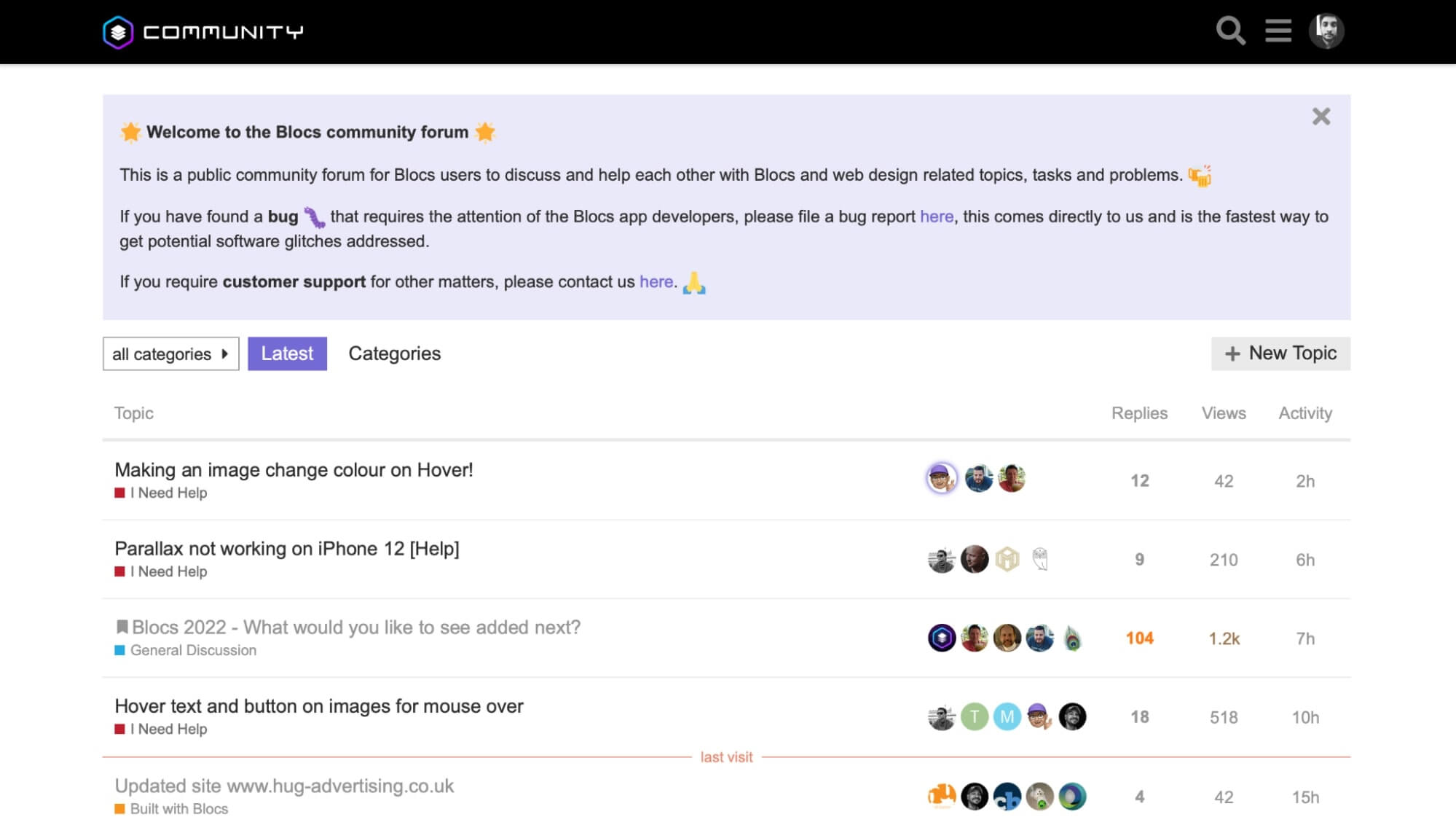 The forum is very active which is a good thing. But there's no live chat option so you can only use the email tickets to get support answers.
Overall the documentation and support are decent. As I mentioned, I am building a custom WP theme with Blocs and except for a few issues, I have found all the answers in Blocs knowledge base and forum.
⭐ More Blocs Features
Here are a few more amazing features of Blocs website builder:
Wireframe Mode: This mode removes all non-layout essential styling, allowing you to focus only on the page content and structure.
Outline Mode: This mode displays a thin blue rectangle around all the elements on a page, allowing you to view the underlying structure.
Interactions: Multiple user interactions are available in Blocs like image lightbox, navigate to a page, navigate to URL, dropdown, scroll to target, submit form, file download, and toggle visibility.
Font Manager: Blocs font manager allows you to install local web fonts and fonts from the Google web font library, and Adobe fonts. It can also detect the missing fonts in projects and install missing fonts with just a few clicks.
Page Comments: You can integrate Disqus within the website for visitors to leave comments.
Image Protection: When enabled, this option will protect all pictures from being right-clicked or dragged when viewed in a web browser.
Auto Backup: The Blocs comes with a built-in auto-backup system that automatically backup projects on the system. You can also change the auto backup frequency or restore any of the recent backups via Backup Vault.
Writer Mode: This mode hides all the interface elements except for the text editing to make it a clean and distraction-free writing environment. This is useful when writing a long blog post on a web page.
The website builder also includes support for a range of Content Management Systems (CMS) such as Volt, October, Pulse, Surreal, and Cushy CMS.
Blocs also have a store where many third-party custom made add-ons are available. You can browse the complete addons library and install anything you find useful.
💻 Website Examples
Here are a few websites built with Blocs website builder to give you some inspiration and an idea of what you can do with this website builder.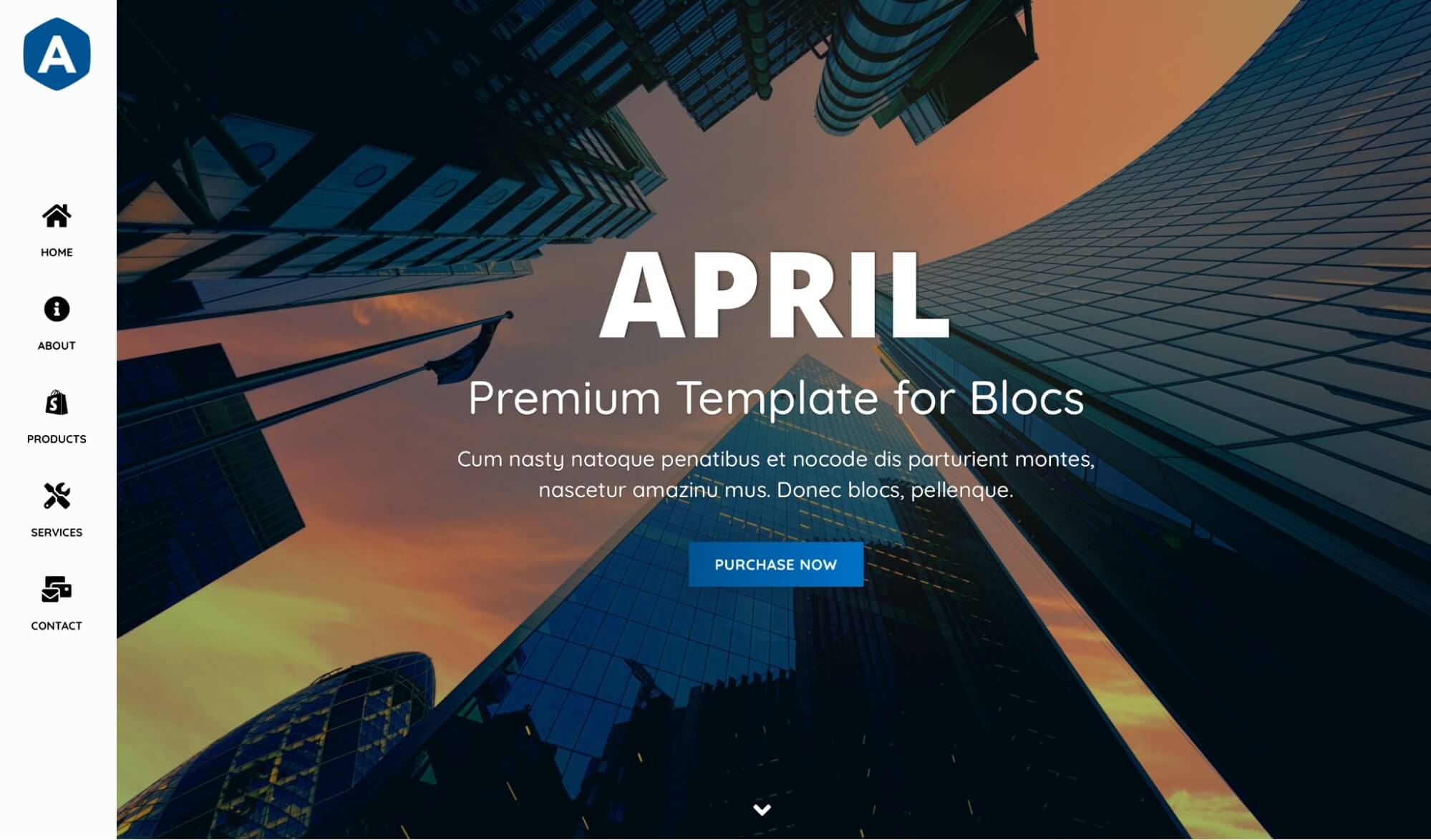 💰 Pricing Plans
Now for the pricing of the Blocs builder, you can get it for only $99.99 one-time payment. Additionally, the Blocs Plus is available at an upgrade of $49.99 so it will cost you $149.99 total.
The best thing here is that there are no recurring fees and you can own Blocs with just a one-off purchase. This is good for those developing websites regularly.
But before purchasing Blocs, you can also use its free trial and get a feel of how it works. The free trial includes all the core features but you will not be able to export any project.
Blocs also offer student discounts of up to 50% off and Non-Profit Organizations (NPO) discounts of 25%.
Note: A single license can be used on up to 2 Macs.
🏆 The Competition
Compared to the competition like RapidWeaver and Sparkle, Blocs is a much better tool. And with the addition of Blocs Plus, users can now use this tool to produce custom WP themes as well — all without coding.
When comparing Blocs with other website building tools such as Webflow, Squarespace, or WIX, it sits somewhere in between WIX and Webflow. Blocs is way more powerful than WIX but with an easier-to-use workflow than Webflow.
Plus unlike those tools, Blocs is available at only a one-time fee so you don't have to pay a recurring fee like Wix, Webflow, Pinegrow, etc.
🏁 Should you buy Blocs Website Builder?
Overall, Blocs is a pretty amazing tool. It's easy to use and you can create a professional website or WordPress themes fast in Blocs. If you're looking for a sleek, elegant, and easy-to-use website builder, Blocs is the platform for you!
Note that Blocs is not groundbreaking or revolutionary by any means, but it is good, offers a solid interface and tools that gets the job done.
With Blocs Plus, you can now build custom WordPress themes as well so that's a big advantage if you're looking to build your themes without coding.
Finally, if you're still unsure, simply download Blocs for free and try it for some time. Once you get familiar with its interface, you can upgrade to the full version to get all the features!