I've spent many hours scouring the interwebs for good real estate agent websites. Why? Well besides the fact that I like to look at pretty things, it helps me stay inspired when designing my own website.
So this is a list of the best real estate website examples and I'd like to share them with you.
These are all websites that I think are doing an excellent job at showcasing their listings, helping homeowners sell their homes faster, and providing useful information for site visitors.
If you're a real estate agent looking for some inspiration, or just want to see what other agents are doing with their websites, then this list is for you. I've included lots of screenshots so that you can get an idea of what makes each site so great.
Here are some of my favorites…
Note: All the CMS mentioned are sourced from CMSDetect, and listings are in no particular order.
1. Aaron Kirman
Aaron Kirman is a real estate agent in the Miami area. His website is a great example of how to use a real estate agent website to build trust and authority with your potential clients.
The homepage features a photo of Aaron and his contact information, along with links to his social media accounts. There's also a quick video that explains what he does as a real estate agent and what kind of properties he specializes in. The rest of the site is filled with testimonials from satisfied clients, as well as information about his services and areas he covers.
Made With: WordPress
2. Christian Angle Real Estate
The real estate agent website example from Angle Real Estate is a great way to see how you can use your own website to showcase your business.
The site is simple and clean, with a warm color palette that helps to create a welcoming vibe. It also has some nice touches like the animated elements when you scroll down the page, which makes it feel dynamic and fun.
Made With: WordPress
3. Ernemann Real Estate
This site is a great example of how to sell your client's home.
The first thing you'll notice is that it's not just a listing page—it's a whole website, with a custom domain name, and it has its own branding. The website is also completely responsive, so it looks good on any device.
It has a lot of different features: there's a map of the neighborhood, a video tour of the house, and lots of user testimonials.
This is such a well-put-together website that it makes me want to buy a house in Aspen!
Made With: WordPress
4. Avi Dan-Goor
The Avi Dan-Goor website is a great example of a real estate agent website that is both pleasing to the eye and easy to use.
The bright colors, clean layout, and well-organized content make it easy for visitors to find what they're looking for.
The site also has some useful features, like an Featured Communities section that shows all the popular communities with listings in the area. This provides a useful service to potential home buyers and sellers, as well as providing extra exposure for Avi Dan-Goor.
Made With: Custom
5. Campion and Company
Campionre's site is a great example of a real estate agent website that doesn't look like it was built in the early 2000s. The design is clean and fresh, with a lot of whitespaces and an emphasis on using the space to show off their beautiful photography.
The site is also very easy to navigate—there's a handy navigation at the top of the page that lets you find properties, and neighborhoods, or you can scroll through all the listings. You can also browse properties by price range if you're looking for something specific.
Made With: Custom
6. Carrie Wells
Carriewells.com is a real estate website designed to be both beautiful and functional. The homepage features an eye-catching slider that allows users to scroll through different neighborhoods and view their current listings.
The site is also optimized for mobile, allowing users to easily search for homes from their phones.
Made With: Custom
7. Carla Steuck
This is a great example of how to make your real estate agent website stand out from the crowd.
It's a very simple design, but it uses bright colors and lots of white space to make it look clean and inviting. The layout is easy to navigate, and there are plenty of photos to give potential buyers a sense of what they're getting into if they buy a home here.
Made With: WordPress
8. Continuum Development Company
Made With: Squarespace
9. Craig Morris – Aspen
Made With: Custom
10. Elegran
Made With: Next.js
11. EWM Realty
Made With: WordPress
12. Fisher Real Estate Nantucket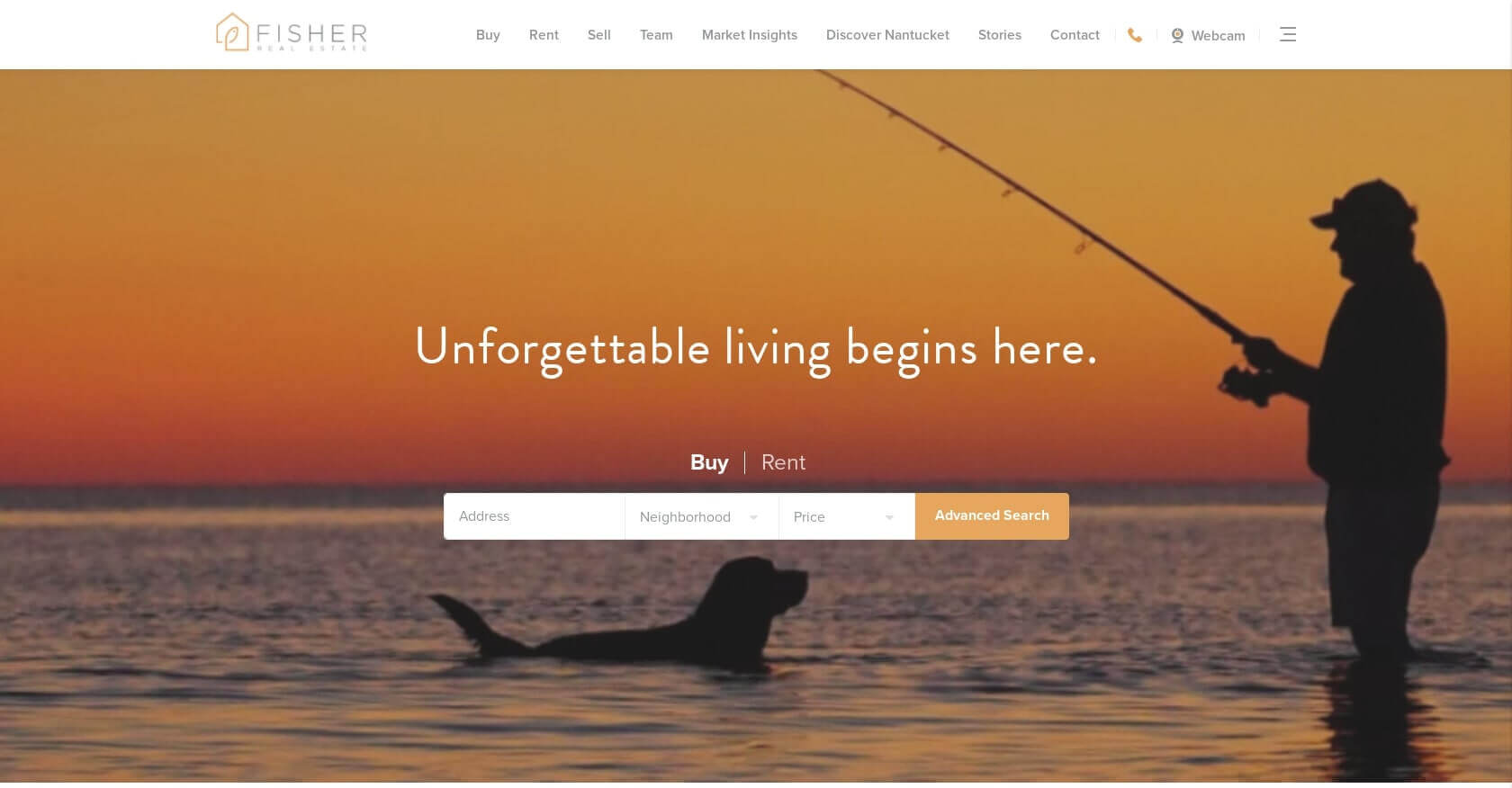 Made With: WordPress
13. Haistings Real Estate
Made With: Squarespace
14. Jade Mills
Made With: Custom
15. Joyce Rey
Made With: WordPress
16. Keri White
Made With: Squarespace
17. KWNYC
Made With: WordPress
18. PPD Holdings
Made With: Squarespace
19. Sandro Dazzan
Made With: Custom
20. Susan Smith Realty
Made With: Squarespace
21. The Altman Brothers
Made With: WordPress
22. The Malibu Life
Made With: Squarespace
23. Tim Allen Properties
Made With: Custom
24. Tim Davis
Made With: Custom
25. Zamir Group
Made With: WordPress
Final Words!
Use these examples of real estate agent websites as you mold your ideas and create your site.
The great thing about seeing what other real estate businesses are doing is that you can easily create a site that is unique to your brand like each of these agents has done in their own way, but it's simple to replicate the style and syntax of one of these designs if you find it attractive or useful.
If you're looking for a real estate website builder, I recommend checking out Elementor. It's the best all-in-one funnel software on the market today and it makes it easy to build and launch your site in no time!
Finally, if you have any questions, leave a comment below or contact me via my contact page.
Real Estate Website Examples FAQs
How do I build my own real estate website?
There are a lot of different ways to build your own real estate website, but the best way is to use a Content Management System (CMS), like WordPress. The CMS allows you to easily create and manage your own website. You can add new pages, change text and images, etc. without needing any technical knowledge or web design skills.
What features should a real estate website have?
A real estate website can be as simple or as advanced as you want. You can include just the basics, like a property search and contact information, or you can add all sorts of features that help you sell more homes. If you're just starting out, it's best to start simple and add more features as time goes on.
How do you write content for a real estate website?
When you're writing content for a real estate website, it's important to remember that your primary goal is to help your audience feel confident in their ability to make a smart decision about buying or selling a home. This means that you need to be able to answer questions quickly and clearly, and provide information that will help them make an informed decision.
How can I promote my real estate website?
You can promote your real estate website by placing ads on social media platforms. This is a great way to get the word out about your website, and you can use it to drive traffic back to your site. You should also consider doing some traditional advertising in local newspapers and magazines. As long as you have a high-quality website that's easy for people to navigate, these methods should help attract new visitors quickly.
What makes a real estate website successful?
A real estate website that's easy to navigate, provides a lot of useful information, and looks professional will be much more successful than one that doesn't. You should also make sure that your website is optimized for mobile devices.