After building hundreds of websites and dozens of Ecommerce stores, I think Shopify is the best Ecommerce website builder in 2021. It has everything you will need to build, scale, and promote your online store.
Shopify: The best ecommerce website builder for most people.
You can sell physical products on Shopify, or use the platform to sell services, digital content, courses, or software. Content management for blog posts, secure payment gateways, marketing features, and analytics for performance — everything is integrated within the dashboard for ease of use.
With a beginner-friendly interface, amazing app store, and affordable price plans, Shopify outperforms all other Ecommerce website builders easily. The backend of Shopify is solid and designed to be fast and secure. It offers a free 14-day trial to every new account so you can test it before making the first payment.
— — —
Wix: The best ecommerce builder for smaller online stores.
While Wix wasn't originally built for Ecommerce websites, it has added many Ecommerce features over the last few years. Now, you can use Wix ecommerce builder to create a professional online store, sell on multiple channels, accept secure online payments, and use advanced marketing tools to boost sales.
The one downside of Wix compared to Shopify is its inability to handle large stores and not so impressive sales features. But the huge template library, ease of use, and limitless customization options make Wix an amazing ecommerce website builder for small businesses and beginners.
Note: You can also read my inspiration posts on Oxygen Builder site examples, Elementor site examples, and artist website examples.
Things To Consider When Choosing
There are many ecommerce builders available in the market, but you can use only one of them. And you cannot start with one builder and switch to another quickly as every tool's working and organization is different.
When selecting a platform, you have to consider your budget, scalability, design, and many other factors like…
1. Your Budget
All the platforms offer multiple tiers of pricing based on the features, so you'll need to check if the platform's pricing works with your budget.
For example: both Shopify and Wix monthly plans start at $29, but Shopify also offers a lite plan at just $9/momth. The lite plan offers only the basic features but enough for anyone to start their online journey without thinking about the website expenses.
2. Templates
Templates are the pre-built layouts which can be installed and launched within minutes. You don't have to hire any outside help if you're looking to save costs, as you can select from the pre-built templates to start your store.
You can visit all the templates and finalize the one which resonates with your brand. If you don't like the templates offered with the platform, you can get a custom one, which can be expensive. So it's best to check and decide the template before you set up your store.
For example: Wix offers around 100 pre-built layouts in multiple categories like fashion, decor, beauty, sports, electronics, and jewelry. Shopify, on the other hand, has a total of 9 free themes and 64 paid themes. The Shopify free themes are better in terms of quality compared to Wix templates, but they significantly lack in quantity.
3. Features
The primary reason for using a website builder is to keep the website setup process simple, avoid complexities, and save developer costs.
So properly check all the platform features to make sure you get all the basic and advanced things to start, promote, and scale your online store.
For example: Wix offers a drag and drop builder that you can use to create custom page designs with full creative control. Shopify doesn't have this feature, so you can only play with a limited set of customizations options included in a theme.
4. Extras
As you build your store, you'll need many things like support, creative control, payment system, API integrations, etc. So, be sure to check all of these before you start your online store on any platform.
Also, keep in mind that when you create a site in a website builder, you put all your data on their platform, so if anything happens to their servers, your site could disappear, and there will be no way for you to recover it.
This is rare, but it's possible.
That's why it's important to take all the precautions when you're starting your online journey.
Shopify: The Best Ecommerce Builder
Shopify, started in 2004, is the best ecommerce website builder today.
With a very low entry barrier and powerful ecommerce tools, anyone can start with Shopify even with no ecommerce experience.
You don't need any tech or coding skills to know how to use Shopify. You can set up Shopify on a new domain name or connect with your existing website/blog. The whole Shopify platform is hosted on very secure servers with integrated CDN, unlimited bandwidth, and automated backups.
To start, all you have to do is select a template from the Shopify Theme store, add your logo, set brand colors, fonts, and publish the products. Everything is customizable, so you can make your website look the way you want it.
Shopify Features
Shopify has a very robust platform with all the basic and advanced features you will need to start your store and then scale it as you grow.
Some of the essential features of Shopify are…
➥ Themes: The Shopify Theme Store offers a collection of 70 free and premium ecommerce themes for different verticals like clothing, jewelry, electronics, art, and more. All the themes support international languages and currencies, so you're not restricted to sell internationally.
➥ Apps: Shopify has an app store with over 1200 free and paid apps. If you need any feature in your store that is not available in your theme, you can look for it in the app store. Apps can help you a lot in improving and scaling your store without any additional coding.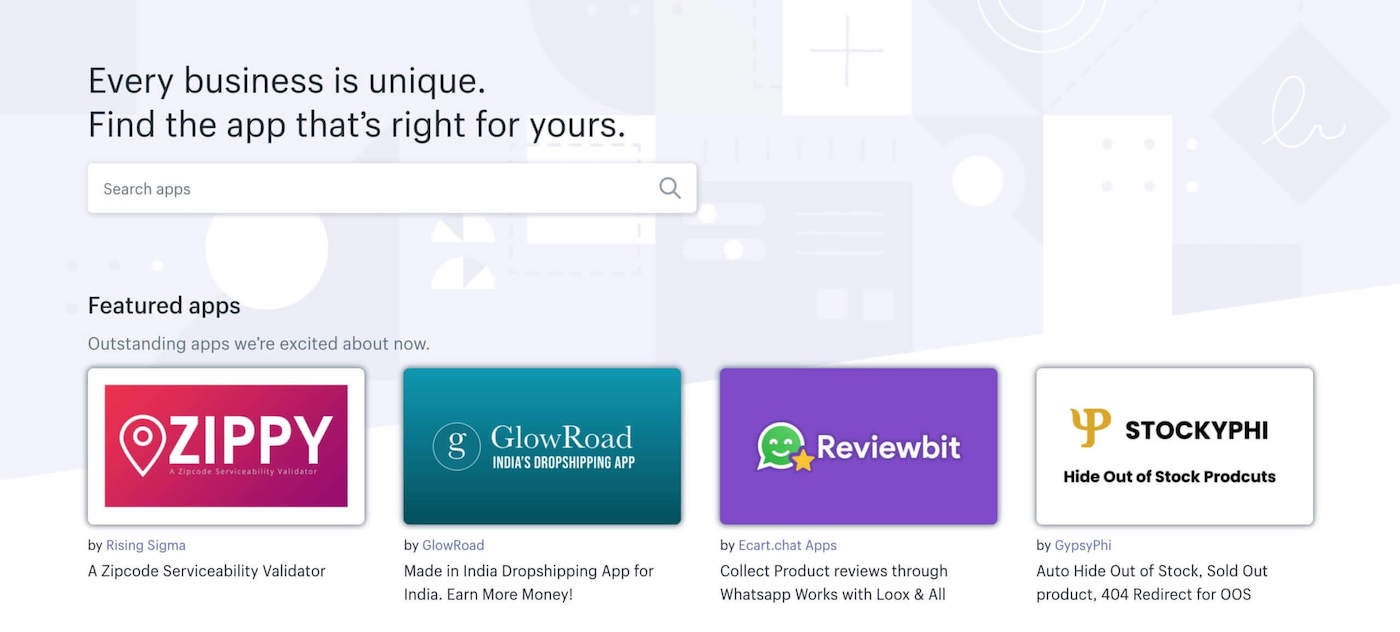 ➥ Shopping cart: Shopify shopping cart is equipped with everything you might need for your store. Abandoned checkout recovery, automatic taxes, and free shipping can help you win more customers quickly.
➥ Store management: You can use the store management to learn more about your customers, categorize users, handle refunds, or connect your store with fulfillment solutions like Amazon, Rakuten Super Logistics, or Shopify Fulfillment Network.
➥ Dropshipping: If you're into dropshipping, you can install any third-party app like Oberlo or AliExpress to start dropshipping with Shopify.
➥ POS: Shopify POS app is useful for those selling offline rather than online. With the Shopify POS, you can sell at exhibitions/events, in popup shops, markets, or stores.
➥ Security: Security is a crucial thing for ecommerce stores, and Shopify knows that. All the Shopify stores are automatically secure with SSL security, and PCI compliance.
➥ Support: The Shopify team is available 24/7 by email, live chat, and phone. You can also refer to their help center for guides and tutorials for quick answers, or get involved in the discussion forums to talk about marketing, ecommerce, and more!
As you can see, all the features are carefully designed by Shopify to help you with your ecommerce store without spending too much in the starting.
Now let's talk about another important thing: Shopify pricing.
Shopify Pricing
Shopify offers multiple plans so you can select the one that fits your needs.
The different plans of Shopify are:
Shopify Lite — $9 per month. Starter plan with access to Shopify sales platform to sell on Facebook and on any other website you own (for example, you can connect Shopify to your WordPress website).
Basic Shopify — $29 per month. Best for small businesses looking to start with their online store.
Shopify — $79 per month. Great value for growing businesses. With this plan, you can accept payments at a lower credit card processing fees with access to professional reports.
Advanced Shopify — $299 per month. Designed for serious store owners with an established market presence. This plan offers third-party calculated shipping rates and further reduced credit card processing fees.
Shopify Plus — custom pricing. Starting at $2,000 per month, this plan is for enterprise-level merchants.
Here's a quick Shopify plans comparison table on exactly what each plan offers…
| | | | |
| --- | --- | --- | --- |
| | Shopify Basic | Shopify | Advanced Shopify |
| Monthly cost | $29 | $79 | $299 |
| Credit card rates | 2.9% + 30¢ | 2.6% + 30¢ | 2.4% + 30¢ |
| Locations | up to 4 | up to 5 | up to 8 |
| No. of products | Unlimited | Unlimited | Unlimited |
| Professional reports | No | Yes | Yes |
| 24/7 Support | Yes | Yes | Yes |
Shopify also has its in-house payment system, Shopify Payments. This is similar to PayPal and Stripe but very easy to connect with Shopify stores compared to third-party payment gateways. If you use Shopify Payments, you don't have to pay Shopify's transaction fees, which can save you a lot of money in the long run.
Shopify Examples
Here are a few stores built on Shopify to give you some inspiration and ideas about what you can do on this platform…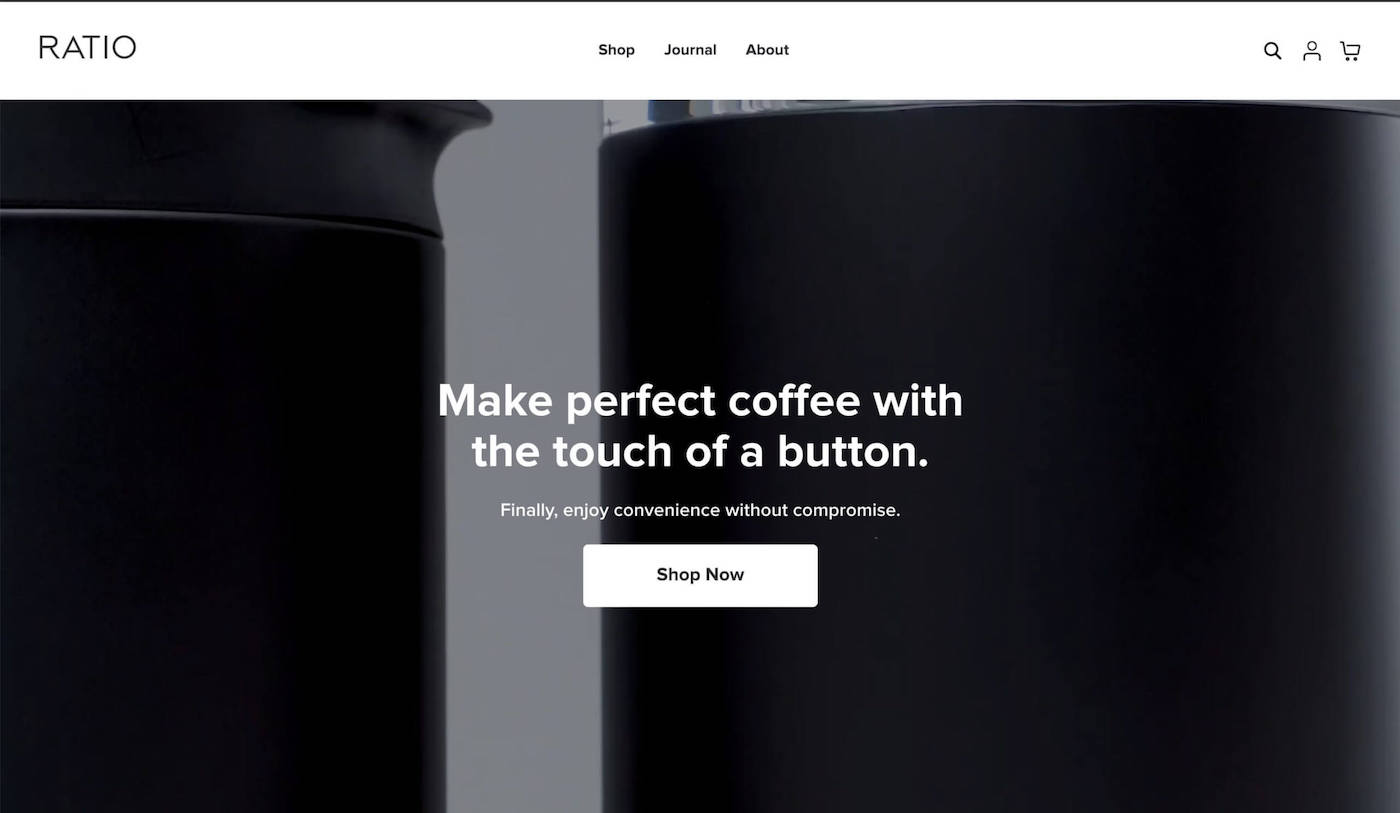 Ratio Coffee is a beautifully designed Shopify store that focuses on coffee. The black color theme with simple CTAs and clean typography — everything is carefully placed to attract visitors to be a part of the Ratio Coffee community.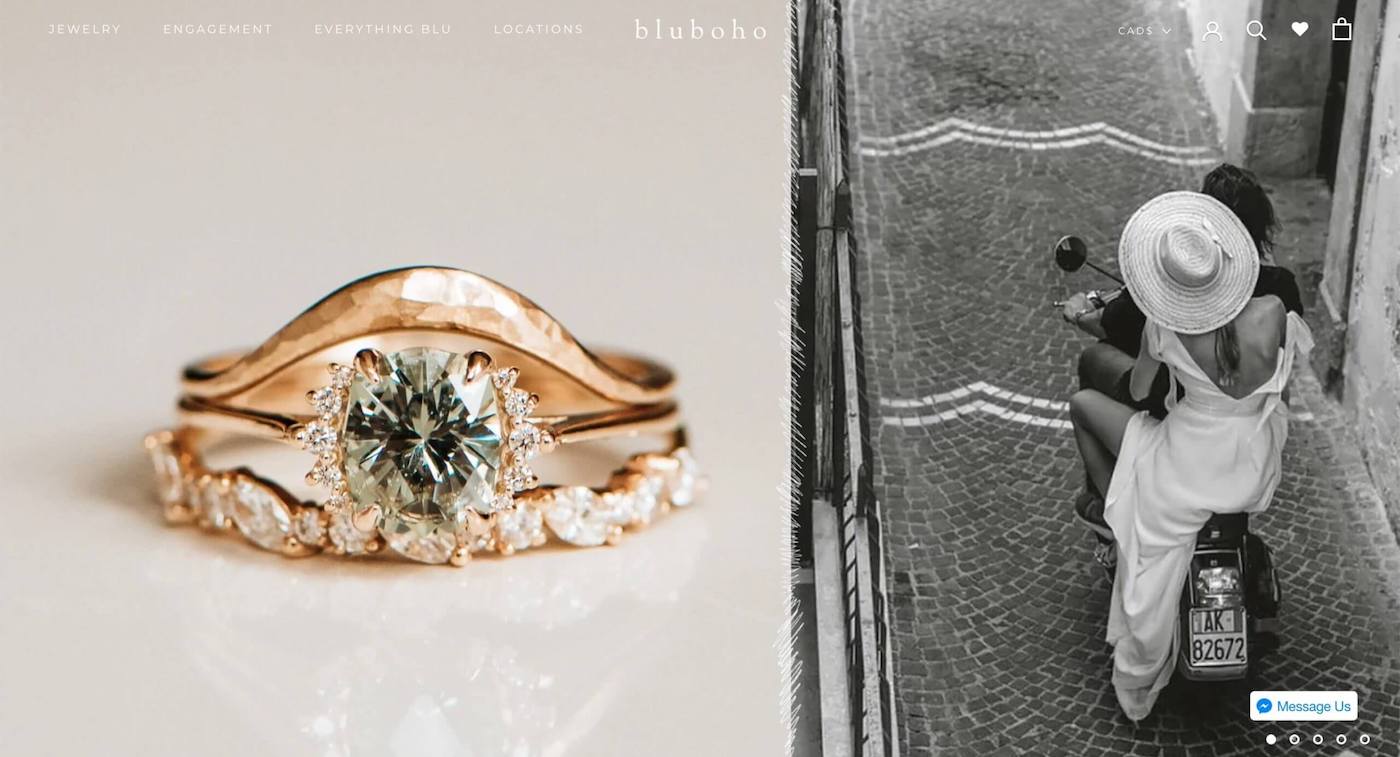 This is a minimal jewelry store dedicated to creating fine jewelry with a story. Unique design and all the high-quality product images help customers envision how the jewelry look and feel.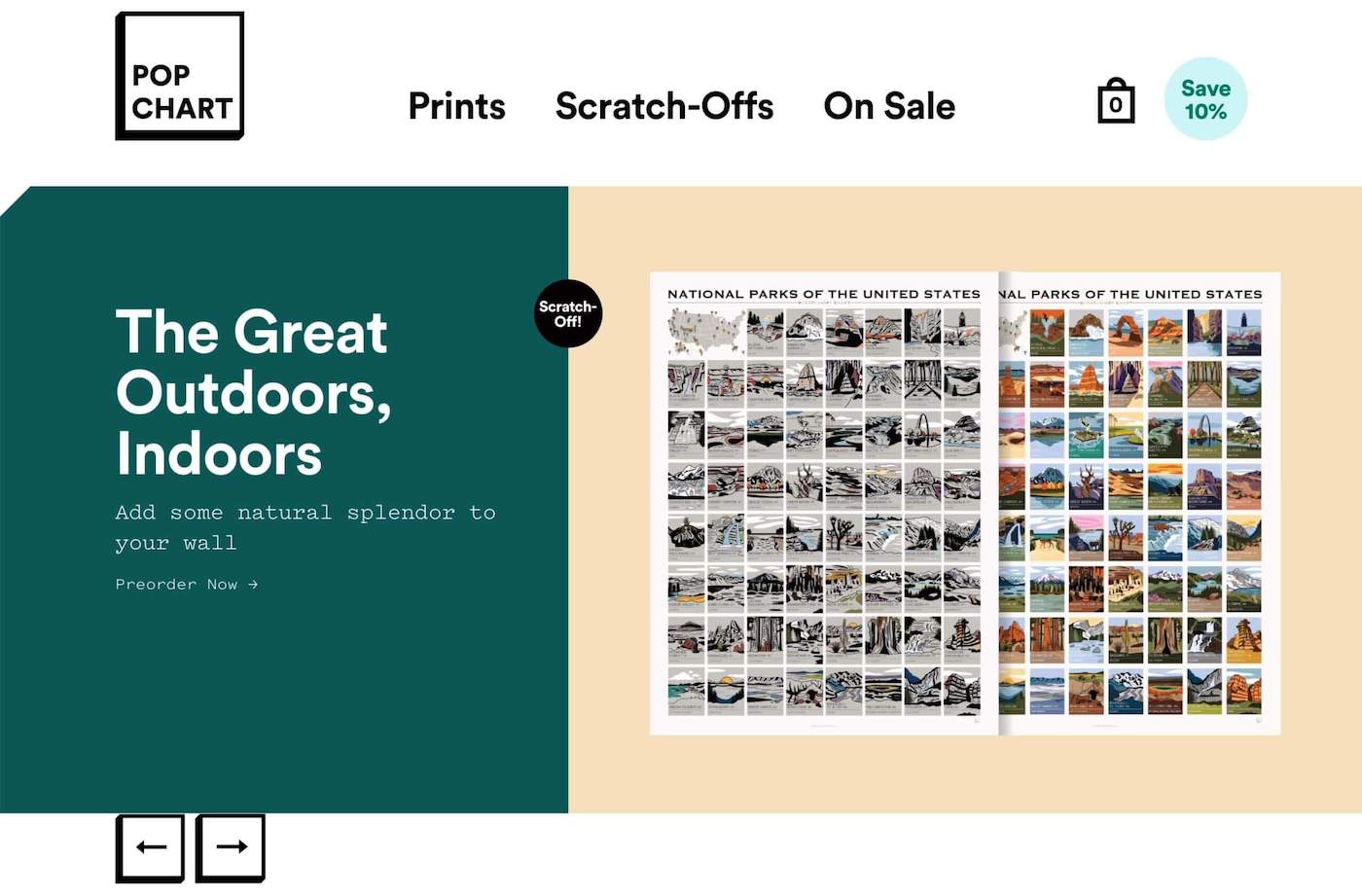 This Shopify store makes infographic posters on almost all the topics such as literature, sports, comics, gaming, fashion, and more. The bold typography for headings and original graphics perfectly showcases the work they do.
— — —
Shopify is the best ecommerce builder — for both beginners and small or enterprise-level stores.
As of now, more than 1,000,000 businesses are using the Shopify platform with over 500,000 active stores. And Shopify is the third largest online retailer in the US after Amazon and eBay.
This shows the trust of store owners in the Shopify platform.
WIX: Second Best Ecommerce Builder
If you're looking for a beginner-friendly ecommerce builder and you don't have any immediate plans to scale your store, then Wix Ecommerce Website Builder might be your best option.
Wix Ecommerce platform is equipped with all the latest features, robust backend, and a beginner-friendly interface. It makes building online stores incredibly easy for first-time users.
As Wix was launched as a website builder, it has worked hard over the years to become a feature-rich ecommerce platform, and now you can even manage large stores on Wix (though I still recommend Shopify for that).
Wix Features
Wix uses a drag and drop builder in the editor to build websites. So you can control all the aspects of your online store with the drag and drop builder without the need for any coding.
Some of the important features of Wix are:
➥ Custom Storefront and Cart lets you customize all the steps in your online store — from storefront to checkout. You can select a pre-built design from the Wix template library of 500 layouts, or you can create a unique layout with custom shop, cart, and checkout pages.
➥ Dropshipping option is available in Wix via third-party apps. You can add an app like Modalyst into your site and then start dropshipping by selecting the products and your pricings. All the orders are directly forwarded to suppliers, so you won't have to do it manually.
➥ Shipping Options lets you set up custom shipping rules, offer international shipping, and select from leading carriers like USPS and FedEx. You can connect with the ShipStation app, which will provide a seamless shipping experience to your customers.
➥ SEO is the process of optimizing the websites to rank higher in search engines (like Google and Bing), and Wix has built-in SEO tools to make your online store SEO friendly. All Wix sites are responsive for mobile, and you can set keywords in pages to optimize them for best SEO.
➥ App Market is similar to the App store of Shopify from where you can download and install different tools in your Wix online store. There are over 200 apps available in multiple categories, like events, communication, marketing, and design.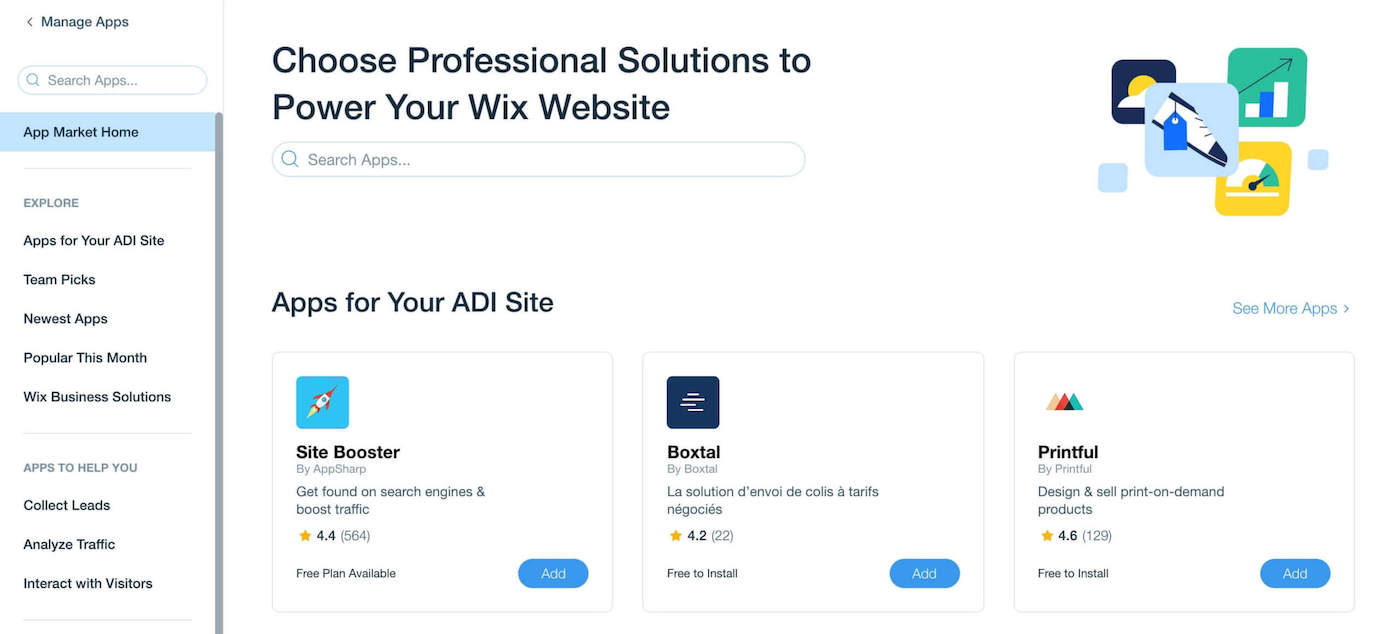 ➥ Multichannel Sales lets you expand your store to multiple channels like Facebook, Amazon, Pinterest, and Instagram. You can sell directly to all these platforms from your Wix dashboard.
➥ Payment Solutions are available for all the Wix stores with support for 40+ payment gateways, including PayPal, Stripe, Square, and credit/debit cards. You can also take advantage of the Wix payments, which connects with the Wix stores natively and offers competitive processing rates.
Wix also offers an all-in-one marketing solution, Wix Ascend.
This includes a set of tools designed for complete marketing and customer management — all in one place for a smoother workflow. Some of the tools available in this package are:
Video Maker
Live Chat
Forms for Lead Generation
Invoicing
Coupons
Email Automation
This package is offered as a separate subscription, ranging from $10 to $49 per month. This is very reasonable as these tools can really help you grow your store and attract a larger audience.
Wix Pricing
Wix offers three different plans for Business and Ecommerce websites:
Business Basic — $23 per month. Wix cheapest ecommerce plan, and the best option for users starting their online store journey.
Business Unlimited — $27 per month. The most popular plan with all the Pro Ecommerce features and a professional logo worth $50.
Business VIP — $49 per month. Best plan for growing online stores that need extra features like VIP support, priority response, and increased storage.
All three plans allow you to accept online payments, connect your domain, remove Wix ads, sell without any commission, and connect Google Analytics. You will also get a $300 Ad Voucher, Site Booster App (worth $60), and a Visitor Analytics App (worth $48) with all the plans.
Here's a quick Wix pricing comparison table with key highlights of each plan…
| | | | |
| --- | --- | --- | --- |
| | Business Basic | Business Unlimited | Business VIP |
| Monthly cost | $23 | $27 | $49 |
| Remove Wix Ads | Yes | Yes | Yes |
| Connect Domain | Yes | Yes | Yes |
| Storage | 20GB | 35GB | 50GB |
| Video Hours | 5 hours | 10 hours | Unlimited hours |
| Priority Response | No | No | Yes |
There's an additional Wix Enterprise plan, which starts at $500 per year. This plan is designed for established businesses with multiple employees and complex online operations.
Overall, the Business Basic plan at $23/month is a good starting point for trying out the platform and seeing if it fits your needs and long-term goals.
Wix Examples
Let's now see some examples of the Wix ecommerce builder to give you some starting points…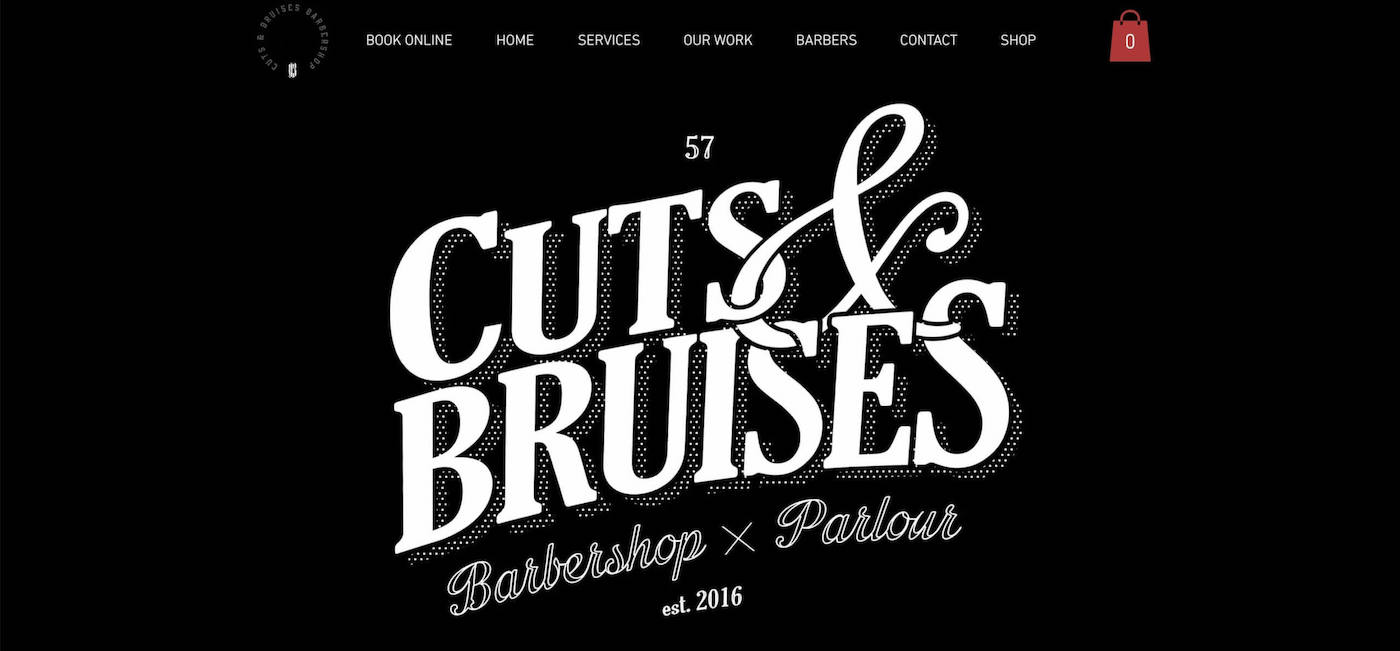 The Cuts & Bruises barbershop uses Wix to offer their products and services online using a design that complements their unique but unusual brand. All the pages offer a centered structure with contact information at the bottom for an easy way for their visitors to contact them.
This is another great example of a Wix ecommerce website selling headphones and speakers. The homepage is super clean with an easy to understand the layout and high-quality product images.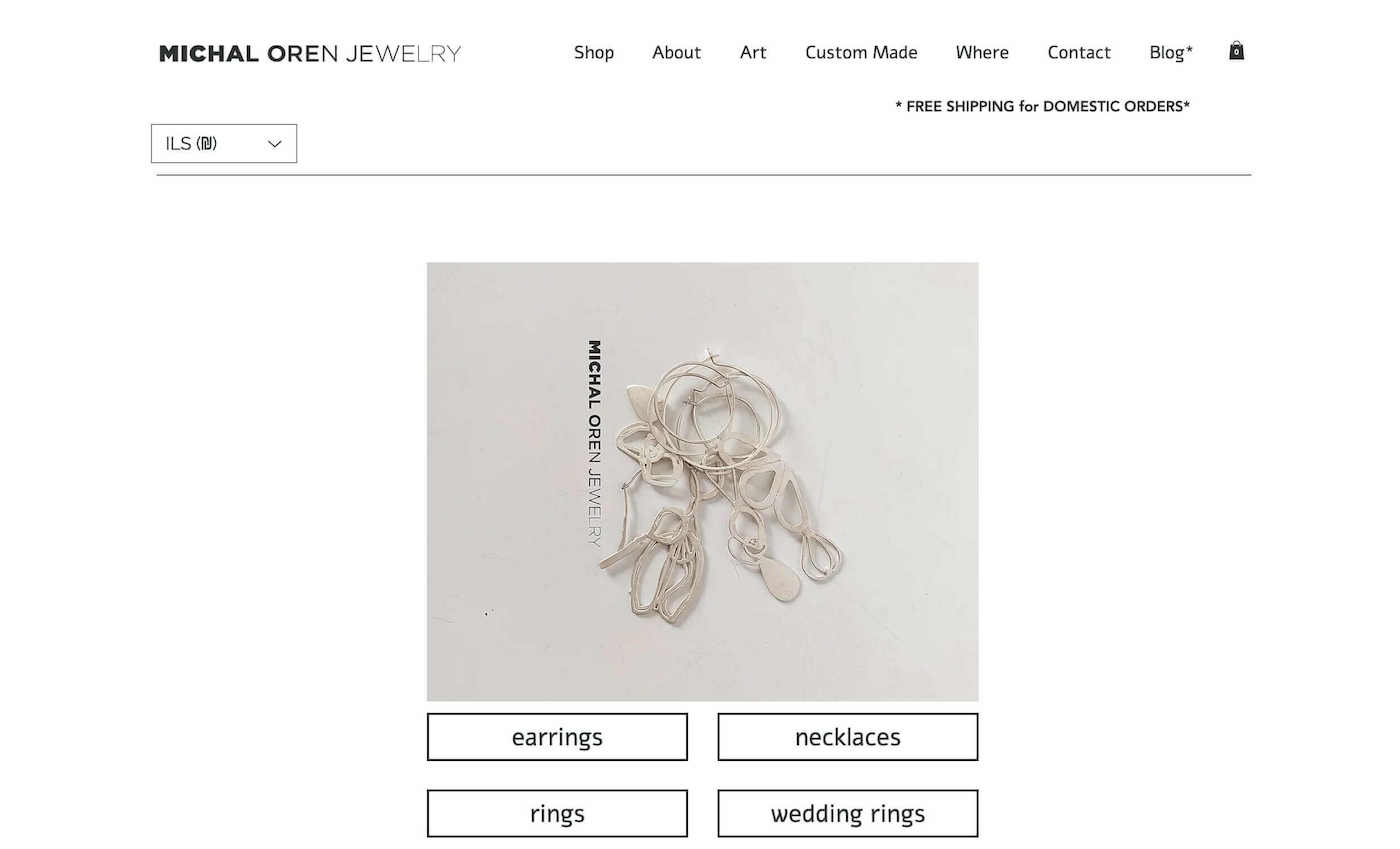 This Wix store sells jewelry inspired by pieces of nature, architecture, and sculptures. The site uses a classy design with amazing loading speed (the pages loads almost instantly).
— — —
In the end, Wix is a great ecommerce builder for small online stores with a beginner-friendly interface, powerful ecommerce tools, and affordable plans.
You can take advantage of its drag and drop builder to build any type of custom layout (which is not possible with Shopify) and use Wix Ascend, which offers all the marketing tools you will need to grow your online store.
The Competition
Shopify and Wix are not the only two ecommerce builders in the market. Many free and paid ecommerce platforms and software are now available that focuses on specific things like best design, maximum customizations, or huge template library — but lacks other features.
Some of the alternatives to Shopify and Wix are…
Squarespace
Bigcommerce
Weebly
3DCart
Volusion
Square Online Store
All these platforms are good. But it's a lot of work when you're starting your ecommerce store, and the builder you will select for your store will become the foundation of your business.
And it's not something you can change in a day when you feel like you need something not available within your selected platform.
You need a platform that can help you start, create, manage, and then scale. And all platforms aren't capable of that.
If your focus is only for the short term, then it's okay. But if you're dedicated to your store's success, my suggestion is to go with the builder that can handle your store at all the stages.
Conclusion: Best Ecommerce Website Builders
If you have a clear picture in your mind about what you want to do with your online store, and your focus is growth, I suggest you go with Shopify. As the core of Shopify is ecommerce, the platform is robust and will help you with all your ecommerce needs.
Wix is an excellent alternative to Shopify if you need more creative control and beginner-friendly workflow.
If you're not sure, you can try both platforms and select the one you think will be best for your business.
Shopify offers a free 14-day trial, and Wix also has a free plan in which you can check all its basic features like the editor, interface, and ecommerce solutions.
With all the amazing website builders, it's effortless now to set up an online store and start selling. You don't need any coding knowledge or even ecommerce experience to start. So don't think twice and start your online journey today!
If you have any questions, you can ask in the comments or contact me directly. 🙂
FAQs about Ecommerce Website Builders
Which website builder is best for ecommerce?
Shopify is the best website builder for ecommerce websites. It is beginner-friendly with all the necessary tools to create and expand an ecoommerce store.
How much does it cost to build an ecommerce website?
Ecommerce websites are complex because they need multiple moving parts to run the site properly. But with the introduction of website builders, the cost has become more affordable for everyone. Now you can use a platform like Shopify or Wix, and the monthly cost of that will be just $20 to $30 per month (for the cheapest plan).
Which payment gateway is best to use?
Most of the ecommerce platforms like Shopify and Wix support all the popular payment gateways like PayPal, Stripe, Square, Amazon, Apple Pay, and more.
Do I need to know how to code for a website builder?
No, you don't need any coding knowledge to use a website builder. The only purpose of these tools is to help users build amazing websites without writing a single line of code. From the hosting, security, content management, and support — everything is handled by the website builder platforms.