Quick Summary
Here's a quick comparison table of Elementor vs Divi Builder features and offerings.
| | | |
| --- | --- | --- |
| | Elementor | Divi Builder |
| Free Version | ✅ | ❌ |
| Pricing | Starts at $49/year | Starts at $89/year |
| Ease of Use | ✅ | ✅ |
| Visual Editor | ✅ | ✅ |
| Theme Builder | ✅ | ✅ |
| Content Widgets | 150+ | 40+ |
| Full Website Kits | 100+ | 230+ |
| Pre-Made Templates | 300+ | 1700+ |
| Clean Code | ✅ | ❌ |
| Community & Support | ✅ | ✅ |
| Inline Editing | ✅ | ✅ |
TL;DR: Should You Use Elementor or Divi Builder?
This section is for you if you're in a hurry and want to know what's the best page builder for you.
You should get Elementor if:
You're looking for a free page builder to start.
You need the easiest and most advanced WordPress page builder.
You build very long and complex pages (like landing pages).
You should get Divi if:
You need both a premium theme and page builder.
You're a freelancer or an agency.
You have prior design and WordPress experience.
Now let's continue with the guide…
With so many options out there, choosing "the right" WordPress page builder is getting more and more difficult.
Many reviews are available on sites like G2 and Capterra, articles by creators, video reviews on YouTube, reviews from the platforms themselves, and everything in between.
On the one hand, it's great to have all the different reviews and content, but it can also become overwhelming and challenging to know which sources to trust.
So to help you cut through the noise, I have put together this detailed review of Elementor vs. Divi Builder — all informed by my years of experience of using these two-page builders.
Let's get started…
Elementor Builder Overview
Elementor is a WordPress drag and drop page builder for those who want to build web pages quickly and easily using visual tools. Used by over 8M sites now, Elementor is a faster and simpler way to construct great-looking WordPress websites, blogs, and online stores.
With Elementor, you can create stunning websites, blogs, landing pages to eCommerce stores — without touching a single line of code.
The thing I like most about Elementor is that if at any point you decide to deactivate the Elementor plugin (either to use a different page builder or for any other reason), all the pages you had built till then will remain the same.
You might face a few issues with page stylings, but most of the things will work just fine. This isn't the case with Divi Builder. Divi uses shortcodes which leaves a code mess if the plugin is deactivated.
Who is Elementor best for?
Elementor page builder is a great choice for web designers, developers, content managers and marketing specialists who want to build page layouts quickly without getting into the technicalities of code.
Being a user of Elementor for many years now, I have been blown away by this page builder's speed, simplicity, and quality. All of which have been getting better and better with each new update.
So I believe Elementor is really ideal for:
Web designers
Marketers
Developers
Agencies
Small business owners
Basically, Elementor is the best page builder for anyone looking to build a fast, beautiful, and functional WordPress website.
Elementor Key Features
As an all-in-one page builder for WordPress, Elementor has a very long list of features and a huge amount of flexibility.
But to help you decide between Elementor and Divi Builder, here I have highlighted some of the Elementor's key features that stand out when comparing both tools.
So these are the most notable features of Elementor…
1. Drag & Drop Editor
Elementor supports a live drag & drop editor where you can create a new page or edit an existing one without writing a single line of code. The whole concept of drag and drop editor is based on the principle that dragging visual elements should be as simple as it gets.
You can easily reorder, resize, or completely replace page elements using simple drag-n-drop. The editor also supports custom positioning, which means you can get full flexibility with layouts with Fixed or Absolute Positions.
Overall I feel Elementor editor is very fast and intuitive and does not slow down even when working with reasonably large pages with lots of content elements.
2. Content Widgets
There are over 90+ widgets divided between Basic and Pro widgets. You will get access to all the basic widgets in Elementor free version and basic + pro widgets with the Elementor Pro version.
Basic widgets include heading, image, text editor video, button, star rating, divider, icon, image box, icon box, basic gallery, icon list, counter, etc.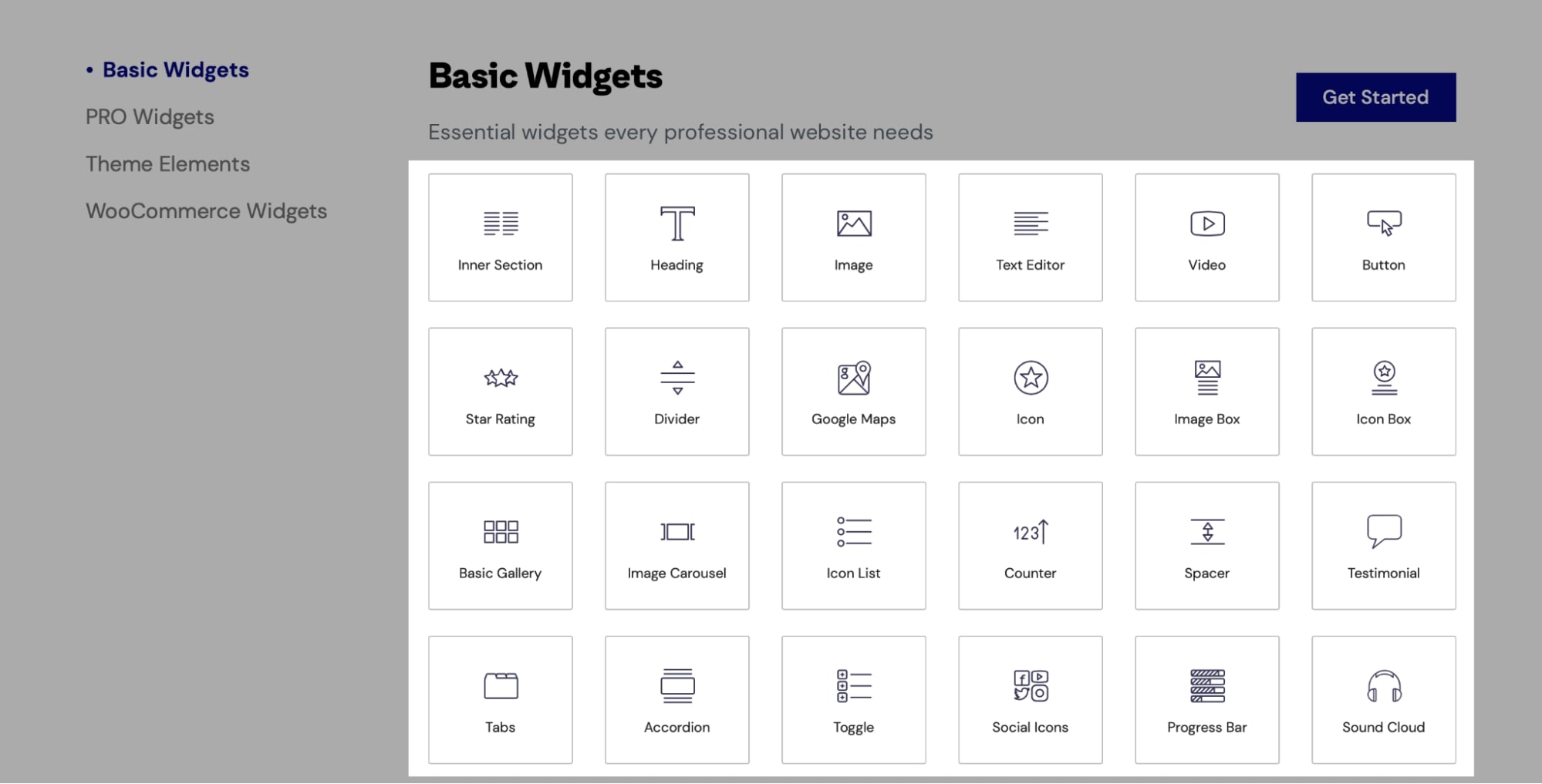 Pro widgets include share buttons, portfolio, slides, form, login, navigation menu, price table, gallery, flip box, table of content, countdown, animated headline, and more!
After working on more than a few dozen Elementor websites, I can safely say that this page builder offers the most useful content widgets. In most cases, you will not have to install any third-party addon to get content widgets like a countdown, timer, form, slider, etc.
3. Pre-Made Templates
There are 100+ ready-to-use templates included with Elementor to help you get set up quickly, starting with creating the page layouts. The pre-made template kits make your website building process easier, faster, and above all, more convenient for you, especially if you are a beginner.
You can choose from a range of template kits like a blog, eCommerce, business & services, events & entertainment, health & wellness, technology, travel & tourism, and portfolio.
Note that Elementor now has site-wide template kits that you can install within a few minutes, customize the content, and your site will be ready to launch.
4. Theme Builder
The theme builder allows you to customize your site's whole look and feel, allowing you to create an amazing website even if you don't know how to code.
You can design and manage all parts of your website like header/footer, single post/page, archives, search page, and 404 page.
Some of the theme content widgets include post title, post excerpt, post content, featured image, author box, post comments, post navigation, post info, site logo, site title, page title, search bar, breadcrumbs, and sitemap.
5. Popup builder
Popups are a hot topic for increasing conversion rates, driving email signups, and increasing sales. So if you have decided to use a popup on your site, you can simply start with Elementor's Popup Builder.
Elementor popup builder allows you to create a popup in any format, adjust its appearance and behavior, insert various content items, specify timers to open and close the popup or define it to be opened with a certain action.
You can create different types of popups like lead capture popup, email subscription, promotion/sales, content lock, exit intent, or announcement popup.
6. WooCommerce Builder
With Elementor WooCommerce Builder, you can design and manage full-blown eCommerce stores — all with the visual drag and drop editor.
It offers many woocommerce specific widgets like add to cart button, product price, product image, upsells, related products, product rating, breadcrumbs, and product data tabs.
A few other minor but very useful Elementor features are:
Responsive Editing: Elementor supports up to 7 devices, and you can also add custom breakpoints to get a pixel-perfect and consistent design.
Navigator & Finder: An in-built search bar offers easy navigation between pages and different settings.
Global Editor: From header, footer, post layouts, and more — you can design and manage every aspect of your site from one place only.
Revision History: While editing a page, you can use the revision history to go back to any step easily.
Elementor Canvas: This mode is for pages where you need 100% creative control without dealing with the header, footer, or sidebars.
Form Widget: This is a widget in Elementor that you can use to create any form right from the Elementor editor. It supports 10+ fields like names, emails, text, phone numbers, URLs, hidden fields, dates, and more. You can also integrate forms to tools like Zapier, MailChimp, Drip, ConvertKit, etc.
Lastly, for those who prefer working in darker environments, Elementor has a Dark Mode too.
Elementor Pricing
Elementor offers both free and paid plans. Its free plan includes the drag and drop live editor, 40+ basic widgets, and 30+ templates.
While Elementor offers many features in its free version, the best features are hidden behind the premium upgrade. So to unleash Elementor full power, you will have to purchase the pro version.
Below is a breakdown of Elementor's pricing across their 4 core plans.
| | | | | |
| --- | --- | --- | --- | --- |
| | Essential ($49/year) | Expert ($199/year) | Studio ($499/year) | Agency ($999/year) |
| Website License | 1 | 25 | 100 | 1000 |
| Drag & Drop Live Editor | ✅ | ✅ | ✅ | ✅ |
| Responsive Design | ✅ | ✅ | ✅ | ✅ |
| 90+ Basic & Pro Widgets | ✅ | ✅ | ✅ | ✅ |
| 300+ Basic & Pro Templates | ✅ | ✅ | ✅ | ✅ |
| 60+ Pro Website Kits | ✅ | ✅ | ✅ | ✅ |
| 20 Expert Website Kits | ❌ | ✅ | ✅ | ✅ |
| Theme Builder | ✅ | ✅ | ✅ | ✅ |
| Premium Support | ❌ | ✅ | ✅ | ✅ |
| Elementor Expert Profile | ❌ | ✅ | ✅ | ✅ |
There's an additional Pro plan which will get you access to 3 websites at $99 a year.
Divi Builder Overview
Like Elementor, Divi Builder is also a full-fledged drag and drop WordPress page builder that allows creators, business owners, and entrepreneurs to create, design, and manage websites.
It is the flagship theme and visual page builder of Elegant Themes, used by over 8M websites. You can get started with Divi Builder either by directly installing the builder plugin or by using the Divi theme, which comes pre-packed with the Divi Builder — thereby reducing the need to install an extra page builder plugin.
With Divi Builder, you can create landing pages, portfolios, blog posts, or just about any website element you could want.
Who is Divi Builder best for?
Divi Builder is designed to be used by everyone — both new and experienced WordPress users. Whether you are just launching your website or redesigning it, you will find Divi Builder very useful.
So Divi Builder is best for:
Freelancers
Agencies
Website Owners
Overall, Divi Builder is, without a doubt, one of the most powerful design tools created for WordPress websites. Anyone can use the Divi Builder to craft perfect layouts without writing a single line of code.
Divi Builder Key Features
The Divi Builder is packed full of awesome features that can help take your site to the next level.
Here are some of the key features of Divi Builder you should know.
1. Drag & Drop Visual Builder
Like Elementor, Divi Builder offers a drag and drop editor interface where you can drag and drop content widgets to create and design a page.
The editor has built-in responsive editing, which gives you full control over how your website looks on different screen sizes — desktop, tablet, and mobile.
But when compared with Elementor's editor, the Divi Builder interface can feel slightly sluggish. Divi is also heavier than Elementor, so it takes more time to load in the browser, making it less convenient to use.
2. Content Modules
Divi offers over 40 content modules like text, button, accordion, code, comments, gallery, image, sidebar, video, tabs, call to action, testimonial, forms, and more!
Compared to Elementor, Divi Builder has fewer content widgets that can become limiting if you're building a complex page. For regular blogs and websites, Divi Builder modules work just fine.
3. Theme & WooCommerce Builder
Divi's theme builder is the same as Elementor's, where you can control all the theme aspects (like header/footer, post/page layout, archive, product page, etc.) within the Divi Builder editor.
4. Pre-Built Templates
Divi Builder has over 1700 pre-made website designs and 230+ full website kits divided into different categories like business, education, events, fashion & beauty, lifestyle, online store, technology, and services.
Overall I feel Divi Builder's template library is far richer than Elementor's. While Elementor is working and improving its website kits, Divi is already far ahead of Elementor in templates.
5. Marketing Tools
Divi Builder comes pre-packed with powerful marketing features like lead generation, split testing, and conversion insights.
The built-in split testing is a really nice feature that you can use to test anything — like different designs or content. This is supported by conversion insights that provide the conversion rate and other relevant data.
You can also use Divi's email opt-in module to build segmented email lists and collect unique information from your subscribers.
Divi Pricing
In comparison to Elementor, Divi Builder is slightly more expensive than Elementor as it doesn't offer a free version, and it's starting plan is at $89/year (Elementor starts at just $49/year).
Note that Divi comes as a bundled offering wherein the $89/year plan allows you to access Divi (theme + page builder), Extra theme, Bloom, and Monarch plugin.
Here's a quick breakdown of Divi builder's pricing:
| | | |
| --- | --- | --- |
| | Yearly Access ($89/year) | Lifetime Access ($249/year) |
| Access to Divi, Extra, Bloom & Monarc | ✅ | ✅ |
| Hundreds of Website Packs | ✅ | ✅ |
| Product Updates | ✅ | ✅ |
| Premium Support | ✅ | ✅ |
| Unlimited Website Usage | ✅ | ✅ |
| One Time Fee | ❌ | ✅ |
It's also worth noting that, unlike Elementor, Divi Builder offers unlimited use, which means a single subscription gets you unlimited use of the Divi theme and plugins. So if you plan to use Divi on more than 3 websites, this will be considerably cheaper than Elementor.
If you're a freelancer or agency, you can also get the Divi lifetime plan which will save you a ton of money in the long run.
Elementor vs Divi Builder Pros and Cons
Now that you know the basic offerings of both Elementor and Divi Builder let's see the pros and cons of each.
Elementor Pros:
→ Free version available
→ Live drag and drop visual page builder
→ Easy to use interface
→ Very powerful built-in popup builder
→ Extensive template and block library
→ Gutenberg support
Elementor Cons:
→ No split testing
→ No lifetime plan
Divi Pros:
→ Front end real-time drag and drop editor
→ Backend editor option
→ Amazing pre-made templates and full website kits
→ Lifetime plan
→ Multiple built-in marketing tools
Divi Cons:
→ No free option
→ No popup builder
→ Leaves shortcodes mess when the plugin is deactivated
→ Sluggish editor interface
→ No Gutenberg support
Final Verdict: Elementor vs. Divi
Overall I think it comes down to a few things: personal preferences, pricing, and feature sets.
If you're looking for a free page builder, then Elementor is the only option for you. Also, if you're looking for a feature-rich, fast, and intuitive builder, then Elementor is an excellent choice.
Divi is only good if you build a website regularly either as your personal projects or for your clients and so you can take advantage of Divi's lifetime and unlimited use plan.
I've been building WordPress sites for many years now, and I have used almost every website builder available on the market — and I prefer Elementor over all other builders. Because Elementor is easy to use, has a ton of features (my favorite is its form widget and popup builder), and it has a great community that comes in handy when dealing with complex projects.
I have also reviewed Elementor, so you can also check out my full Elementor review if you want a more detailed look.
If you have any questions about Elementor vs. Divi Builder, you can contact me directly via this page.
FAQs
What is Elementor?
Elementor is a professional WordPress drag and drop page builder that will help you create web pages with ease. It features hundreds of templates, dozens of content widgets, and amazing performance.
What is Divi Builder?
Divi Builder is a visual drag and drop page builder tool developed by Elegant Themes. It allows you to construct page designs and edit layouts without touching a single line of code. Divi Builder gives you the power to create incredible pages with ease and manage everything in one place.
Is Elementor better than Divi?
It depends! Elementor is relatively easier to use than Divi and offers more features also. But Divi can be cheaper as it comes with a lifetime plan and unlimited website license option.
Is Elementor faster than Divi?
Yes, in most cases, Elementor is faster than Divi. This is because Elementor is more optimized and uses better coding standards. The speed difference can be huge on long and complex pages, where Divi can get very slow and sluggish.
Can I use Divi builder with Elementor?
Yes, you can use both Divi builder and Elementor simultaneously if you want. But this is not recommended as both plugins are built for the same purpose, and having two of them on a site will just make the site slow and heavy.