Pinegrow is a desktop-based web editor that has been created for the sole purpose of making website creation easier.
It is an easy-to-use web editor that lets you build your site with drag and drop simplicity. It has a ton of features to speed up the building process so that you can create a beautiful website with minimal effort.
You can use Pinegrow web editor on Mac, Windows, or Linux to build responsive websites based on Bootstrap, Tailwind CSS, Foundation, and WordPress.
While it's primarily aimed at designers and developers, it has some features that can be useful for beginners as well.
Let's learn about this tool in detail and everything that it offers…
Pinegrow Web Editor Overview
If you're looking for a quick beginner-friendly way to create your website, Pinegrow probably isn't for you. It is not very beneficial if you have no idea about CSS and HTML.
On the contrary, Pinegrow is undoubtedly an excellent choice for people looking for a tool to prototype, design, and build a pixel-perfect website.
If you are experienced in HTML and CSS, or even a bit aware of them, this tool can fulfill your requirements. In addition, Pinegrow offers multiple technical tools that you can use to set up your entire website building workflow.
Pinegrow is also a good option if you don't know how to code but are looking for a programming tool where you can learn. Finally, Pinegrow is a great tool for students or newbies to try out their programming skills.
Finally, if you don't understand security and cloud visibility, Pinegrow may seem to be a decent substitute for cloud-based software.
Pinegrow Builder Features & Flexibility
With Pinegrow's drag and drop interface, you can quickly set up add, edit, move, and clone page elements with one move. It also features multiple page libraries, repeater elements, and a page code editor.
Plus, there are tons more features that make this tool one step ahead!
1. Improved Editing
Pinegrow has several valuable tools for managing the process of creating the website in a variety of ways. If you're a newbie or a pro, you'll find the following useful:
Smart WYSIWYG Tool – It allows you to quickly add blocks, change the page layout, and remove and replace code elements.
Elements – Its page library includes a wide number of elements that can be added and edited. Search the block you want and place it into the editing space by simply dragging and dropping. With a single click, you can shift or change it whenever you want.
Block Editing – each block has its collection of settings while editing. For example, users can change the block's content and text, change HTML code, add different links and new properties, delete, and so on.
Content Formatting – with one click, format your content and add different headings (from H1 to H6) to make your content organized and SEO-friendly.
2. Effective WordPress Themes
When you need to build WordPress themes for any project, Pinegrow is the best tool to use. Pinegrow makes it simple to turn an HTML page into a WordPress theme as quickly as possible.
All you need to do is choose the required action from the dashboard's list of more than 200 different WP actions.
3. Flexible Preview Mode
Once you are done with your primary building process, take a look at how your website is running on various platforms, like smartphones and desktops. Pinegrow allows you to preview your site in different versions simultaneously.
The system allows you to open two-page previews that display two different pages. You can not only preview them at the same time but also make any edits without having to move between screens.
There are three main choices in the preview mode — mobile phone, laptop, and a PC screen. Also, its advanced preview system allows users to choose breakpoints, particular screen sizes, and various more options to understand better how the website will appear on different devices.
4. Foundation and Bootstrap
Pinegrow offers enhanced working with Foundation and Bootstrap, in addition to designing WordPress themes. In addition, users are given a collection of tools that allow them to retain visual control of the site's layout. It also has a library where you can add new blocks and elements.
This includes both Foundation as well as Bootstrap. You have complete control over the elements, including the ability to resize every block and column, working with grids, and using models for your page along with buttons to open them easily.
Templates and Design
There are no pre-made templates available in Pinegrow. And frankly, it doesn't even need to have them. In addition to its effective visual editor, the software contains enough instruments to build pages right from scratch.
You can edit almost every element of the block and also use the one that you coded. It helps you to have total control of the CSS.
You can adjust margins, block placement, and texts and fonts; add shadows, change the background, modify padding, allocate new classes and rules to different items, modify CSS grids, and much more in the editor.
Pinegrow allows for real-time editing. What it means is that you'll be able to see all of the edits in real-time, as well as view the pages in your browser and take full advantage of its mobile preview settings.
It further implies that the site will be made entirely responsive regardless of the operating system, carrier, device, or screen size.
Ease of Use
Pinegrow is an excellent choice for both newcomers to coding and experienced programmers.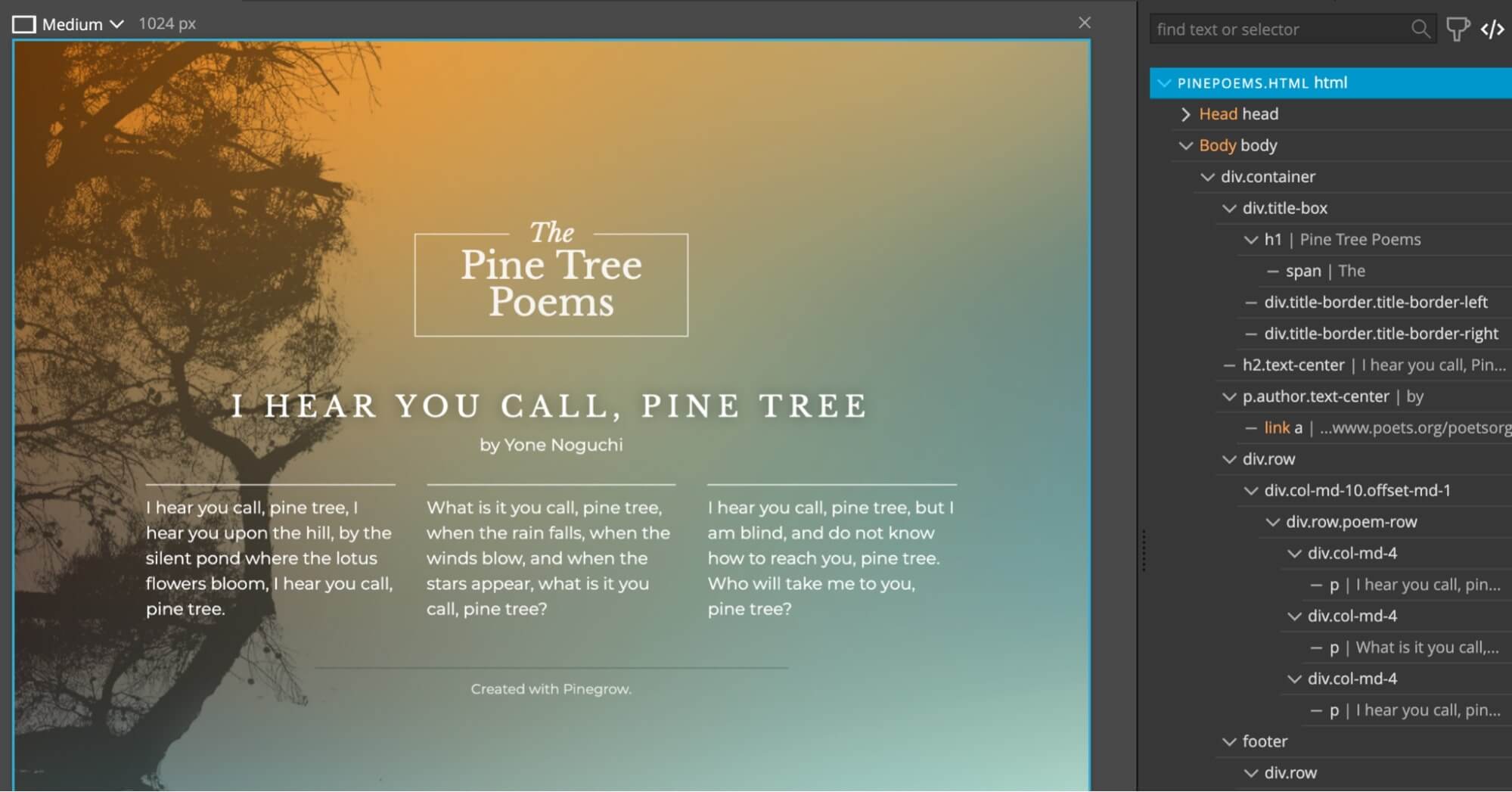 It gives you complete control of the source code and the ability to edit or change it. Simultaneously, it provides an intuitive instrument of WYSIWYG that allows users to build websites straight from scratch even without having to write any code.
Getting Started With Pinegrow Web Editor
The software is available as a desktop application. It means you will be required first to install it on your computer from the official website of Pinegrow and pick the right version for your operating system.
You will have MAC, Linux, and Windows options there. To complete the installation process, select the version that you require and download the necessary files.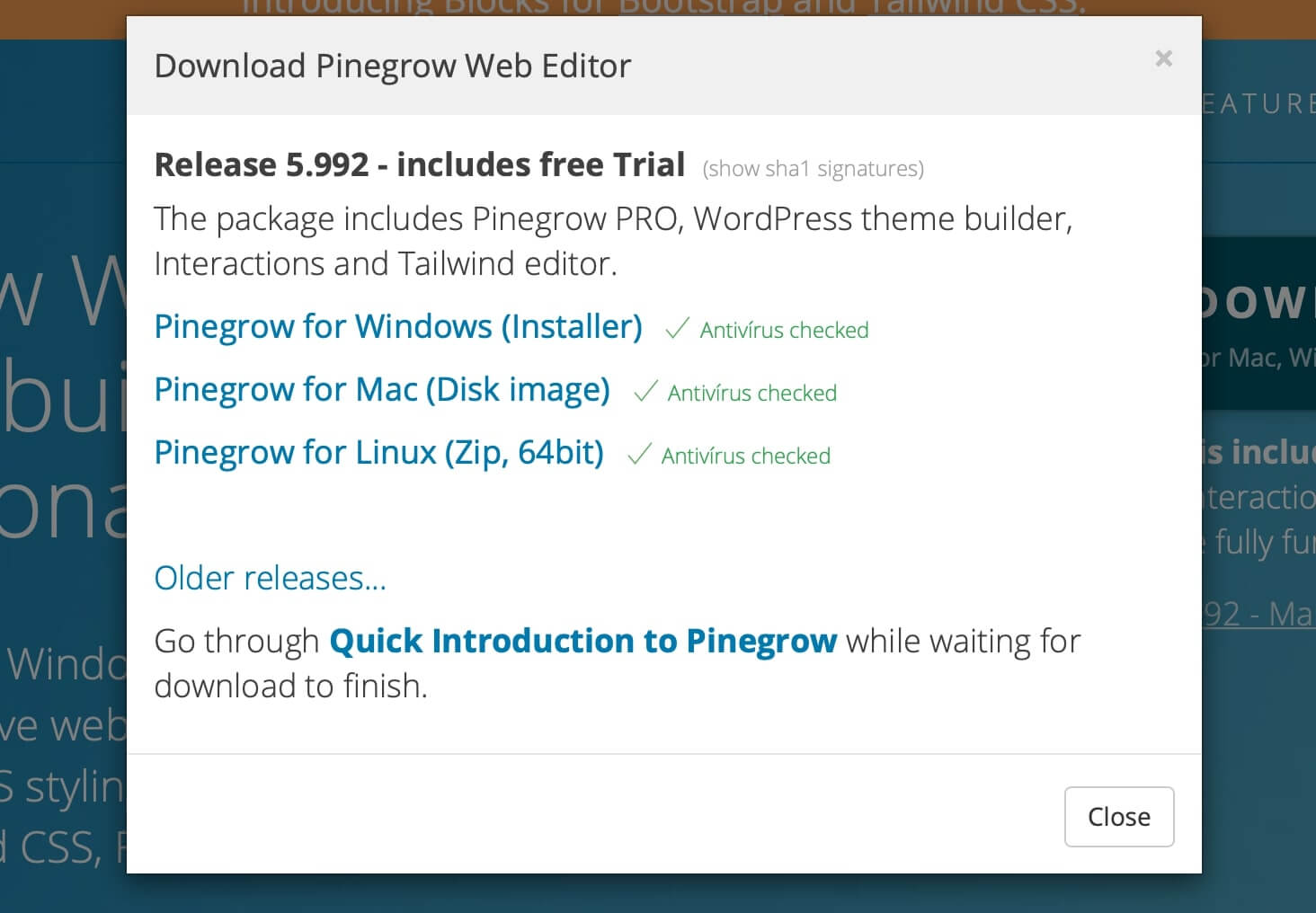 Pinegrow offers a free trial to try out the tool and see how it operates. The trial includes full access to its WordPress theme builder.
To start the free trial, open the tool, enter your email address, submit the code that will be sent to your email, and after that, you'll be in the editor, where you'll have access to all of the tools.
Editing Process
To be honest, beginners can feel a bit overwhelmed by the array of tools available in the software's dashboard. However, if you do not wish to code, you would not need the majority of them.
Most of the work will be done in a WYSIWYG setting with various elements and blocks to choose from.
Starting with the library is a decent idea. It comes with a variety of several elements that you can use to customize your website. There is a broad range of blocks to choose from.
Promo elements along with the headers with price tables, "buy" buttons, testimonials, different blocks, contact forms, galleries, and so on can all be found here. All you have to do is pick an element and drag it into the building space.
Pinegrow provides a collection of choices for each page that you will build. You can duplicate them and edit them in a multi-page style instead of shifting between screens. You can also take a look at the code and make some minor changes.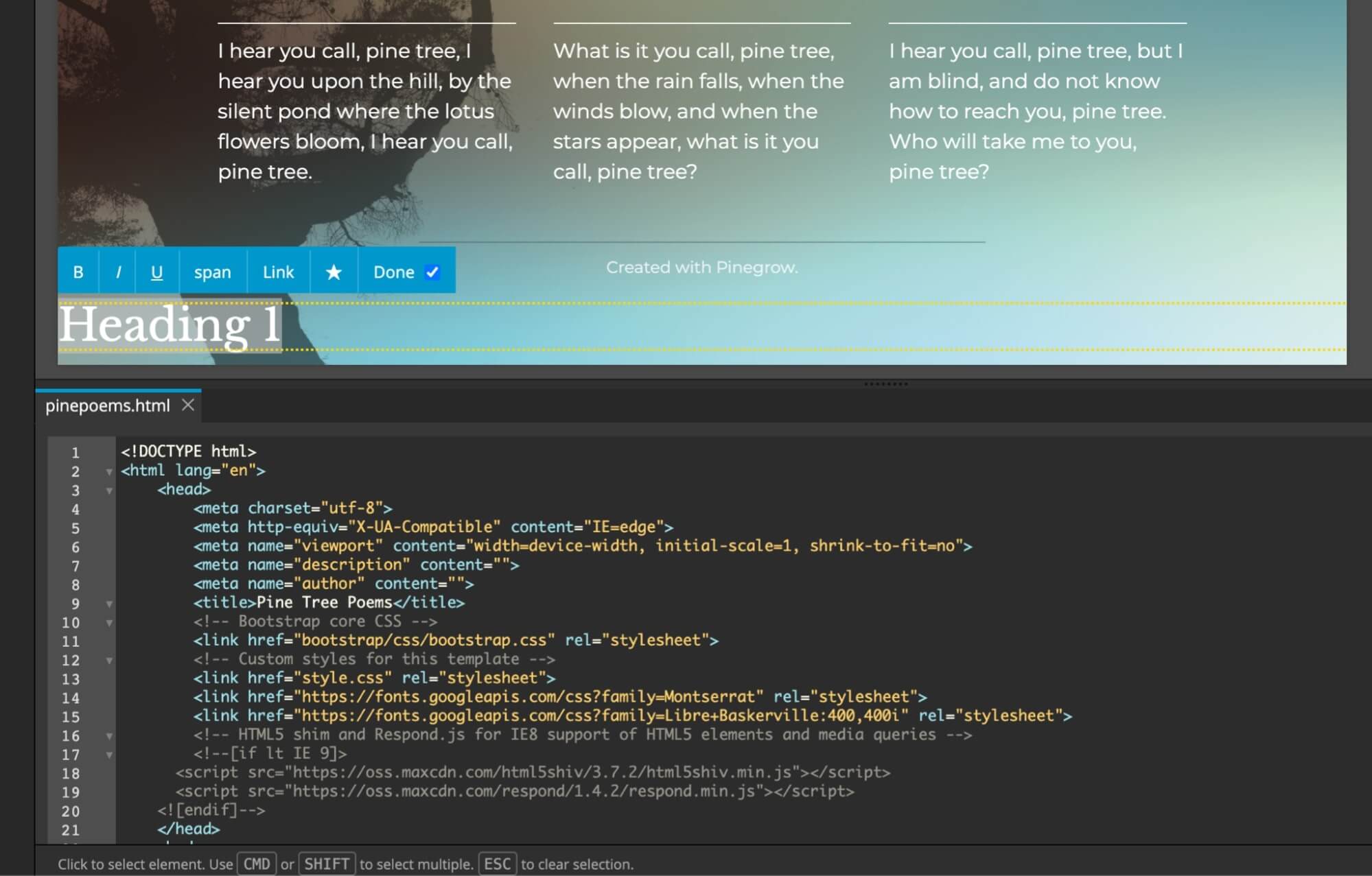 Users can also preview their pages in their browser, search for HTML errors, manage page libraries separately, and so on.
You can also edit blocks yourselves, in addition to improved page customization. You can, for instance, copy-paste text into the spaces given, change the typography, and use this intelligent visual editor to its fullest.
Website Deployment
Pinegrow is just an editor for your website. It is not a complete solution that includes hosting and domains in its package. So, you must take care of these in advance.
It also provides an easy way to modify the pages to WordPress. The software has several WP options to export the particular theme and then install it on the hosting system. From an existing website, users can import content or add more than 200 WP actions seamlessly.
Proficient coders will benefit from a set of elements to function with source code, add classes, set up different properties for a specific section or block, edit content and texts, and examine prevailing CSS rules, and so on. Beginners may take some time to learn how to work with this software. But with Pinegrow, the building process looks quite simple itself.
Plans & Pricing of Pinegrow Builder
Pinegrow offers a one-time license, annual, and monthly subscription.
With a one-time payment option, you only have to pay once for access to all the editor features for a lifetime.
The one-time payment of Pinegrow starts at $149 with $50 each for both addons (WordPress Theme Builder and Tailwind Visual Editor).
Monthly subscription plans of Pinegrow are:
Pinegrow Web Editor Pro — $12 per month.
WordPress Theme Builder addon — $6 per month.
Tailwind Visual Editor addon — $6 per month.
Both WordPress and Tailwind editors are available as addons only.
Finally, the annual subscription plan starts at $99 per year, with $50/year extra for the WordPress Theme Builder addon and $50/year extra for Tailwind Visual Editor addon.
All the plan includes a 30-day money-back guarantee also.
Customer Support
The platform offers a wide range of support. Firstly, with tonnes of tutorials, Video Guides, and articles, Pinegrow has an extensive database. Their Help Center provides information on "How to Get Started" for the user's ease of use.
Second, you can quickly find a solution to your query in the search bar itself. Just type the problem that you need to solve. It could also be an excellent idea to enter the software community. Its Forum provides a good chance to talk with skilled users and listen to their experiences.
Lastly, you can contact the Pinegrow customer support team through various means, including their forum, email, Twitter, and slack community.
Pros and Cons of Pinegrow Website Builder
If you have to build responsive PHP, HTML, and CSS themes (either with coding or without), then Pinegrow happens to be a fantastic tool. Its set of different elements may feel too overwhelming, particularly to skilled programmers. However, few minor complications can come your way too.
Pros
Complete control of source code
Versatile editing
Supports Bootstrap and Foundation
Build ready-to-use WordPress themes
Vast block collection
Intuitive methods for editing
Multiple price plans for different needs
Cons
Difficult to use for a newbie
Can't subscribe to a standard license on a per-month basis
Just a one-time fee option for the students
Conclusion
Pinegrow is an excellent desktop software that helps you build websites from scratch, as we have learned in this article.
It is suitable for those with technical understanding or even for those without it. Coding gurus, while using Pinegrow, benefit from total control over the elements of the web pages.
The editor allows them to function with Bootstrap and Foundation and make good use of them. Overall, this WYSIWYG visual editor is a good choice that comes with an extensive block collection, easy tools for content editing, and a lot more.
Frequently Asked Questions (FAQs)
What's better — a monthly subscription or a one-time fee?
If you don't want to use the software for an extended period, monthly subscriptions could be a better option in terms of cost-effectiveness. You only pay $10 each month and suspend your subscription with an opportunity to renew it when required for future projects.
What features will be available in Pinegrow's trial mode?
This is one of the best things about this software: you get to access all of its features in its free trial period. The duration of the free trial is seven days. Moreover, you can even extend your trial period for a few more days if you write to Pinegrow's support team via email.
Can I cancel my subscription?
You are free to cancel your Pinegrow subscription at any point in time. For monthly subscriptions, the refund guarantee doesn't apply yet.