Bricks is a new WordPress drag-and-drop page builder engineered by the creator of HappyFiles.
It is a powerful visual website-building tool with a focus on performance, customizability, and design.
According to Thomas Ehrig (co-founder of Bricks Builder), Bricks is a site-building tool that empowers you and is fun to work with on a daily basis.
I know, who needs another WordPress page builder? A lot of people, apparently. If you're not already familiar with such tools, it's basically a visual editor that allows you to build your WordPress site without writing a single line of code.
It makes the website building process as easy as possible and is best for both beginners and designers/developers.
So today, we're going to see how Bricks works, its advantages, disadvantages, and whether you should go for it or not.
Let's get started…
Note: You can try Bricks before purchasing it now, just go to try.bricksbuilder.io and you can work with the latest Bricks version there.
👉 Bricks Builder Overview
Bricks Builder is a visual site builder for WordPress that you can use to build amazing websites. Launched on March 16, 2021, Bricks 1.0 is now available for all users.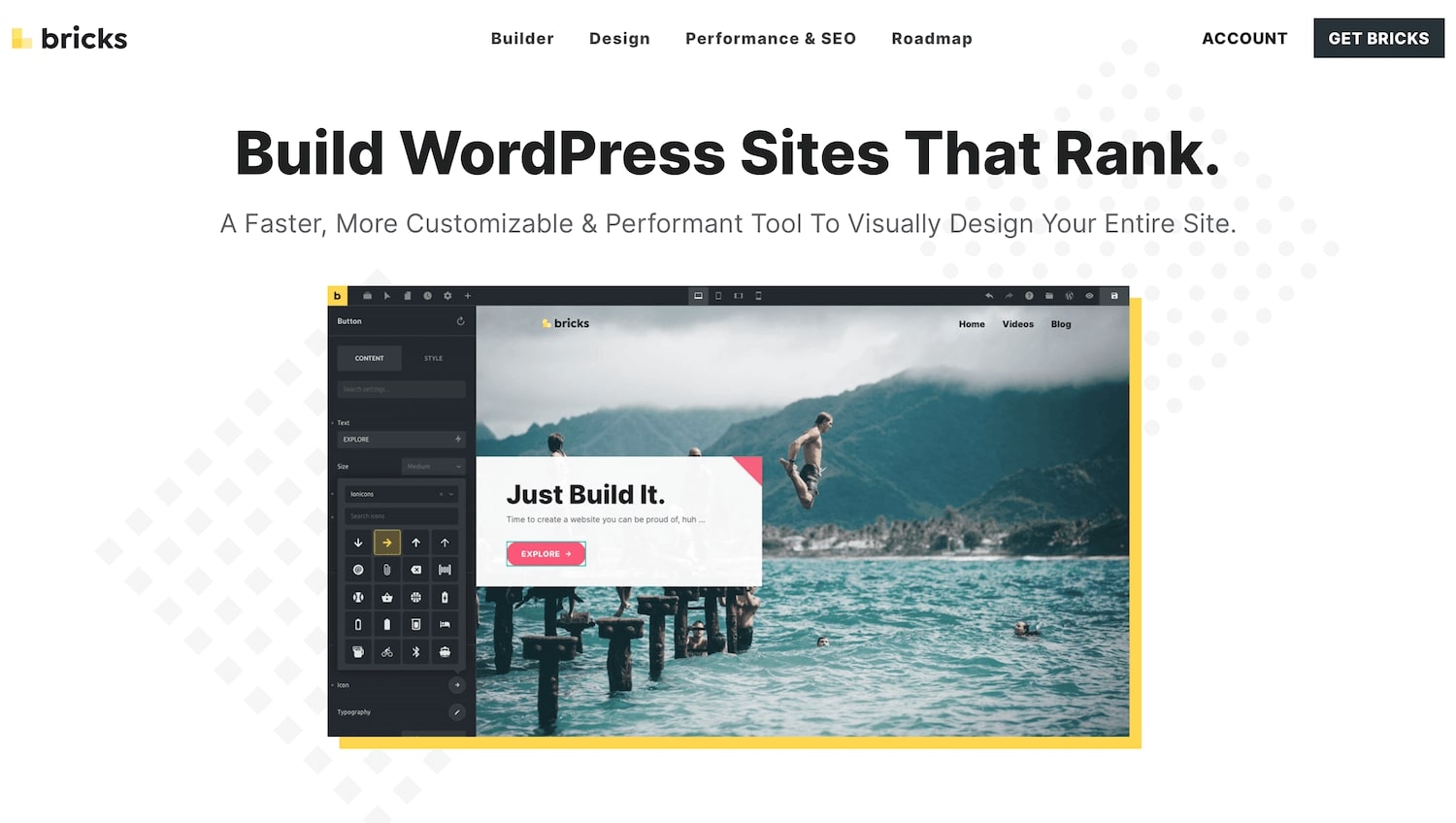 It's based on the foundation of open development, performance, customizability, and a clean interface to speed up the website building process.
Also, unlike other page builders, Bricks is a theme — which means you don't have to use a theme + page builder plugin (like with Elementor, Beaver Builder, Brizy, etc.). You can just install Bricks, and you're done.
Bricks have a public roadmap where you can see the current state of Bricks in real-time, upvote features you want to see in the builder, and join the discussion. You can also submit your own ideas about the builder, and the features with the most upvotes will get developed first.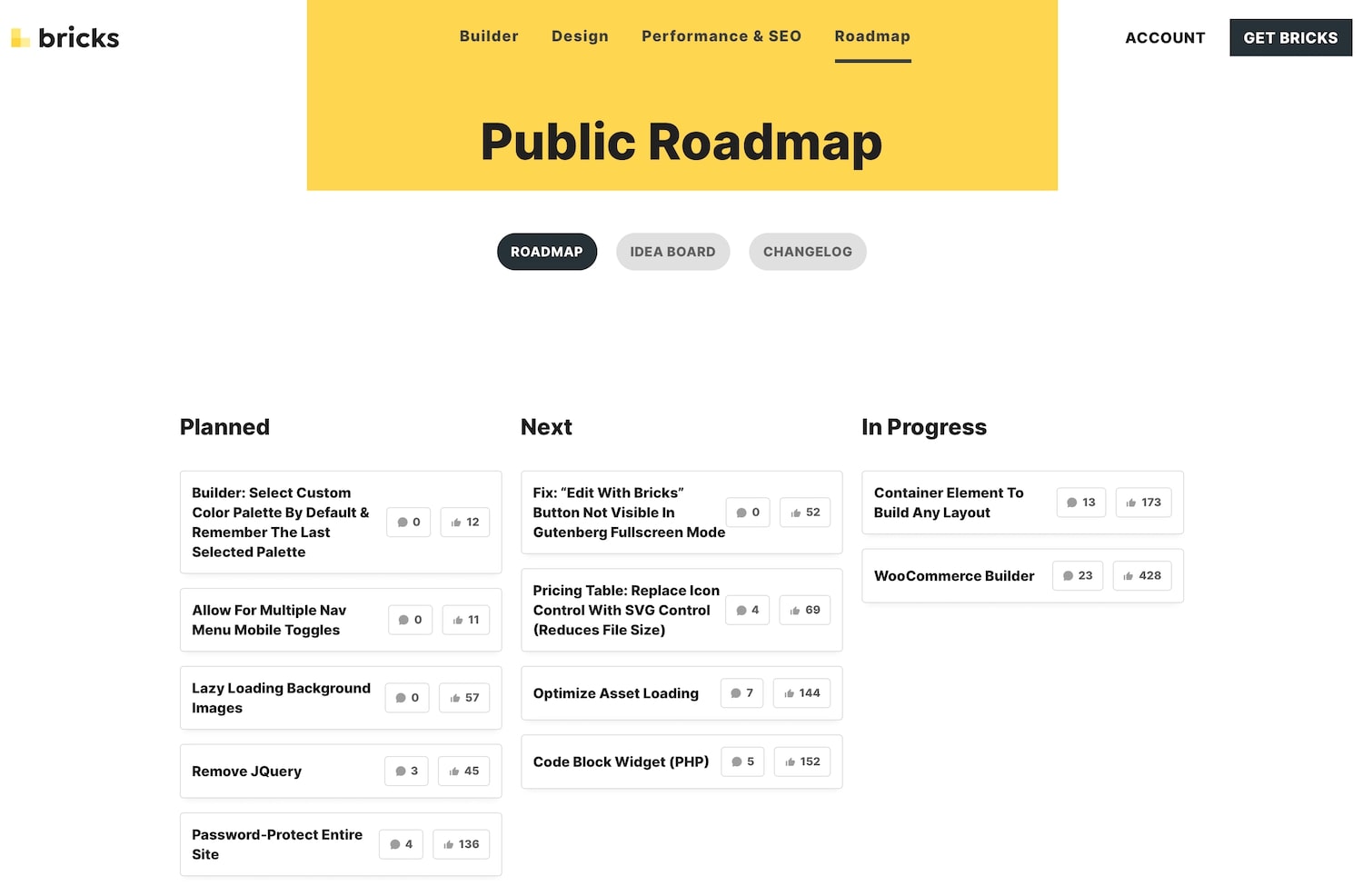 So overall, in its current state, Bricks looks similar to Oxygen Builder and an excellent alternative to Elementor (read Elementor review here).
The complete Bricks site is built with the Bricks Builder itself, which shows that the builder can produce clean, fast, and beautiful websites.
Let's now see what all you get with this page builder…
✨ Design & Interface
Bricks offer 100% visual site editing where you can edit everything on one screen only. From header, footer, and page content — everything is editable on one screen.
Breakpoints are available for desktop, tablet (vertical + horizontal), and mobile, so you can build a fully responsive website.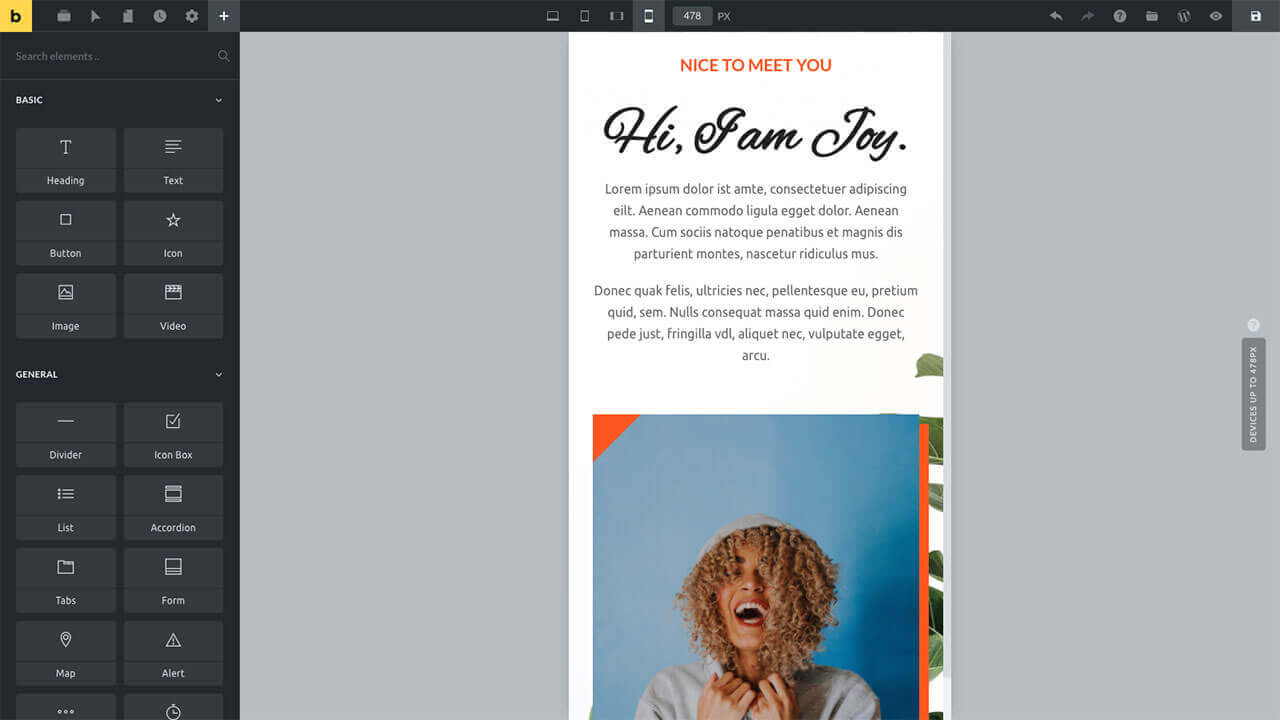 It supports dynamic data from plugins like ACF (Advanced Custom Fields), Pods, Meta Box, and more! This is an excellent feature for those looking to build custom layouts in WordPress, like real estate listing, blog layouts, portfolios, etc.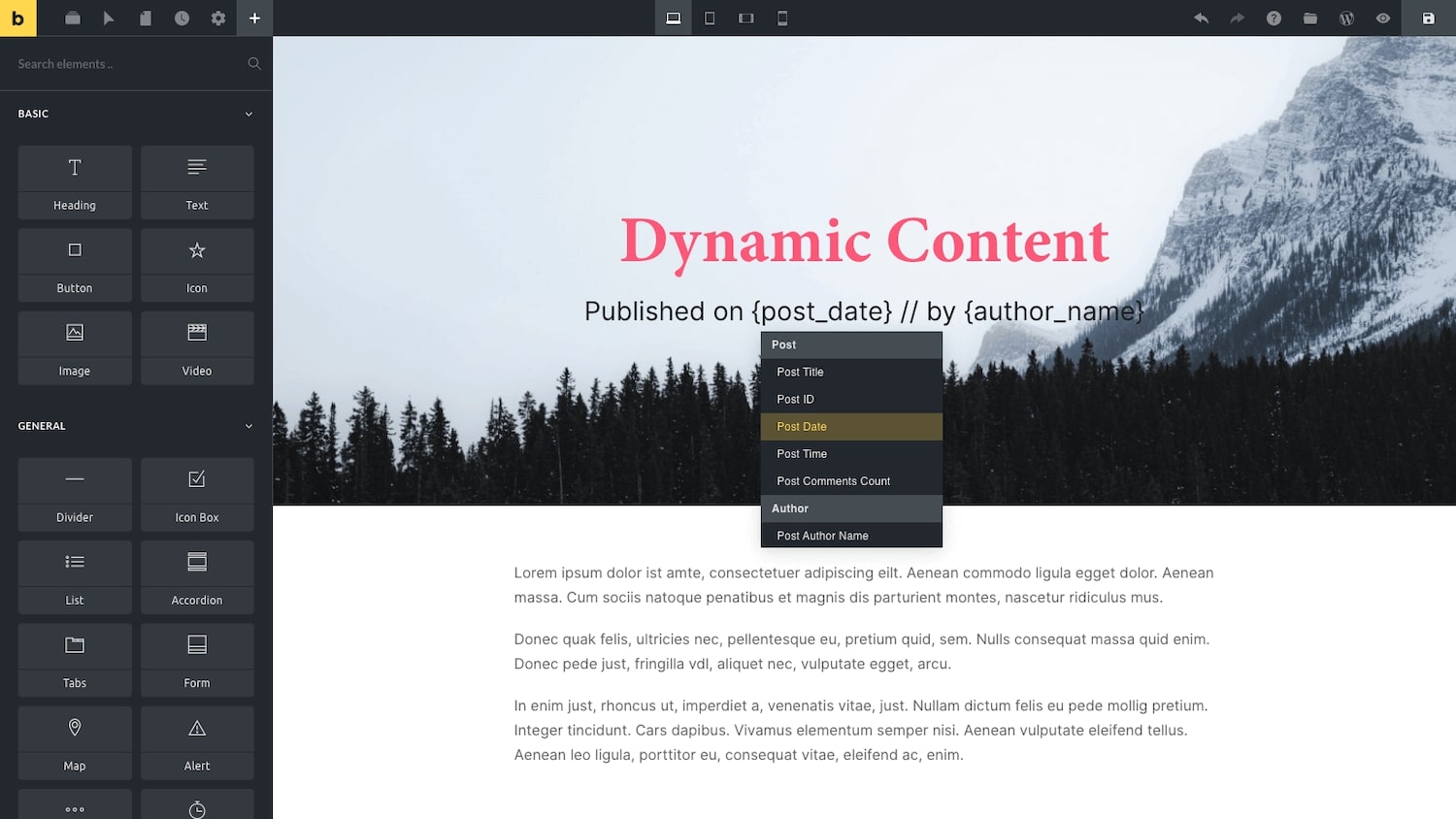 Support for dark mode is in-built in the editor. You can also enable, disable or customize the autosave feature and move the builder panel anywhere on the screen.
The help centre (Bricks Academy) is available within the builder, which you can access with just one click.
Overall I like the easy to use and intuitive Bricks editor design and layout.
Tip: You can edit all the basic SEO optimization settings right within the Bricks editor, like page/post title, permalink, meta description, keywords, and social media previews — which means you don't have to use any extra SEO plugin like Yoast or RankMath.
🛠 Customizability
Bricks offer over 50 design elements that you can use to create fully responsive layouts.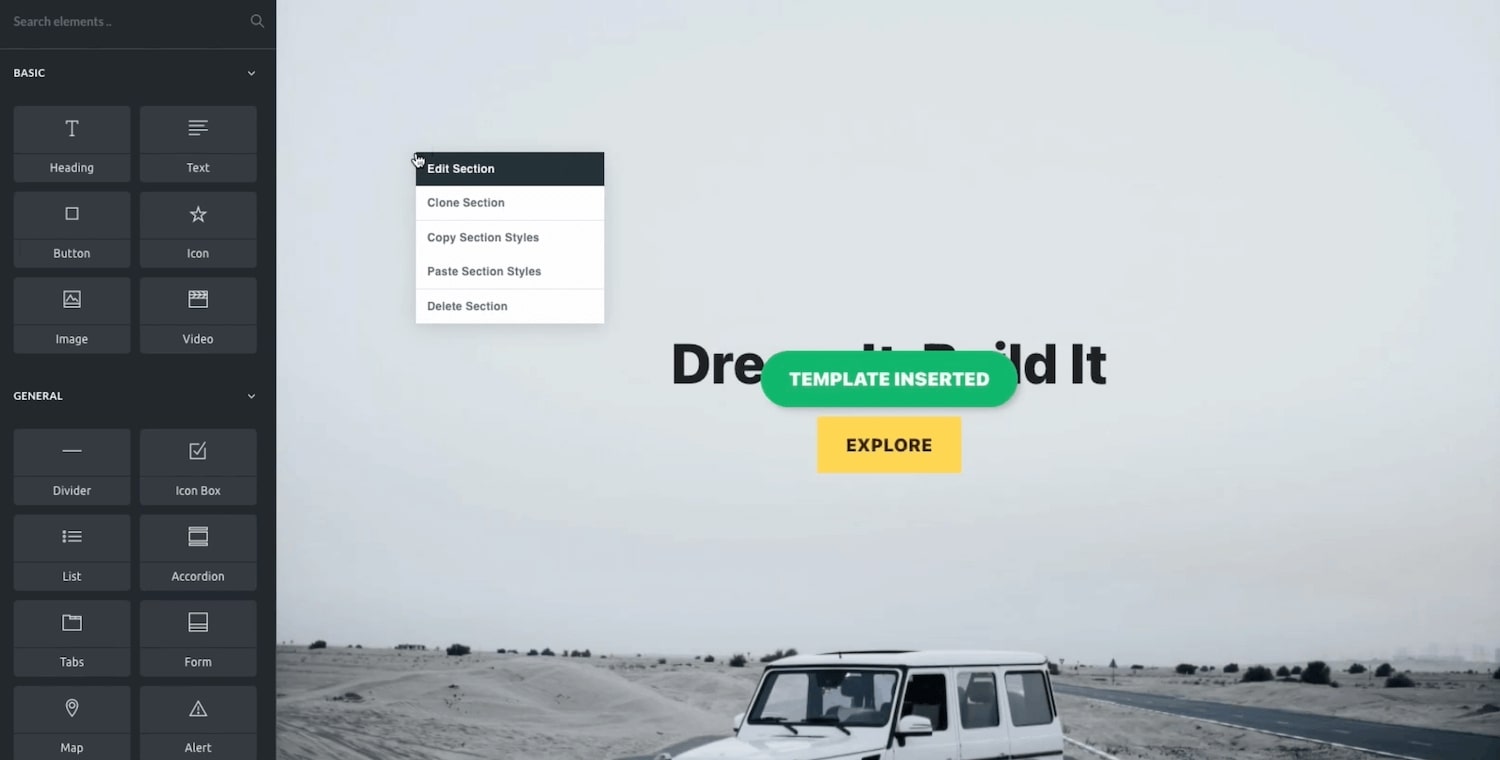 You can use the builder elements to edit your site header, footer, posts, pages, archives, search pages, 404 pages, custom post type layouts, and more! Basically, Bricks is a theme builder which allows you to edit every part of a WordPress website.
You can also use the Theme Styles (like colors, layout, links, typography, and all of your elements) to set and maintain consistent branding across your website.
Some of the elements available in Bricks are:
Text
Heading
Button
Image
Video
Icon
Divider
Icon Box
List
Form
Map
Tabs
Accordion
Alert
Counter
Countdown Timer
Pricing Tables
Pie Chart
Audio
Carousel
Team Members
HTML
Code
Testimonials
Slider
Image Gallery
Sidebar
Search
Shortcode
In addition to the 50+ Bricks design elements, you can create your own elements with HTML, CSS, and PHP. All you have to do is, code your custom element and save it!
Bricks also have documentation for developers to extend it with custom elements. So you can expect a lot more design element packs by third-party developers once Bricks Builder gets some traction in the WordPress community.
Tip: Bricks has an Unsplash Integration which you can use to access the complete Unsplash library of 1 million+ photos right within the page builder.
🎨 Template Library
Just like other page builder, Bricks too offers a template library.
Multiple pre-built templates are available in the Bricks, which you can import on a page with a single click.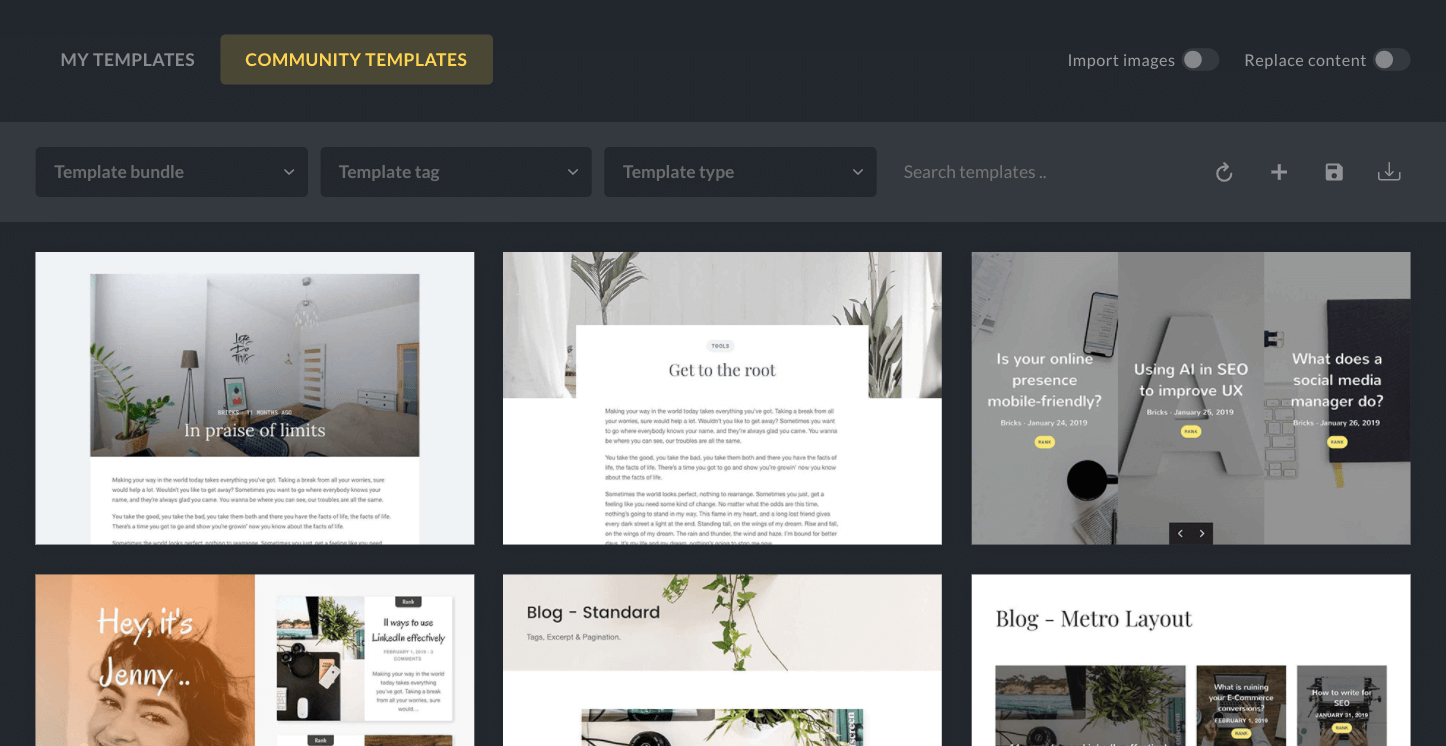 All the templates are divided into different types such as header, footer, content, section, archive, search results, and 404 pages.
You can also create your templates and export them to any other website. Bricks also have a unique feature called Remote Templates, where you can browse and insert template in your current site from any other Brics site to which you have access to.
🚀 Bricks Performance
The builder runs on VueJS 3, and in terms of performance, Bricks looks good.
The code output of Bricks is clean. And while editing, Bricks loads fast, and it feels very responsive, which makes it easy to design and build pages.
To keep the pages fast, Bricks uses:
Smart Lazy Asset Loader to only load images and videos when visible in the visitor browser viewport.
Disable Default WP Scripts like emojis, embeds, dashicons, etc.
Selected Font Loading to only load the font used in a page.
I am going to test Bricks performance comparison with other page builders soon and will publish the in-depth results here.
Till then, you can check the speed test results shared on the Bricks site compared to Elementor Pro, Divi Theme, and Visual Composer.
| | | | | |
| --- | --- | --- | --- | --- |
| | Bricks Theme | Elementor PRO | Divi Theme | Visual Composer |
| Pagespeed mobile | 98 | 75 | 64 | 58 |
| Pingdom score | 98 | 79 | 82 | 79 |
| HTTP requests | 6 | 34 | 23 | 36 |
| Page size | 0.19 MB | 1.7 MB | 1.5 MB | 1.1 MB |
As you can see, Bricks is faster by a considerable margin.
🖥️ Bricks Builder Development
As mentioned above, Bricks entire development process is 100% public, where users can contribute and join the discussions.
If you have a feature request, you can submit it in the Bricks idea board. Approved feature requests (ideas) enter the public roadmap. And the ideas with the most number of upvotes will get developed first.
This is a nice approach where the focus is on what the user wants rather than what the company thinks a user wants.
🧰 More Bricks Features
Bricks is fully Gutenberg compatible, where you can convert your existing Gutenberg data into Bricks data, and vice versa.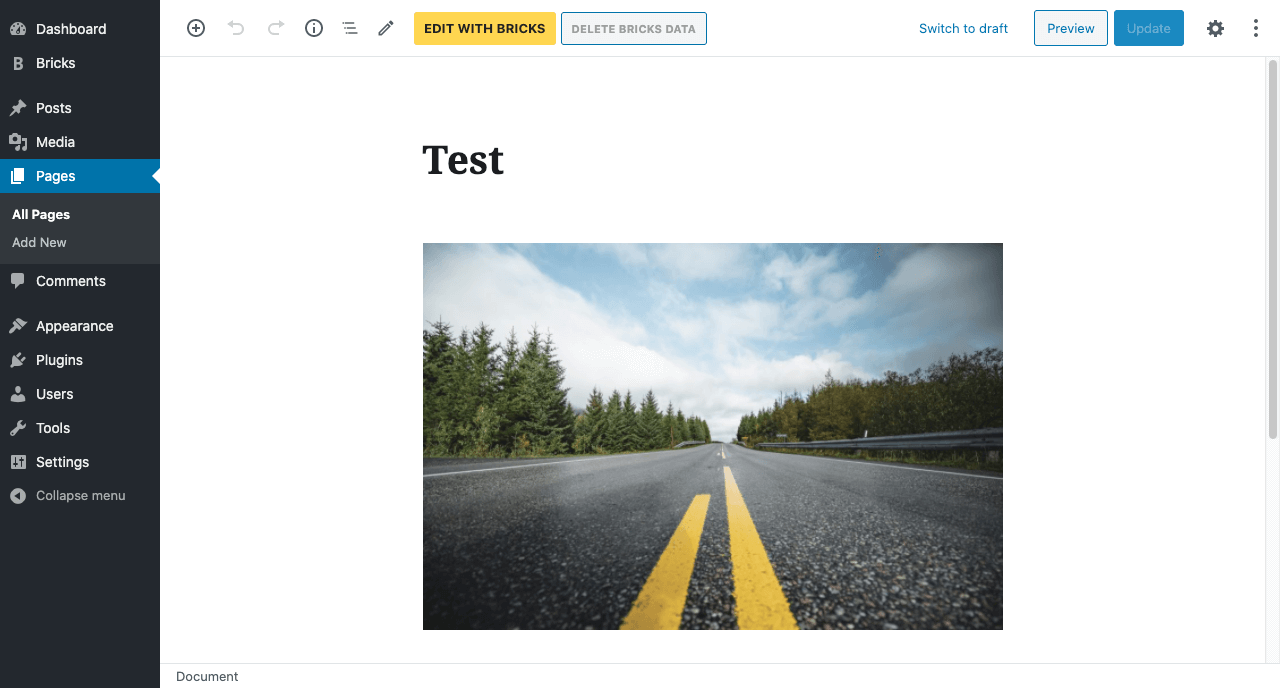 So if you have created your pages with Gutenberg, you can continue editing them in the Bricks editor. This is a very useful feature, especially if you're a freelancer or agency owner, as you can use this to design the page in Bricks and give access to the content to clients in the Gutenberg editor only.
Some more features of this page builder are:
Real-Time Preview: Bricks can toggle between the builder and preview mode instantly, making it very easy to see how a page looks.
Visual Block Styling: You can customize design elements visually with actions like column resizing, margins, paddings, and copy/paste styles.
Hover State Styles: Customize elements with hover styles for visitors.
Searchable Controls: Built-in search bar to look up specific tools in the editing panel.
Structure View: This provides a complete structure of the page with all the blocks, which you can use to move page elements with ease.
Page Management: You can switch between your site's different pages within the Bricks editor without going to the WordPress admin dashboard.
Keyboard Shortcuts: All basic shortcuts are available like save, preview, responsiveness toggle, undo/redo, etc.
Fully Translatable & RTL: You can translate Bricks into any language of your choice. It also supports RTL (right-to-left) languages like Arabic, Urdu, Hebrew, etc.
Gradients & Overlays: You can apply gradients with up to six colors to headings, backgrounds, and other elements.
Image Editing: You can use custom CSS filters (like hue, brightness, contrast, invert, opacity, saturation, etc.) to edit images right within the editor.
SVG Support: Bricks supports scalable vector graphics (SVG) images and icons.
The page builder also includes a WooCommerce builder, which allows you to create a full eCommerce store (product listings, single product pages, checkout, and cart) in a WordPress website.
It's not fully functional yet, but in a few months, it will be, and then you will be able to design a WordPress store visually.
💰 Pricing
With the launch of Bricks 1.0, for a limited time, you can get access to lifetime licenses with lifetime updates and support.
These are the two plans of Brics:
Starter — $59 for 1 website.
Ultimate — $149 for 1,000 websites.
Both plans offer lifetime updates, lifetime technical support, community template access, WooCommerce Builder, and 50+ design elements.
You will also get a "No Pressure" money-back guarantee where you can ask for a refund until the page builder is in version 1.0. You will be notified by email before moving from the current version, so you will have enough time to try out Bricks and see if it fits your website-building workflow.
Note: The lifetime pricing is a great deal compared to yearly plans of Elementor, Beaver Builder, etc. So if you like the features of Brics, it's better to purchase it right now as the current lifetime deal can either go up by ~40% or turn into a yearly subscription.
🏁 Final Words
Bricks is a great full site builder for those building WordPress websites regularly. It's focused on speed, design, and customizability — a perfect combination in a page builder!
It is useful for website owners also as it's easy to use with a clean editor interface.
Overall it's similar to Elementor with a better code output. However, it's not as good as Elementor, Beaver Builder, or Oxygen Builder — which is obvious because Bricks is in version 1.0 while others are mature products.
So while Bricks may not be the best WordPress builder right now, it's a builder with some very nice features, hundreds of customizability options, and amazing performance.
Also, the launch deal is pretty amazing at just $59 one-time payment for one site and $149 one-time payment for 1,000 sites.
You can give it a shot if you like Bricks overall features.